Turkmen thaw ended in scorching summer temperatures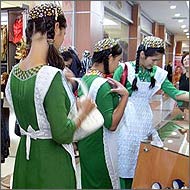 Photo from the album Sunny Turkmenistan
Natalia Anurova-Shabunts, a citizen of both Turkmenistan and Russia, wrote an article for Ferghana.Ru that gives an account of life in Turkmenistan. How its citizens are denied permission to travel abroad, how students and instructors are compelled to wear uniforms, how state officials bully people into renouncing Russian double citizenship. And how officials of the Russian Embassy in Ashkhabad arrogantly refuse to take care of citizens of the Russian Federation. Living in Turkmenistan, the author refuses to adopt a nom-de-plume and speaks up on behalf of the "happy Turkmen people" under her own name which is what makes the situation unique.
* * *
The Turkmen authorities grow increasingly more tyrannical to the tune of liberal statements, democratic slogans, and flagrant international events held in opulent palaces to the accompaniment of enthusiastic applause from international economic and whatever else structures. With local offices of international organizations remaining detached observers, the Turkmen legal situation - never brilliant in the first place - worsens with each passing day. The authorities do everything they can conceive of to isolate the Turkmen people from the rest of the world.
Students and teachers, stay at home!
The nightmare students who came home from abroad for the summer vacation and their families experienced this year shocked every homo sapiens in Turkmenistan with collapse of their hopes for genuine democratization and normal existence. The so called Turkmen thaw ended in scorching summer temperatures. Turkmenistan is back on the path leading to total abolition of all and any human rights and freedoms. Forget the laws and Turkmenistan's signatures on international documents. As civil servants themselves put it cynically but sincerely, these documents exist only for international organizations and not for the Turkmens.
So, what happened to students? They found themselves unable to board planes and passenger trains because of the lack of a special permit to study abroad not everyone had managed to obtain. What sick mentality could come up with the idea that officials in a country calling itself democratic should decide for the nationals where their children should study?
People, very many of them had saved literally on everything to raise the sum needed to send their children abroad, were forced to approach state structures for the coveted seal on the permit to study in foreign countries. Instructions concerning what kind of a seal it should be and where it could be obtained regularly changed. People spend weeks (!) queueing to some state structures. As it turned out, there existed lists of permitted and forbidden foreign colleges. American Central Asian University in Bishkek and other private establishment were forbidden. Desperate parents mailed letters to the president which were never answered - they never do. Abolition of the ugly and repressive ban would have been ideal, but... Either administrative barriers around the president completely isolated it from the people or it was a major offensive the authorities launched against youths and their rights. Turkmen youths are understandably reluctant to pay tremendous sums for the dubious pleasure of obtaining education in Turkmenistan itself where students spend more time at all sorts of ceremonies, openings, and athletic events than in classrooms.
"Economic" motives of this unnatural ban are not to be dismissed either. Some officials of the Turkmen Ministry of Education were heard saying that "studying abroad and paying for it is not patriotic. You'd better set money aside for studying here, at home." One of the helps at a kindergarten who had her son studying abroad was actually fired. "You have the money then? All right, you are fired. We'll hire someone else," she was told.
Families of the students prevented from leaving Turkmenistan were bullied into abandoning studies abroad. Families of whoever chose to spend the summer vacation abroad were pressed into calling their children home. Employees of state structures with children abroad were threatened that it might cost them jobs. American Central Asia University students' parents made the black list.
Not everyone managed to finagle the permit to study abroad and leave Turkmenistan in time for the start of classes in September. Some did, at the cost of unbelievable psychological stress and after greasing some palms. Students of correspondence schools were granted the leave.
Some hapless students were removed from three consecutive flights out of Turkmenistan. Some of them lacking the permit tried to leave the country by ordinary travel visas but their names were already in databases so that all of them were turned back from the border. Nobody was spared humiliations and chicanery - young men who had served in the army and who had not, and even girls.
I was leaving Ashkhabad on September 6. Passport control scrutinized the documents of every youth, so that some flights took off after a considerable delay.
State officials are permitted to leave Turkmenistan to learn how foreign democratic institutions operate these days. International organizations are happy. They do not care that travel abroad is essentially a taboo for ordinary citizens of Turkmenistan.
Teachers of schools in Dashoguz and Turkmenabat, for example, face the prospect of losing their jobs for appearance of foreign visas in their passports during the legitimate leave of absence. Teachers in Turkmenabat are demanded to hand in passports whenever they take an unscheduled leave of absence or even call in sick.
Turkmen students are forbidden to travel abroad during the academic year. Violators are expelled.
Turkmen uniform
Denims and easy clothes are forbidden. Male students are expected to wear black suits, white shirts, ties, and skullcaps. For girls, it is red gowns and skullcaps. Plus two long braids. Girls with short hair are expected to wear wiglets.
Can you imagine a whole bunch of girls taking off wiglets and combing them? It makes one hell of a surrealistic picture.
Prerequisite uniformity begins at kindergartens and schools. All children regardless of origins must wear Turkmen skullcaps.
Maisa Yazmuhamedova, our zealous Deputy Premier for Culture and Education, stiffened the dress-code this year. She demanded that all women teachers wear long Turkmen gowns with sleeves reaching down to the palms and Turkmen shawls. Forget skirts, blouses, and suits.
Green gowns for everyday wear, red ones for holidays. Body conscience silhouette is regarded as a fraudulent violation of national traditions. No sandals, only shoes that enclose the feet. Matter of fact, women wearing sandals and pants are barred from all state structures and organizations.
Schoolgirls are expected to wear long green gowns (it was green suits and green sarafans a short while ago). Administrations of some schools force on their students' families uniforms made at certain parlors - at exorbitant prices.
Had it been possible, Yazmuhamedova would have forced identical green and red gowns on all women in the country.
This deputy premier is morbidly xenophobic. When young musicians were screened for performance in Turkey, Yazmuhamedova saw a gifted Russian violinist performing before the board and interrupted her with a callous "What is this Russian doing here?" in Turkmen. The girl exited the scene in tears, taught a bitter lesson of bigotry by a senior state official - so senior in fact as to believe herself to be above elementary standards of civilized behavior.
Renounce Russian citizenship
The Turkmenbashi reduced the use of the Russian language to a bare minimum. Russian fares somewhat better these days, but the Turkmen authorities are in no hurry to proliferate it. Number of the so called "Russian classes" in Turkmenistan remains unchanged, falling way behind the ever growing demand.
The state endeavoring to arrange the population in symmetrical columns easy to control and manage has no need for people with double citizenship (Turkmen and Russian). It is their freedom of travel that irritates the powers-that-be.
Aggressively determined to drive Russian-speakers out of Turkmenistan, Saparmurat Niyazov the Turkmenbashi decided in 2003 to abolish double citizenship which he correctly associated with the best educated part of society and which inevitably irritated him the way few other things did. (The decision to permit double citizenship in the first place was something he himself had made with his Russian counterpart Boris Yeltsin.)
People with the power to cross state borders on a whim could not help disturbing the president who had fenced the country from the rest of the world with his Golden Age curtain. Very many left Turkmenistan then (in 2003) in panic, even those who had never planned to but feared isolation from their kin in Russia. The regime parted company with countless highly skilled specialists without regret. What this policy of state nationalism and isolation resulted in is plainly seen in Turkmenistan these days - low level of education and high level of ignorance typical of Turkmen officialdom.
The Russian parliament came to the defense of the people with double citizenship then. Remaining citizens and patriots of Turkmenistan, they retained their Russian citizenship and the right to visit their families in Russia and other CIS countries.
The new Constitution the authorities adopted in spring 2008 permits no double citizenship. The powers-that-be are out to abolish double citizenship as such and deprive double citizens of one citizenship. It will hopefully force the latter to leave Turkmenistan after all - and make the rest all the more obedient.
Since laws are not supposed to work retroactively, the powers-that-be resorted to banal state blackmail.
Turkmenistan has been issuing new foreign passports since July 2008. The process is to be over by January 2013.
At first, dual citizens could apply for foreign passport even though the passports themselves were usually withheld from them. These days, passports and visas offices simply refuse to receive documents submitted by dual citizens. All Turkmen nationals including dual citizens are permitted free travel abroad with domestic passports for the time being but this state of affairs is not going to last. Local authorities were already instructed - unofficially - not to prolong dual citizens' passports. Even in fascist Germany in the 1930s the Jews were issued passports. Offensive as they were, they were nevertheless passports.
Dual citizens in state structures are strongly "recommended" to renounce Russian citizenship. Turkmenistan wants no ugly ducklings within the happy Turkmen nation.
Even participation in an international conference, say, in Bishkek is a pretext for denying foreign passports to Turkmen nationals. Passports are a perfect leverage. All of that is happening in a country calling itself a democracy, in the 21st century, mind you.
The officials who issued domestic passports to some Turkmens with old Soviet passports intent on travelling abroad, were fired from a passports and visas office this spring. The issued passports were confiscated as "illegally obtained".
Invitation of relatives and friends from abroad to visit Turkmenistan is extremely problematic. The Immigration Service has the power to deny visiting permit without the courtesy of explanation. Russians are only permitted a 20-day stay in Turkmenistan, and that goes even for the Russians who were born in Turkmenistan. When my daughter-in-law decided to bring my grandson to her native Turkmenistan from Russia for the whole summer, the Turkmen Embassy said that mother-in-law was not that close a relative and advised the woman to stay at a hotel.
I sent a telegram to president of Turkmenistan on February 26, "I request that You personally give me the foreign passport I've been unable to obtain since August 2008 which is a violation of my rights and the rights of all dual citizens of Turkmenistan preventing us from joining the ranks of the happy Turkmen nation."
I got a phone call in early May. Someone by name of Murat (he refused to say anything else) invited me for an interview to the Immigration Service. This Murat explained that Turkmenistan had abolished dual citizenship and that dual citizens were supposed to renounce the second citizenship before they could be issued foreign passports. He asked me to sign a written pledge that I accepted it. I did not want to accept it and asked Murat in my turn to give me this answer on paper with all necessary signatures and seals. I left. Murat called again several hours later to say that the paper I wanted would be mailed me at some later date. I never received any correspondence or calls after that.
It took an appeal to the president to get a response from a semi-anonymous Immigration Service official. What will it take to get the president's personal response? An appeal to the Lord, perhaps?
Humiliation and lawlessness
As a matter of fact, plain fear - quite warranted under the circumstances - served as reigns when I was writing the president. What few human rights activists remain in Turkmenistan these days face the repressive system all on their own.
When the OSCE first established its office in Turkmenistan, Pyotr Ivashkevich became the local commissioner for human rights and human dimension. He was great help indeed. He cared. The current OSCE Human Dimension Officer Begona Pineiro Costas is frightened to meet with the people whose rights she is supposed to defend. When I asked her to publish my brochures on human rights and democratic principles of a state based on supremacy of the law (Ivashkevich had published them once and the whole print run was bought in no time at all), Costas nervously replied that the OSCE does not work with non-registered organizations. The idea to publish them as work of a private individual was turned down as well.
Local OSCE officials avoid contacts with whoever speaks up against human rights abuses in Turkmenistan and cooperate only with the absolutely loyal. Neither did Costas grant me the request to give her refusal in writing. What few human rights remain in Uzbekistan are convinced that Costas does not give a damn about the actual state of affairs with human rights in Turkmenistan.
When farmer and lawyer Abdurakhman Bairamov foolishly took the authorities' promise of changes in the country seriously and nominated himself for the Majlis or parliament, they immediately jailed him on a fabricated excuse. Nobody came to his help either in Turkmenistan or abroad. Turkmen jails are full of the innocents imprisoned in the Turkmenbashi's days. Nobody cares. They could all be dead for all anybody cares. And Turkmen jails are something special.
Gurbankuly Berdymuhammedov's first months as president were a period of high hopes. Things kept unloosening but by bit. Cell phones and the Internet became relatively available. These days, however, SIM-cards are only sold to whoever produces the national passport. Yours truly never visits web sites of the opposition for fear of being left without e-mail communications.
My departure for Moscow on September 6 became the last drop. Customs officials no longer ransack one's luggage but people coming or going cannot rid themselves of the anticipation of some humiliating experience all the same. I was scrutinized, checked with a metal detector, and frisked this time. My luggage was ransacked. Customs officials withdrew a flash-card and my camera (both were returned contaminated), children books for my grandson, personal mail, newspaper clippings - and took it away for examination. All of that was eventually returned with an apology. "I had my orders, you know," the official said.
Aftertaste of this humiliation spoiled my vacation with the family in the Crimea.
Nobody is safe from the administrative tyranny. Air conditioning units are removed from buildings one day (and their owners are supposed to pay the dismantling crew), and owners of stores in cellars are forced to replace metal grids on the windows with double-pane units the following day (because the company dealing in the latter belongs to some senior official).
I asked a neighbor kid how he liked it back at school and heard "I'm beat" in response. As it turned out, kids emulated a happy crowd in a nearby residential area where a new school was opened. The ceremony took the whole day.
Five-year olds and their day-care assistants slept over at the kindergarten once so as not to be late for the opening of a day-care center for children of the elite in another district. Parents are too frightened to complain.
Whenever I speak up in defense of human rights, even the people who sympathize suspect that I'm paving my way to the West. I love Turkmenistan and do not want to leave. I want to live in a country where decent laws and reality exist in harmony and from which Stalin-type tyranny is absent.
Turkmenistan proclaims a New Renaissance while sliding into the Medieval times. The first part of the official slogan "State for the individual, individual for the state" is as false as students' wiglets are.
Duel citizens depend on Russia and Russian alone. The Embassy of Russia in the meantime easily provided citizenship renunciation forms a year ago. Dual citizens are treated with detached disdain. The Turkmenbashi crushed the Russian community in the mid-1990s. When a Turkmen journalist reproached the Russian Embassy for the lack of a Center of Culture for the Russians and Russian speakers, the response was, "What for? All sane people left long ago. For the turds who remained?"
Events within the framework of Days of Russian Culture in Turkmenistan this spring were reserved for the officialdom.
Dual citizens had pinned hopes on the visit of Russian President Dmitry Medvedev to Turkmenistan this September but Medvedev came and went again and nothing at all changed. Moscow does not care about dual citizens forsaken and abandoned in Turkmenistan.