Uzbekistan: Only one bookstore remained in Samarqand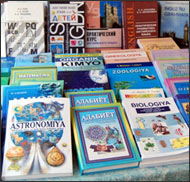 Samarqand used to be one of the most "reading" cities in Uzbekistan. It is hard to believe now but in 90s each of three districts of the city had several bookstores. Samarqand's pride was Book Center – three-storey bookstore. Today, such stores are reconditioned into food stores, drug stores and boutiques. The former Book Center now serves as the head office of biggest cellular provider.
Few days ago the book store in the area of Samarqand state university (hosting five thousand students) was shut down. Allegedly, new owners will recondition the place into restaurant.
The only active bookstore in Samarqand is Uzkitab at Alisher Navoi Street (former Mustillik and Lenin Street) that has existed since Soviet period. I remember that that in the period of total deficit (even having enough bookstores) people had to sell waste paper to the government in order to obtain classic literature. This is the way how many residents of Samarqand filled their personal libraries with books. Today, these books, which were considered rare few years ago, moved to big and small markets as well as garage sales.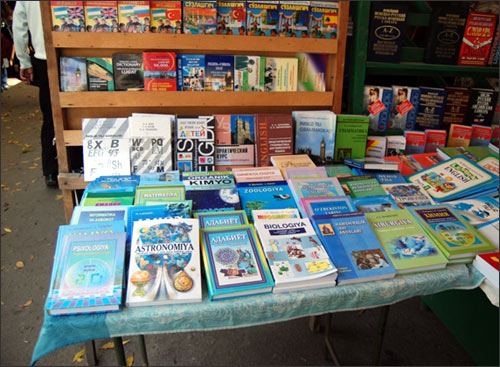 Books at school fair. Photo © Ferghana.Ru

The point is not that the books, written by worldwide known authors, became useless. The annoying point is that the literature itself devaluated.
Paying attention to books, offered by senior citizens in the line with other stuff, I asked about the price. "Thousand sum. Wait. Just give what you give". These were Soviet editions of books by Vergil and Ovidius in excellent condition! Both volumes were offered for 800 sum (about $0.6, based on official exchange rate).
At one of the improvised second-hand bookshops I noticed unorganized pile of several good-looking hard copy books with the names of Pushkin, Chekhov, Lermontov, Tolstoy, Astafiev, Dumas, Wells, Defo, Pikul and other outstanding writers. All of them had similar price tag – 300 sum (about 20 cents).
However, you can also see how books are sold, based on their weight. The waste paper centers compensate 150 sum per kilo.
The devaluation of literature of Russian and foreign authors began in Uzbekistan after the stirring up of migration when, first of all, ethnic Russians left the country. People were not able to take the entire library and put books on sale. Other factors are fewer numbers of European classes and groups in educational institutions as well as introduction of Latin alphabet. Today's public value system does not motivate the interest not only to foreign, but also domestic literature. It is very rare if you see over 1000 copies of books, written by modern Uzbek authors.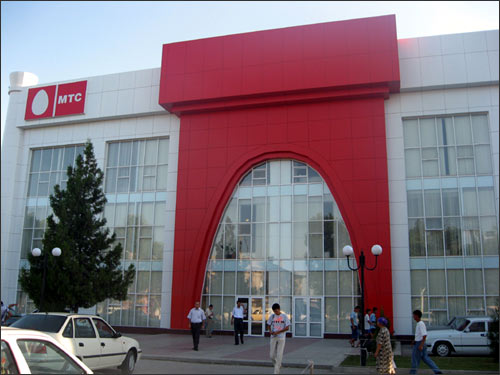 MTS office in Samarqand. This building used to be the Book Center. Photo © Ferghana.Ru

The book sales in downtown area are very popular among the residents of Samarqand. Few people have been trading the books, bought very cheap from private libraries, since many years ago. This is de facto open air second hand bookstore. Not every book will be bought by the traders even for symbolic price. The most demanded items are dictionaries and manuals that are popular among students. Such items can be purchased at Uzkitab but the price will be five-six times higher.
By the way, this bookshop, the oldest monument of Samarqand book trading, has more and more course books, office accessories and books by classical writers of Uzbek literature. Besides, the same dictionaries and guidance are represented as gift-books. For instance, English-Russian dictionary, including 50 thousand words, can be bought for 30 thousand sum (about $20 at the official exchange rate). The same price for used book can be purchased for 5 thousand sum ($3.5-4) in the streets.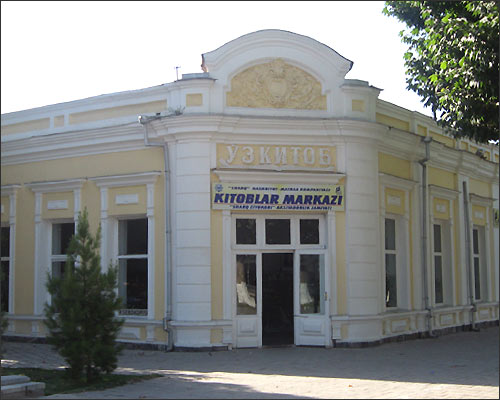 Uzkitab, the only official bookstore in Samarqand at Alisher Navoi Street. Photo © Ferghana.Ru

This bookshop also offers colorific editions on alternative medicine, psychology, detective stories, junior books and Russian books. However, they are not affordable to many people in Samarqand and, therefore, they occupy only two small departments.
Maxim Isaev