Andrei Zatoka's Long and Winding Road to Russia?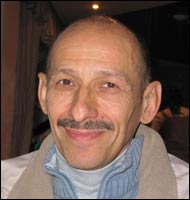 His harrying experience in Turkmenistan finally over, Russian environmentalist Andrei Zatoka and his wife deplaned in Moscow on November 8. A trial in Dashoguz on October 29 had sentenced Zatoka to five years imprisonment. The verdict sparked an international campaign in the environmentalist's defense. Human rights activists, environmentalists, and finally the Russian authorities raised their voice. Another hasty trial on November 6 voided the previous verdict and sentenced Zatoka to a fine. Following that, this citizen of Russia was essentially expelled from Turkmenistan.
Ferghana.Ru covered Yevgenia Zatoka's account of the first trial. Here is a sequel. The Zatokas relive what happened afterwards, release from jail, and evacuation to Moscow.
Detention cell
Says Andrei Zatoka: There were 10 or 11 men in the cell they locked me up in. Matter of fact, assistant chief warden summoned me almost at once. He wanted to know what I thought about the cell. He said he was thinking about moving some inmates to other cells. All of the facility in the meantime was crammed full. A bunch of prisoners, 60 men or so, had been delayed on their way to other prisons because of the celebrations. Anyway, I told him that it was all right, but they did take some inmates away that same day. Only seven of us were left in this cell. Other inmates told me it was something unprecedented.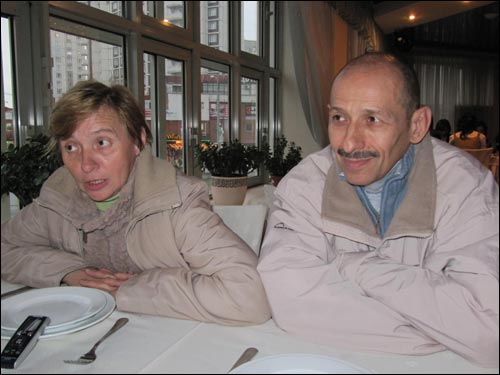 Andrei and Yevgenia Zatoka in Moscow, November 9, 2009

The cell was fairly small, six meters by six, with eight bunks in it in two rows, one above the other. Lower bunks were shared by two inmates each. Whoever lacked a bunk put mattresses right on the floor... the closer to the door, the better. That was how things remained, more or less, until my last day there when there were 12 inmates in my cell. I was told once that as many as 27 people had been crammed into this cell last summer.
As for the others with me, one of them was a murderer. Most of the others were pushers. And some trespassers as well. No drug addicts. These guys were escorted to activity therapy centers right away. One of the inmates was a "girl" meaning that he was supposed to live and take his meals right near the slop-pail. Anyway, the man who gave orders in my cell, local kingpin, was fairly liberal and the "girl" led a better existence than usual.
Meals were all right. Porridge morning and evenings. Wheat chaff, quite nutritious. Even second helpings were available. Black bread was in abundance. No, I wouldn't say that we were ever hungry. Thick soup was served at midday. Anyway, inmates preferred what their families brought them in parcels. Some of the food there got spoiled before it could be eaten and was thrown away.
Russian Embassy
Says Yevgenia Zatoka: I came to Ashkhabad from Dashoguz on Sunday [November 1 - Ferghana.Ru] and called the Russian Embassy right away. It was week-end, but I made an appointment that very day. Embassy advisor Aleksei Demin and I met at noon. The meeting lasted about an hour. I gave him copies of the bill of indictment and verdict and Andrei's letter. It was the letter Andrei had written a year ago against precisely this eventuality. Anyway, I began talking to him about the trial. At first, Demin was listening like a faceless official but it changed. Twenty minutes or so later and he was no longer an indifferent functionary. I was talking to a man who was clearly impressed and sympathizing.
Demin said that he was going to meet with the consul now and that they would try to come up with something. He warned, however, that they could only work through the Turkmen Foreign Ministry meaning that I should not expect too much. I was given phone number of the Embassy official put in charge of Andrei's affair. Monday evening - I was going back to Dashoguz then - he called me to say that the Embassy had drawn a protest. That was the last time I saw anyone from the Embassy or heard from them. I do not know what else, if anything, they did for Andrei.
Bargaining over citizenship
Says Yevgenia Zatoka: I went to the court for a permit to see Andrei on Tuesday [November 3]. Judge Guncha Muradova, the one who had sentenced Andrei to imprisonment in the first place, made me wait an hour or so. She came at last with the permit. "Are all necessary signatures here?" I asked her and three secretaries. "Here you are. All signatures." - "Last time they told me chairman's signature ought to be here too. Where is it?" - "Just go! Here is your permit." (I knew that I had to be there at 3 p.m. with this permit to submit an application... so that the meeting would be arranged the following day.) "Just go," she repeated. "Why? Will they arrange it right away?" (I saw that she was barely restraining her temper - and I was no better myself, but I wanted everything clarified right then and there.) "Not my fault that your laws change every day. What do I do?"
Muradova said I had to go to the detention cell the following morning - with a food parcel for Andrei. I did. They said, "Sure, we'll arrange a meeting right away!" and told me to wait on the patio. Some big wheel finally emerged three hours later. "No way to arrange it today," was all he had to tell me.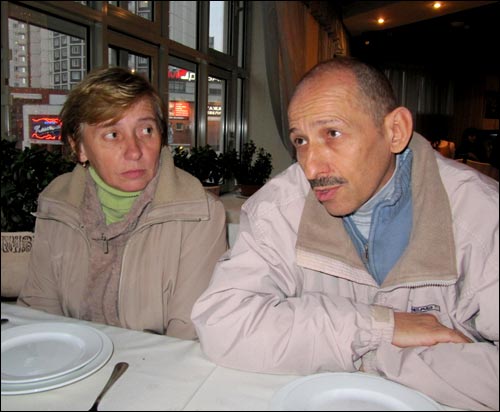 Andrei and Yevgenia Zatoka in Moscow, November 9, 2009

I got a call at approximately half past eight Tuesday night. "Could you come up here right now?" the caller said. "Sure. What do I bring with me? Food parcel?" - "All right." I got the parcel, called the lawyer, and we rushed to the detention cell.
They let us inside this time. They examined everything we were carrying, frisked us thoroughly, and made us turn off cell phones. I was taken to chief warden's where I saw three men in civvies with some Turkmen badges on lapels. I guess I was disappointed. I had expected someone from the Embassy as well. Well, these three had to do. I almost said "At last!" when I saw them. I had kept telling everyone that I was prepared to meet with anyone as long as it helped Andrei. Well, here I was with these three men. They invited me to come in and sit down.
The lawyer tried to follow me into the office but it was no go. "And who might be you?" one of the men asked. He introduced himself. "Are you Yevgenia Zatoka's lawyer?" That was when I butted in with "Yevgenia Zatoka is not a suspect and therefore needs no lawyers." They swallowed it but told the lawyer to get lost - in Turkmen. He left. I was alone with these three men in civvies.
"We hear that you are displeased with something? With what?" One of them, clearly the boss, asked questions. The other two were writing everything down. "With how Andrei was imprisoned three years ago, how he was put under observation... how he is not permitted out of the country. I dislike the provocation at the marketplace on October 20, the investigation and the trial. And the verdict. I'm displeased with it." - "But you have an option, right? You have dual citizenship, so you can renounce your Turkmen citizenship. If you dislike it here, you can always leave." I replied that I was glad that Andrei had considered it and said that he was ready to renounce Turkmen citizenship. I said I was prepared to do so too.
They asked then how come it had taken me so long to come to Turkmenistan since Andrei was here and unable to come to me. I explained that I had been taking care of my mother, that she had passed away in September, and that I came right after that.
"All right," they said. "Here, renounce citizenship in writing, please." - "No way. I'm not writing anything without seeing my husband and talking to him first." - "But that's bargaining!" - "So what it if is? I'm not signing anything without having talked to my husband first."
It put them out. "What we are offering is a solution. Why don't you take it?" - "Is that all then?"
"No," they snapped back. "You go to another study and wait. We will bring Andrei, talk to him, and invite you to join us. You'll be able to talk it over and decide."
This wait lasted 15 minutes, no more. I was called then and I saw Andrei.
Says Andrei Zatoka: The two of them did most of the talking. One of these men looked, and acted, like he was some sort of big wheel. That's how introduced himself actually. He said "I'm the Directorate" without explaining if he meant Dashoguz or Ashkhabad. I did not ask. Anyway, the second man was his assistant or something like that. There is only one organization whose officials need 5 minutes on the phone to solve any problem. These people do not even bother to show their IDs in Turkmenistan. Neither do they introduce themselves. "I'm the Directorate" is all they ever say and that's all they need to say. Obedience is instant and total.
"Did you make an appeal to the Russian Embassy?" he asked. "I did." - "What did you want?" - "I wanted legal aid. The man in charge of the investigation refused to notify the Russian Embassy of my detention because, he said, I had been arrested as Turkmen national. He plainly stated that he did not give a damn if I was a Russian as well. I wrote a letter to the Embassy then." I tried then to find out from this "Directorate man" what I had been sentenced for but he would have none of that. "Let's leave it alone. Your wife is here. You can see her," he said.
He was a smooth talker, this man. He did not use threats or try to bully me. It was clear that they had to settle the matter somehow. They asked if I had the cassation. I said that I had but it was back in the cell. I was permitted to go back, under escort, of course, to fetch it and then we resumed the dialogue. "And what are you going to do now?" I told them sincerely that I would probably never mail the cassation because it had never helped anyone yet and that I would probably end up in some prison or colony before long. If nothing untoward happened, I said, I would probably be out on December 12. The amnesty, you know. When I was out, I'd try to leave Turkmenistan, I said.
"We could help you with leaving without delay," they said. "Renounce the Turkmen citizenship, and it won't take long." They invited Yevgenia then and we got down to particulars.
Says Yevgenia Zatoka: They gave us sheets of paper to put down our renouncements. We asked how long the procedure might take. The answer was a month or so. I said I could not wait that long because I had to get back to my work. The big wheel left then. He returned in a couple of minutes and said, "Here, I've made all the necessary arrangements. A couple of days and you two will be together again." We had other questions. How will it all be arranged? What about the time needed to pack up? To dispatch a container with our things to Russia? To travel to Ashkhabad and say good-bye to friends? And we wanted to know about our pets. We had a bona fide terrarium at home with snakes, lizards, spiders. What were we supposed to do with them - set them free, give them to friends, or what? We were told that we would be given ample time to do everything. Andrei asked about the customs. Taking books out of Turkmenistan is always problematic, you know. They said we would waltz through the customs without a problem and that we'd get help with "this container of ours".
We gave them renouncements in writing. They left. Andrei and the lawyer composed a new cassation.
Excerpt from the ruling: Zatoka stepped on victim Adylbek Kazakov's foot. Kazakov pushed Zatoka who... twisted the victim's left arm, delivered a blow at his head, and struck him down. Zatoka pulled at the victim trying to get to his feet again and put an arm around his neck. Listening to it all over again, Zatoka sneered. "It took one blow to give him concussion, break an arm, and leave scratches all over the body. That deserves a mask and handcuffs. I'm public hazard without them.
Says Andrei Zatoka: I pleaded neither guilty nor innocent in that second cassation. I just wrote that I was sorry that it had happened and asked the court to take into account previously ignored mitigating circumstances and my accomplishments in the matter of environmental protection. My wife was told that she could give me a food parcel. She called our friends who brought it. The meeting was over at about midnight I think.
Frenzied Friday
Says Yevgenia Zatoka: I spent the following two days packing up what we would take home. Trying to, anyway, because they kept interrupting me. Dealing with the Immigration Service took nearly all of Wednesday. They came to our place and demanded all Andrei's documents starting with his birth. The papers had to be found first and Xeroxed somewhere. That done, we went to the Immigration Service to get financial information. I was told I must pay a citizenship renouncement fee, about $100 for both. It was nearly 6 p.m. then and the bank had called it a day. "Don't you worry, they'll open it," some Immigration Service functionary told me - and they did. They opened the bank for me. All senior officials were there, they and two frightened tellers. It took these two poor women so long to process the payment, so plain scared they were. And I did not even have a single manat that day, only dollars. They accepted US dollars, can you imagine it! It was really something!
Friday morning I went to the regional court where Andrei's complaint was considered. The meeting was scheduled for 10 a.m. It began an hour later, without the prosecutor. The prosecutor had to be found. He was, eventually. He turned up clearly in a hurry, carrying some documents. The judge read aloud the previous verdict, the lawyer followed it with the complaint. The prosecutor demanded confirmation of the previous verdict because Zatoka's guilt had been confirmed by experts and eyewitness reports. The lawyer insisted on a milder sentence. We were asked to step out then. Five minutes later the new verdict was ready. The court took mitigating circumstances into account and replaced imprisonment with a fine. We were supposed to pay 20 average salaries - 1,000 denominated manats or 5,000,000 old ones. Equivalent of about $350.
Bailiff accompanied me to the bank where I paid the fine and we returned to the courtroom. They were having a midday meal break. When it was finally over, I submitted the receipt that finally put the bureaucratic wheels in motion.
An Immigration Service functionary was waiting outside. "You must leave the territory of Turkmenistan today." - "What about the container?" - "What container? I don't know anything about containers."
Other functionaries came over. "Did you pack? We will help you with loading it all up into the container?" - "I need more time." - "No problem. We'll just start loading your things all the same." - "No way. I want Andrei at home, saying what we are going to take with us and what we will leave. Without Andrei at home, nobody is going to do any loading." - "How much time do you need?" - "At least two hours once Andrei is back."
I informed the lawyer that I was not going to the detention cell meet Andrei outside. He could get home on his own after all, and I had the packing to think about.
I went home then, called our friends and pupils, and we started packing. Strangers kept turning up and asking if they could buy this or that - furniture, crockery, appliances. I gave it all away. I did not want THEM to get anything.
An Immigration Service official called me to say that I must go to the detention cell right away and collect Andrei. I rushed over there.
"Why call me?" I asked on arrival. Nobody seemed to know. "Why cannot he come on his own? Why summon me here to collect him?" That was plain nerves talking, I know it now and I knew it then. "He is supposed to leave a receipt." - "Let him write it then. What am I doing here?"
They finally brought Andrei. He left a receipt that he was given back his documents. I left one that I was collecting my husband. They wanted something else, confirmation in writing from me... disclaimer of grievances or something. The look I gave them was all it took. They simply waved us out.
I took Andrei by the hand. We set out for the exit but found the patio crowded. "Where are you going? Here, we'll give you a lift," someone said. They probably had orders to minimize our contacts with friends. Anyway, we got into the car and they took us home.
To say that we found utter chaos on arrival is to say nothing at all. They were loading things into three trucks at once. One for the container, another for sale... That lots of things we meant to take with us were left there and lots of what we wanted to leave there ended up with us in Russia goes without saying.
We were escorted by two men, one from the Immigration Service and the other who had never even introduced himself. Anyway, it was this second man who became our guardian angel. It was he who solved all problems. I remember when we were packing yet, harried beyond all measure, and in comes this woman. I've never seen her before. "Can I help you?" - "I'm from the tenement management." - "What does the tenement management want?" - "The keys." That was when the man came over. "Get the hell out of here!" was all he said. She huffed and left. A man came later. "Yes. Who are you?" - "Tenement manager. I've come for the keys." - "And why is that?" - "But you're leaving, aren't you?" - "My children remain here. They are registered here and both are citizens of Turkmenistan." The man was clearly unused to hearing a "No". Voices were raised. The guardian angel approached before things went too far. He never showed his ID or introduce himself. It was simply the look he gave the man. "Later, jashuli [respectful form of address to one's elder]," he said. The man disappeared without another word.
When Andrei and I came home, there were our friends there to help us with the packing. Ten minutes later, however, they started coming over to say good-bye. "We must be off," they said. "How come?" - "We were strongly advised to." As it turned out later, the recommendation had been made with a string of invectives.
Andrei went to the railroad terminal to supervise the loading of the container in the evening. One of the Immigration Service bunch took me to the ticket office where he said two tickets had been booked. He kept telling me to hurry up because we might be late but we were late all the same. I booked two seats on the morning flight to Ashkhabad then. Actually, they made me book two tickets on the flight from Ashkhabad to Moscow right there, in Dashoguz. And since I was no longer a citizen of Turkmenistan, they made me pay in US dollars.
Says Andrei Zatoka: They had promised us no problems with the customs but problems were waiting all the same. I was told that I needed a list of what was to be in the container and that some of the things inside were not to be taken out of the country. Another customs official, this one a woman, began muttering that she could not examine anything, there being no lights and all that. Our guardian angel told her something sotto voice and the process of loading began. The woman was doing her best to slow it down. She began putting down all sundries and even titles of every book she happened on. I saw then that we could forget about the red-eye flight out and even about the morning one as well at this rate. Once again, the guardian angel said something and the pace quickened. Instead of putting everything down, they just wrote "a bag with personal things in it" or "a bagful of books" in the list. We finally put everything inside, everything but gear which was not even supposed to be there in the first place. I mean that we never intended to take it with us. They just did not let me take natural park maps with us (nothing classified there, of course, but I was past caring) and chemicals.
With everything inside the container, it was time to get down to all the paperwork. Another woman, the one in charge of redtape at this level, announced that her working hours had ended and just walked out on us. She was back a half hour later. She was with us until nearly midnight, without a word of complaint, filling out forms and doing whatever else they do. Our guardian angel knew who to call and what strings to pull.
Anyway, this woman was not exactly in a hurry. She took her time with documents before telling us that someone from the firefighting service was needed now. It was half past ten then. Our guardian angel stepped out for a moment, called someone, and a representative of the firefighting service was with us soon after that. Then this woman said that some document or other had to be verified and signed by a depot official. One was summoned...
It usually takes 3-4 days to send a container out. With us, it took 3 hours. Everything had to be paid for in US dollars but I had only manats with me so that they accepted them.
We were taken back to our place and finally let alone at midnight or so. We knew that they did not want to take us home and leave us there but they had no choice. They were probably never given any money to put us up in a hotel for the night.
Ruined home
Says Yevgenia Zatoka: The apartment was a mess. Stuff, books, documents littering the floor... our whole life down there under our feet. Empty furniture, foodstuffs put into the sink to rot there because the refrigerator had been turned off. Holes in the walls where they cannibalized air conditioning units... [Yevgenia weeps]
Says Andrei Zatoka: The men escorting us were polite. No man in his right mind could remain aloof seeing HOW they were hustling us out... even had we been enemies of the people which we were not. Anyway, these men tried to make it easier for us. As for the authorities who engineered it all, that was plain insult and humiliation. "Pack up and get the hell out of here." That sums it up, I guess.
When they jailed me for the first time, I knew that it was the National Security Committee. They suspected me of espionage, collaboration with "enemy web sites", etc. There was nothing to base these suspicions on, but the National Security Committee interrogated me every Sunday. And they were not exactly benevolent, you know. They confiscated my computers and sifted literally everything. When they were finally convinced that I had never been a spy or anyone, they became noticeably less rigorous. Actually, they only had a couple of private letters where I was not particularly respectful with regard to Niyazov. Even that... I all but apologized for it right in these letters, i.e. before the arrest, because I thought it was wrong of me to criticize the dead. Anyway, I thought that we made a deal. They said that nothing like that would occur again. I said that I was not going to make a fuss. Neither did I make it. I did not want to smear the new president or make him mad and frame my friends, you know. I believe that I kept my part of the bargain. They reneged on theirs.
I'm not a vengeful man by nature. I'd rather think about the future. In any event... were it not for the tears of my wife and fears of my mother who had been maliciously informed of my new arrest, I would not have been talking to you now. Since all of that did take place, however, I feel that I must tell everything.
I do not even know what they jailed me for, this time. Perhaps, someone wanted our apartment. When they had jailed me for the first time, police officers asked right away if our apartment was roomy and private. I said that it was not our private property, it belonged to the state. I know that they spread the rumors that my wife ditched me and that I turned the apartment into a den. They even said that I had to be evicted because I kept venomous snakes at my place and because my neighbors were frightened... When I was renouncing Turkmen citizenship, they asked once again if the apartment belonged to us. "No," I said. When we wondered if we might manage to make it private and sell it, we were plainly told to forget about it if we did not want additional problems. I said then that the apartment was to be left to the state.
Says Yevgenia Zatoka: That's what I kept saying too... that I did not want any apartment as long as they released Andrei. Anyway, I do not think that it was all because of the apartment even though it was a fine apartment indeed. When people are ready to go to these lengths and even accept two terms behind the bars, they surely can do better in terms of living accommodations than this old apartment of ours.
Says Andrei Zatoka: The Turkmen authorities want to see the last of the Russian-speakers. I dare say that had they managed to jail me without a fuss, a whole campaign of arrests and imprisonments would have followed. As matters are, however, we fear for our friends.
Leave all pets in Ashkhabad
Says Andrei Zatoka: We set out for the Dashoguz airport on November 7 early in the morning. Our escorts saw us right to our seats on this flight and exited the plane. We had expected - hoped, rather - that they would come with us.
Immigration Service officials and one man in civvies were waiting for us in Ashkhabad. This latter was the boss but he was no guardian angel. The customs became a barrier.
We were taking our pets with us. We never tried to hide them or anything. We were taking all our lizards (60 or so, catching them all back at home had been something!), snakes, spiders, and others. Plus roaches and mealworms.
We could grease a palm or two and be done with it, but customs officials were wary of the Immigration Service bunch. The order to wave us through had never reached the Ashkhabad customs. I had to do something about my pets.
Some guy from the Ministry of Environment was the first to arrive. Followed by two more and finally by one other functionary, this one allegedly authorized to cope with the matter. They all began by telling me that I had broken the law and had to pay a fine. Fortunately, I had all necessary documents.
As a matter of fact, my relations with the Ministry of Environment leave much to be desired. Zatoka is anathema to them. It all began in 1992, when I was campaigning against leopard hunts... Well, all these guys began to give me chapter and verse on how my documents were not in order and so on. Want to know why? Because (they said) the ministry that had issued these documents in the first place was renamed!
We traded arguments back and forth for the next three hours. The Immigration Service guys grew more and more nervous. I kept telling this man in civvies to call someone who had the power to settle the matter. I kept telling customs officials that they never even knew on what level the decision to deport us from the country had been made. I could have saved my breath for all the good it did me.
Representatives of Turkmen law enforcement agencies and security structures are told to stay away from the Internet. Violators are instantly sacked. It is common people who may surf the Internet, but not them. They do not know what is happening in the world. That's amazing, really, how far from reality they are. So these guys from the Ministry of Environment kept telling me stories how I should have registered all pets, how keeping snakes at home was against the law... They even produced a protocol in the hope that I would sign it and pay a fine. "Where is the document that says that I must pay a fine?" I asked. "Do not teach us our laws!" was the angry retort. "Why not? It was I who drew environmental protection legislation in this country."
In the long run, the Immigration Service lost patience and all my pets were confiscated right there and then. I only had the time to tell them what to do with what insects and reptiles (these ones could be released, concerning these ones please call this number, etc.) and with roaches and mealworms. Concerning these latter, I said they could eat them themselves for all I cared.
That done, we barely made the flight bound for Moscow. And here we are.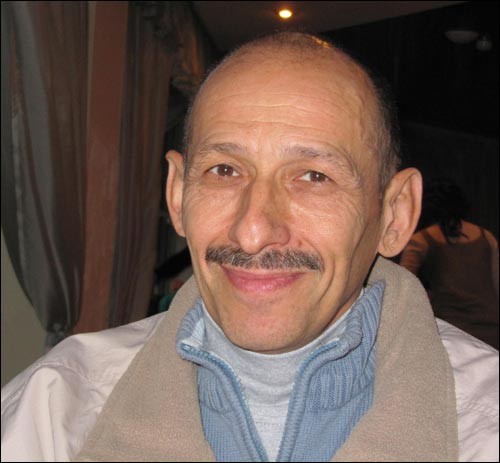 Andrei and Yevgenia Zatoka in Moscow, November 9, 2009