The US government is not planning to resume military cooperation with Uzbekistan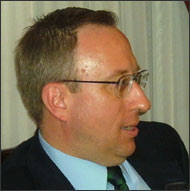 On November 20 Tashkent hosted the meeting of US assistant deputy Secretary of State on South and Central Asia George Kroll with Uzbek and foreign journalists. The press-conference covered such issues as US military presence in Uzbekistan, regulation of situation in Afghanistan, human rights and return of western mass media back to Uzbekistan.
George Kroll is a professional member of US Chief diplomatic service. He works as assistant deputy Secretary of State on South and Central Asia. Mr. Kroll started career in 1982 while in 2003-2006 he was US Ambassador to Belarus. Mr. worked in diplomatic service in Warsaw, New Deli, St. Petersburg, Moscow, Kiev and Minsk. He graduated from Harvard and Oxford universities.
George Kroll shared that he met the representatives of Uzbek government, specifically, Foreign Minister Vladimir Norov and deputy Prime Minister Eler Ganiev. Mr. Kroll says that the purpose of his visit is «to continue developing relations between USA and Central Asian countries, including Uzbekistan».
«We want to improve the relations not only on governmental level but also between the nations of our states through exchange of opinion and information», US assistant deputy Secretary of State mentioned. – «We are interested in cooperation in such areas as business, healthcare, education and other».
Responding to the question on reestablishment of military base in Khanabad, transportation of cargo to Afghanistan, Mr. Kroll said that the negotiations did not cover US military presence in Afghanistan while only humanitarian aid is transported through Uzbek territory to Afghanistan.
Speaking of situation in Afghanistan, George Kroll underlined that it is an important dialogue element between US and Uzbekistan. «We value the advice and contribution, provided by Uzbekistan, to resolution of Afghan issue».
Commenting on use of child labor at the cotton fields of Uzbekistan and the fact that the number of western enterprises boycotted Uzbek cotton, George Kroll said that «this is market-based system where buyers and sellers make their own decision».
US assistant deputy Secretary of State also mentioned that human rights issues «are also being discussed» while US President Barack Obama's administration «does not aim to impose its values to other country, but demonstrates own experience of prospering democracy».
Mr. Kroll also noted that development of mass-media in Uzbekistan (the comeback of such western mass media as Associated Press, RFE/RL) is the part of continuous dialogue and, hopefully, it will be successfully resolved.
Speaking of hydrocarbon reserves of Uzbekistan, George Kroll highlighted that his mission is «to learn more about investment opportunities in oil and gas sectors. We also study the possibility for application of modern technologies in hydrocarbon production in the region», he underlined.
In conclusion he mentioned that US, EU and other states are ready to provide assistance in water and energy issues in Central Asia.
Own information