Kyrgyzstan: Who will take the Bishkek house of Askar Akaev?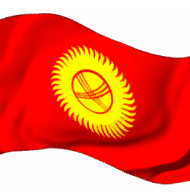 On November 18, 2009 the General Prosecutor of Kyrgyzstan Elmurza Satybaldiev informed at press-conference that no criminal or administrative cases were filed against former president of Kyrgyzstan Askar Akaev and there were no obstacles for his return to Kyrgyzstan. "The law on ex-president's immunity has not been cancelled yet", the Public Prosecutor noted.
This sensational news became the answer for the question of Ferghana.Ru correspondent. On November 16 Askar Akaev called our office and shared that his "modest double-deck house with 200 square meters of usable area" was intruded by the officers of special services, Prosecutor's office and law enforcement bodies that gave one day to take all personal belongings and free the house.
Akaev views it as the violation of all legal norms since his house as well as the Library building of the first president, are being expropriated by personal order of current President Bakiev; these buildings will be taken by the agency, headed by Maxim Bakiev, the younger son of the President.
"This is his political order – Askar Akaev told Ferghana.Ru. – He is taking the house so that I am not able to go back home".
Our agency decided to learn the status of Askar Akaev and if he is able to go back to Kyrgyzstan. It has to be mentioned that Akaev escaped from Kyrgyzstan during tulip revolution of 2005. Since that time he has been living in Moscow and teaching at Moscow State University.
The Law On guarantees of President of Kyrgyz Republic activity clearly indicates: "Ex-President of Kyrgyz Republic has immunity. He cannot become the target of criminal or administrative responsibility for actions, committed during presidency. He cannot be detained, arrested or interviewed. The immunity of ex-President of Kyrgyz Republic also covers his residential and office buildings, transport units, communication means, archives, documents, luggage, correspondents and other property".
We directed the inquiry to General Prosecutor's office via email, but got no official response. Meanwhile, Elmurza Satybaldiev informed that "since March of 2005 98 criminal and administrative cases have been filed against Akaev's family and their property". Speaking of Aidar Akaev, the Office of General Prosecutor directed three requests on his extradition to various countries, including Russia. "Today, Russia refuses to extradite Aidar Akaev", Kazakhstan Today quotes Satybaldiev.
Ferghana.Ru decided to ask the leaders of "tulip revolution" and representatives of political establishment about their opinion on nationalization of private house of Akaev and his possible return to Kyrgyzstan. Unfortunately, we were able to reach only Omurbek Tekebaev and press-service of President Bakiev. Omurbek Tekebaev did not know the story with the house and library and laughed about possible return of Akaev:
- Well, yes... Technically, the government may have no formal claims against Akaev. I believe Askar Akaev could try to come back. We will see of this law on immunity works in reality…
The conversation with presidential press-service became short. Almaz Turdumamatov, the press-service officer of Kurmanbek Bakiev, asked to call him back at his office phone in ten minutes that he never picked up. Finding out who was calling, his colleagues were resistant to invite Turdumamatov.
The last thing we wanted to do was to ask Turdumamatov tricky questions. We only wanted to find out if Akaev's house will be offered as the office for Central Agency for Development, Innovation and Investment, headed by Maxim Bakiev.