Uzbekistan: The embassies of USA and Russia awarded best journalists of the year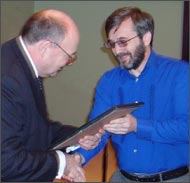 On December 28, at the final press dialogue US Embassy in Tashkent awarded the winners of the local journalists' contest for the best coverage of Uzbek-American relations.
The contest was announced at the beginning of 2009 and the correspondents of radio, television, newspapers, Internet editions, covering the development of bilateral relations in such areas education, culture, foreign policy, trade and others were able to participate.
The winners of the contest became over 10 journalists of various media, including foreign media, not accredited in Uzbekistan. For instance, independent journalists Abdumalik Boboev, Sid Yanyshev and Yuri Chernogaev became the winners. All of them were presented diplomas and valuable prizes: DVD players, digital photo and video cameras.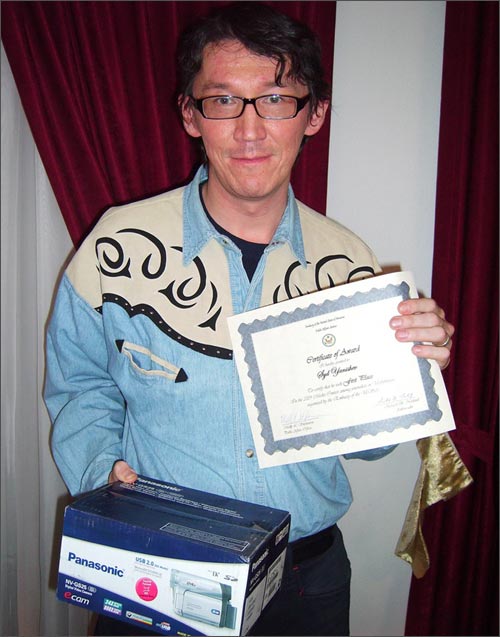 Journalist Sid Yanyshev with the prizes from US embassy

Two days later, Potaht business center in Tashkent hosted similar award ceremony of the contest among journalists, covering Uzbek-Russian relations. It was dedicated to 4th anniversary of signing the allied agreement between Russia and the Republic of Uzbekistan and organized by Rossotrudnichestvo representative office, National Russian cultural center of Uzbekistan and Novosti Uzbekistana newspaper under the support of Russian embassy.
Over 400 stories were considered under the contest. 17 journalists became the winners in 6 nominations, including Sergey Naumov, the freelance correspondent of Ferghana.Ru news agency. All the winners were awarded by valuable prizes and diplomas.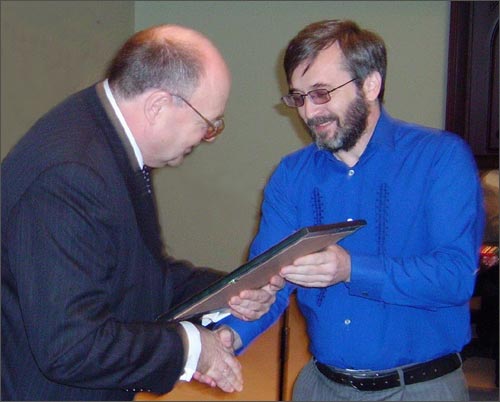 Russian Ambassador in Uzbekistan Vladimir Tyurdenev presents the award to Sergey Naumov

The number of journalists, actively participating in these events and including Pavel Kravec, freelance correspondent of Ferghana.Ru, received memorable prizes.
The ceremony was also attended by Vladimir Tyurdenev, the new Russian Ambassador in Uzbekistan.
- This is the first opportunity for me as Russian Ambassador extraordinary and plenipotentiary in Uzbekistan to meet wide journalist community – Tyurdenev informed. – The major goal, set by Russian government, is the promotion of constructive cooperation with Uzbekistan, our biggest partner in Central Asia. We are looking for cooperation, based on principles of equality, mutual respect and consideration of each other's interests for prosperity and wealth of peoples of Russia and Uzbekistan.
The Ambassador noted that the contribution of "fourth power" is very important for achievement of this goal; therefore, Russian Foreign Ministry and diplomatic offices abroad pay great deal of attention for cooperation with mass media since such contacts facilitate higher impartialness in the coverage of joint work for strengthening the ties in political, trade, economic, humanitarian and other fields of Russian-Uzbek cooperation.