Uzbek secret services collect the records about independent journalists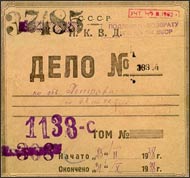 Photo by Ferghana.Ru
The Tashkent Public Prosecutor's office conducted the series of interrogations of several independent journalists, working in Uzbekistan. On January 7 five of them – Vasiliy Markov, Sid Yanyshev, Abdumalik Boboev, Khusniddin Kutbiddinov and Marina Kozlova (that cooperated with various foreign mass media) were called for "an interview" with Bakhrom Nurmatov, the assistant Public Prosecutor of Tashkent. Vasiliy Markov and Abdumalik Boboev refused to show up without official notice; the rest of journalists met Mr. Nurmatov.
Each of the journalists was presented their own detailed record with articles, bio and other documents. Mr. Nurmatov informed that these documents were delivered from National Security Service (NSS) and Uzbek Foreign Affairs Ministry.
According to Khusniddin Kutbiddinov, Bakhrom Nurmatov named four or five author pseudonyms from the opposition websites. He inquired if the journalist was working for such websites as Turonzamin, Ferghana.Ru, Centrasia. Nurmatov also asked about money transfers from abroad, his relations with the family of convicted journalist Dilmurod Sayid, cooperation with Human Rights Watch, Freedom House and Ezgulik. Bakhrom Nurmatov was also concerned if Kutbiddinov ever provided negative information about Uzbekistan.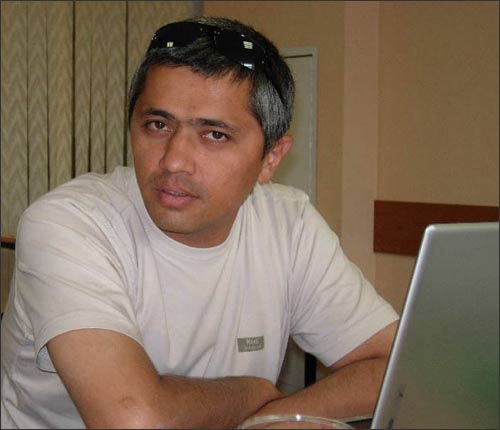 Khusniddin Kutbiddinov

"I did not know others were also invited. I had the impression that Public Prosecutor's office had certain suspicions – Khusniddin said. – However, leaving the office I noticed other guys"
Sid Yanyshev shared that Bakhrom Nurmatov invited him for a talk and affirmed there was legal persecution of the journalist. "He asked about my participation in the international conferences, our (together with Vasiliy Markov) trip to the Andijan Oblast, our detention by the border service guards, law enforcement and national security officers. Nurmatov also inquired about my possible cooperation with Galima Bukharbaeva (the editor of independent Uznews.net website) and IWPR (British Institute for War and Peace)" Sid Yanyshev highlighted.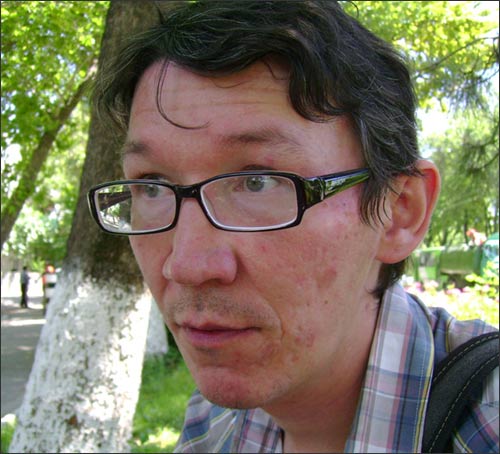 Sid Yanyshev

Responding to Nurmatov's argument on "biased" and "tendentious" coverage Sid said that, vice versa, he always gave different opinions on the issue. "He asked me to describe my journalist activity – employers, conferences and negative comments about Uzbekistan". Yanyshev said that the goal of the interrogation is still unclear to him; he was just told that his record was provided by NSS and Foreign ministry.
Similar questions were addressed to Marina Kozlova that cooperated with Transition online and Associated Press few years ago; however, when the authorities rejected her accreditation application as AP correspondent she quitted the job with AP. On the day, following the interrogation date, Marina left for Chisinau. Her mother informed that Public Prosecutor officers asked about revenues, articles, written under pseudonyms. Yet, Nurmatov underlined that no criminal case has been filed against Marina and she is able to leave Uzbekistan.
It has to be underlined that these were unofficial meetings with no official claims. At the same time, the journalists de facto learned that their activities are being monitored and treated as "undesirable".
I showed up in the public prosecutor's office on January 8.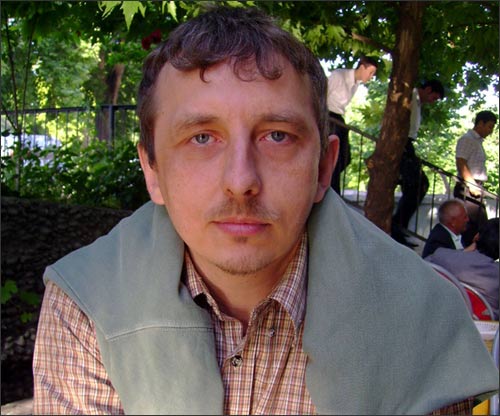 Alexey Volosevich

Bakhrom Nurmatov showed me the folder, provided by Foreign Ministry, while my publications were carefully piled up by the monitoring department (The Center for mass media monitoring under Uzbek agency for communication and information), special structure, established in 2002 instead of the censorship institute. The Center monitors the content of media and web pages in the search for "suspicious" articles.
Overall, Nurmatov asked the same questions about my employers, membership in the news agencies. He inquired about my attendance of international seminars and cooperation with Uznews.net and IWPR.
Again, I was told that my articles are "biased" and "tendentious". As an example, he named few of my articles. I wrote down the statement that my articles were not biased.
This is the first act of intimidation against journalists in Uzbekistan. The most of the named journalists are not in the staff of news agencies, but free-lance reporters. Since it is impossible to fire Internet-journalist or put the pressure on his employer the only instrument of law enforcement bodies is the legal persecution.
Three months ago Andrey Kudryashov, the famous journalist and Ferghana.Ru reporter, personally met Ishnor Djabborov, the press-secretary of Foreign Ministry.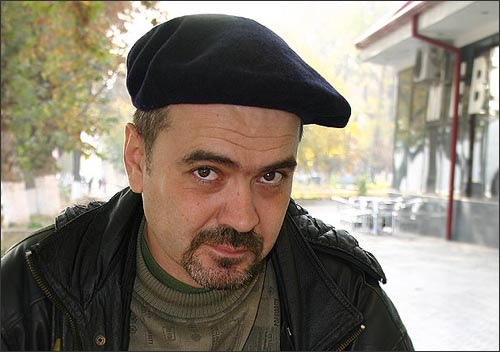 Andrey Kudryashov

"I was officially registered as Ferghana.Ru news agency correspondent in the Republic of Uzbekistan in 2005-2007 – Andrey Kudryashov shares. – In this period I had no conflicts with the authorities. After the expiration of license I quitted full-time commitment with Ferghana.Ru although I still published few non-journalist stories about historical and natural beauties of Uzbekistan and other Central Asian countries. By the way, many of them were reprinted by the number of governmental and oblast-based newspapers of Uzbekistan (such Khoresmskaya Pravda, Gzt.uz and others) without mentioning the author. I showed understanding since many editions in Uzbekistan may have deficit of interesting stories.
On October 16, 2009 I was invited for a talk at the Foreign Ministry where I was told that my publications contain "biased" opinion. I argued that I always underlined my personal, subjective opinion that does not have to become the common opinion. I also explained that due to health issues I was not working for media sources – no contracts, no tasks. This is another reason why I am not able to bear responsibility for reprinting and citing of my texts and phrases both in Uzbekistan and abroad. Afterwards, I was offered to sign the statement where I confirmed I was aware of responsibility for cooperating with foreign mass media without authorization in Uzbek Foreign Ministry.
I believe once EU cancelled last sanctions against Uzbekistan and considering new friendship period with USA, the pressure campaign – the shutdown of Cinema Museum, criminal persecution of artist Umida Khamidova and interrogations of independent journalists – has the common goal to intimidate liberal thinkers so that other were afraid to write, photograph and produce movies without official authorization. I was never the opposition member. However, I see high risk of turning into totalitarian society. Authoritarian rule suppresses the political opponents. Totalitarian regime punishes everyone for counteraction, lack of loyalty, independence and free thinking – Andrey Kudryashov notes.
I interpret this story as the attempt to muzzle very few independent journalists. After Andijan massacre in May of 2005 high pressure was imposed on foreign media and their staff. IWPR, BBC, Ozodlik Radio (Uzbek Service of RFE/RL) left the republic.
The pressure on independent opinion has continued since 2005. In February, 2006 the government issued a decree, according to which foreign correspondents were not allowed running activities without the authorization of Foreign Ministry. The decree was granted absolute priority over all other laws in the republic.
On March 23, 2006 Tashkent Public Prosecutor's Office filed the criminal case against Natalia Beshueva, the correspondent of Deutche Welle, for "tax avoidance" charges (although Uzbekistan and Germany signed the agreement on avoidance of double taxation in 1999). The journalist was also accused of working without Foreign Ministry's accreditation (the first precedent since the adoption of new rules).
Natalia Bushueva had to go through the number of challenges. In one night the unknown group of people posted the announcement that the journalist was selling 3-bed room apartment and offering intimate service. Natalia was bombarded by the phone calls. To summarize, the Deutche Welle correspondents in Uzbekistan had to stop working for the radio station while Natalia Bushueva left the country.
In 2008 the correspondents of Associated Press and Reuters stopped operations.
Today, only 38 foreign journalists have accreditation from Uzbek Foreign Ministry, most of which represent super-loyal to the government Russian, Chinese, Turkish, Kyrgyz, Azerbaijani, Iranian and other "friendly" mass media and very few western (France-Presse, Le Suar) correspondents that carefully analyze their for "the bias".
Besides, all government-sponsored media journalists are also strictly controlled by the government. The inexcusable actions for them are, for example, educational trips to western countries. In 2009 Sobirjon Yakubov and Bekkul Egamkulov, the journalists of Uzbek newspapers, were fired for "suspicious" trip to Paris. Dmitry Povarov, one of the best economics journalists in Uzbekistan, was dismissed for several months stay in France.
The others are simply placed in jail. According to New York–based Committee to Protect Journalists, as of December 1, 2009 Uzbekistan ranked 6 in the world by the number of journalist prisoners after China (24), Iran (23), Cuba (22), Eritrea (19) and Burma (9). There are 7 journalist prisoners in Uzbekistan: Mukhammad Bekzhanov, Yusuf Ruzimuradov, Gairat Mekhliboev, Ortikali Namazov, Djamshid Karimov, Solijon Abdurakhmanov and Dilmurod Sayid.
At the beginning of 2005 Uzbekistan had 80-100 western and independent journalists while today their number dropped to 15-20. The sources of news for population are such radio stations as Ozodlik, BBC, Voice of America and Free Dolina as well as Internet although most of the news and human rights websites, covering the events in Uzbekistan, are blocked.
According to Press Freedom Index from Reporters Without Borders – Uzbekistan ranks 160th out of 175 surveyed countries. In the similar Freedom House rating Uzbekistan is placed in 189th position out of 195. In this concern, the statements of US government, indicating the serious improvements of human rights situation in Uzbekistan, are at least not too sincere.
Alexey Volosevich