Seven years of jail for AIDS prevention. How Maxim Popov "was absorbed"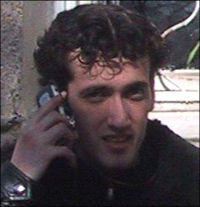 In February 2010 28-year old psychologist and the leader of IZIS NGO Maxim Popov was sentenced to 7 years of jail by the Chilanzar district court of Tashkent (Uzbekistan). Paradoxically, this became good news for his friends and colleagues that in the last year have heard nothing about Maxim Popov that has been involved in the campaign against AIDS and drug dependence since 2003.  
Maxim Popov will turn 28 in July. He is a young man, psychologist, ethnic Russian (if it is important) and the citizen of Uzbekistan. Since January of 2009 Maxim Popov has been in jail because IZIS non-profit organization, headed by him, was involved in the propaganda of HIV/AIDS prevention and worked with drug addicts (current and former ones) and HIV-infected people.  
IZIS was established in Uzbekistan in 2003 and it has been operating under the support of such influential international organizations as UNDP, UNAIDS, Global Fund, UNICEF, USAID, the World Bank and DFID.  
Along with other psychologists, physicians and sports coaches Maxim Popov taught people how to avoid infections, the negative impact of drugs and supported those, who decided "to quit". He also backed up people with HIV fatal diagnosis.  
In other words, Maxim Popov was corrupting the young morals in Uzbekistan. 
In January of 2009 Maxim Popov was detained while in June of 2009 the Chilanzar district court of Tashkent sentenced him to seven years of jail in the standard regime penal colony. Besides, according to the verdict, Maxim Popov is deprived of a right to hold administrative, organizational and management positions within 2 years, following the release.  
Tatiana Kostyuchenko and Danakhan Eshenova, cooperating with IZIS, were also conditionally sentenced to one year each. The accusations against them were as absurd as those against Popov. Since Maxim found himself in jail we are going to dedicate this story to him and political order that forced the legal system of Uzbekistan to eliminate IZIS.  
One of the main criminal charges – The Book, undermining the moral values 
Maxim Popov organized the distribution of 200 copies of "Healthy lifestyle. The manual for XXI century instructors" book, published in Almaty in 2003. The Chilanzar district court decided that Popov was involved in this educational effort "with the purpose to commit evil actions against under 16 kids" and "intentionally distributed these books , containing texts, teaching sex to the underage kids, advocating the homosexuality, prostitution and porn among youngsters, including underage children in the educational institutions of the Republic of Uzbekistan". 
The book with 3 republications was viewed as the one "undermining the moral values of youth, propagandizing the culture of violence, pornography and cruelty". The expert conclusion outlined that this book "did not consider national traditions, culture and habits of people, living Uzbekistan, as well as popularized erotic and porn, ignoring psychological trends in the formation of image about healthy lifestyle among youth". The book was considered as "adverse in its nature" and slanderous since it underlined that such things as prostitution and homosexuality took place among Uzbek youngsters.  
Obviously, this is not true at all… 
Teaching Uzbek youth how to use condoms is as pointless and dangerous as to explain the advantages of vegetarianism to tigers. 
The court decided that "the distribution of this book will cause substantial damage to moral values of Uzbek people, particularly to ideology formation of younger generation, concerning the relation in the family as well as between children and their parents". 
In Uzbekistan it is the court that judges the insult of Uzbek people and damage to its moral values. Unemployment, poverty, insanitary conditions, primary level of medicine, mass AIDS infections of kids in the hospitals, no freedom of speech, no freedom of consciousness and assembly, impossibility to withdraw cash in ATM – obviously, all these do not insult people and cause no moral damage. This is the reason why we do not hear about trials against regime members that threw civilized republics into antiquity.  
Psychologist Maxim Popov (as well as photographer and film maker Umida Akhmedova), distributing the educational book, insulted people and undermined their moral values.  
It is prohibited to fight drug addiction – there is none! It is prohibited to prevent deceases – there are none! It is prohibited to snap women with broom… The medical website in Uzbekistan, mentioning the names of genitals in such sections of "gynecology" and "andrology", was recently shut down for distribution of pornography. Perhaps, the citizens of Uzbekistan have no genitals… 
It is surprising that the government still issued no order to break the glasses and shut down schools. The less you know the better off you are.  
The above-mentioned book was first published in Kazakhstan in 2003; it has been republished three times under the support from UNDP, USAID and used in AIDS and drug habit prevention projects, ran by such organizations as RGPM, UNICEF, PSI, Global Fund and others. The idea that all these organizations were going to undermine the moral values is absurd. The book contains no insulting message; it reflects information, necessary for every individual, caring about his health conditions. This is not porn or erotic, but the manual for teachers. However, no representative of influential international organizations that used the book in their programs was interviewed as the witness in the court. 
Ferghana.Ru also addressed UNDP and USAID with the request to officially confirm their involvement in the republication of "Healthy lifestyle. The manual for XXI century instructors" and, upon positive feedback, to comment on the verdict, produced by the Chilanzar court of Tashkent that decided the book "did not meet legislative requirements of the Republic of Uzbekistan since most of information, offered in the book, does not facilitate the development of consciousness of younger generation in accordance with the national independence ideology. Besides, the book propagates the ideas, not appropriate for physical and moral health, also contradict national traditions of people". The third question, raised by Ferghana.Ru, was: "Is your organization going to attempt to take measures in order to protect the rights of the convict Maxim Popov?"  
Neither UNDP nor USAID provided the official response to our inquiry. 
Seven years for lost t-shirts 
Perhaps, it is worth mentioning the rest charges that became the reason of seven year imprisonment.  
Maxim Popov was accused of embezzlement of portion of funds (2137 thousand sum), allocated by Population Services International non-governmental organization and designated for sociological research. This sum was paid to Popov and three other project participants as the financial assistance and this money was used to pay for the services of legal consulting firm. In the courtroom Popov said that these expenses were approved by the PSI project manager and the client "had not objections against Popov and was totally satisfied with his performance and use of funds". Besides, PSI representatives said the same in the interview to Uznews.net in 2010. 
However, none of PSI representatives was invited to the court as the witness. Popov was found guilty. The question why the court cares how sponsor's money was spent if the sponsor himself has no objections or claims about work performance was never raised. 
Popov, as the Director of IZIS, signed the agreement with the regional representative office UNICEF for 28882945 sum and the financing scheme assumed three tranches. Popov was accused that his accountant received first tranche – 9222500 sum – in cash and filed false reports on how this money was spent and then the reports were eliminated (!). Allegedly, according to the Tashkent Audit Bureau, these funds were not registered in the incoming cash report and bank account. 
Popov explained in the court that he should have received the first tranche in cash in compliance with the agreement. But he refused to do so: "My friends said it was illegal". The second tranche was transferred to IZIS account. Popov had no verification that he did not receive the first tranche. For example, we cannot verify either that we were digging the tunnel from Mumbai to London.  
The never asked UNICEF representatives on whether they ever gave cash to Popov. Obviously, the judge does not know about presumption of innocence. Both Popov and his accountant Tatiana Kostyuchenko were found guilty for embezzlement of this "virtual cash", received from UNICEF. 
Popov and Kostyuchenko were also accused of tax avoidance. IZIS signed tripartite agreement with Regional Group for AIDS control project management (RGPM) and United Nations Development program. UNDP provided grant money, RGPM managed money while IZIS employees were performing the tasks. Popov and Kostyuchenko were blamed that the money was not preliminarily transferred to IZIS account and was not reflected in the tax report although the agreement outlines that IZIS is not the beneficiary and not the manager of funds. 
Popov tried to convince the judge that the project participants signed direct agreements with UNDP and it was UNDP but not IZIS that paid salaries – therefore, these funds did not have to go to IZIS account and the biggest charge, initiated by the tax authority, may be non-payment of individual income tax. Popov admitted that he received $3500 ($350 per month) and he was ready to pay the income tax. 
The court ignored Popov's statement and never interviewed donors and project members. Besides, the judge paid no attention to tripartite agreement. It did not consider the tax legislation articles in compliance with which the taxes must have been paid by UNDP office. 
Non-payment of income tax by Popov – in case he is ready to compensate everything, including accumulated fees – is not criminal offence; nevertheless, he was found guilty.  
Another charge – the embezzlement of 802 thousand sum, transferred by UNICEF to IZIS. Based on the above-mention tripartite agreement, Popov's organization received funds to cover office rental and in September-December of 2008. $8400 was paid to landlord Mukhamedjanova. The Audit Bureau found out that in the same period Popov also received additional $200 per month from UNICEF. The judge decided that Popov appropriated this money.  
Popov explained that the husband of Ms. Mukhamedjanova increased the rental fee and in order to keep the office Maxim signed additional agreement with the landlord. It has to be mentioned that UNDP, RGPM and UNICEF had no claims regarding these expenses. They were aware that increase of rental fee was common practice in Uzbekistan. 
The court interviewed no sponsor, involved in the project. 
Guilty. 
Finally, here comes the only fact, where Maxim Popov confirmed his guilt (besides non-payment of income tax). Maxim Popov admitted that "as a result of gross negligence" he lost "material values for total amount of 193 thousand sum: 990 condoms for 47900 sum, 24 t-shirts for 132 thousand sum, 263 vouchers for 151000 sum". 
The judge decided that Popov stole condoms and t-shirts although UNDP, RGPM and UNICEF have not filed loss report and had no claims against Popov. 
In any case, Popov informed the court, that he already compensated lost items. 
Reminder: the verdict outlines seven years of colony plus two years without full rights. 
What is going on? 
Most of the inspections on Popov's case were conducted by the Audit Bureau under the Finance Ministry of Uzbekistan. Technically, the Audit Bureau is authorized to monitor the administration of state budget. Why would it audit the IZIS accounts, the private, non-government and non-profit organization? It is still unclear. Popov received no money from state budget. 
De jure the Audit Bureau cannot audit private organizations unlike the tax authorities and supervisory bodies. Who would instruct the Audit Bureau to involve in the case while the results of strange and illegal inspection prepared the ground for guilty verdict? 
Ferghana.Ru interviewed many experts and observers, residing in Uzbekistan. They all have common assumption: the interest in IZIS is produced by cash, flowing in its accounts.   
Fighting AIDS attracts substantial funds across the world, allocated by Global Fund, UNODC, UNAID, UNDP and through governmental programs of USAID, DFID, JICA and other. The funds, transferred by international donors to state officials, get settled in the accounts of non-transparent budgets of state programs. The official structures are sluggish, bureaucratized and, most importantly, corrupt. For the implementation of their programs the international donors need to cooperate with such mobile and small organizations as IZIS. 
Even these not significant funds, supporting IZIS and bypassing the state budget and officials, were irritating while considering total deficit of foreign currency and cash they turned into the challenge for state system. 
Popov is put in jail. 
The second reason why Popov was put in jail is the general pressure on non-profit organizations in Uzbekistan. Many of them had to shut down operations; the survivors include those, who have good "protection from above" and those, whose operations cannot be totally controlled by the state. Maxim Popov did not have good links, but he was lucky in attracting grant money. He was naïve to believe that if he does not commit a crime the donors will be able to protect IZIS.  
There were no moves on donors' side. They did not even produce general protective statements such as "we are concerned" and "we hope for fair trial". They did not provide lawyers or money. Some people say, Popov's wife had to sell the apartment in order hire the lawyer and now, she lives in the house of Popov's parents with three-year old daughter.  
Third mentioned reason is Popov's imprisonment is the insult of Uzbek people. The Uzbek youth does not need to know how to prevent AIDS infection and bad impact of drugs. 
Keep silence and look on with adoration? 
Maxim Popov's family is involved in bargaining. It is promised that, possibly, in October Maximum will be transferred to penal colony settlement while in 2011 he will be released early. In exchange Popov's family must keep silence, show full loyalty to the verdict and, of course, "expedite" the release on parole. 
The relatives keep silence, do not want to meet journalists and believe they will not be deceived. We found out about bargaining process from other sources but since payment for release on parole or on amnesty is normal practice in Uzbekistan we have reasons to believe that it is true.  
We also believe that Maxim Popov will not be released any time soon. The experience proves that such "dissidents" are released only in case of big international scandal. 
It is the right time for the world community to ask questions.
Maria Yanovskaya