BBC World Service appoints Hamid Ismailov as Writer in Residence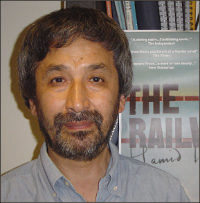 Gwyneth Williams, Director BBC World Service English, today (April 30, 2010) announces the appointment of critically acclaimed Uzbek novelist and poet, Hamid Ismailov, as BBC World Service's Writer in Residence.
Over the course of the next two years, Hamid will be writing creatively about the news, issues that have dominated the world's media and, occasionally, about day-to-day life at BBC World Service. Hamid, who now lives and works in London, is Head of the BBC World Service's Central Asian Service, and will undertake the Writer in Residence duties alongside this position.
Gwyneth says: «Hamid will make us laugh and sigh. His observations will surely reflect the unique perspective of the World Service, highlighting our shared humanity as we seek to understand unfolding global events.»
BBC World Service has been the home of many great writers across the decades; George Orwell, whose real name was Eric Blair, worked for the network during the Second World War; Nobel prize-winning novelist V.S. Naipaul worked for the Caribbean Service in the 1950's; and the Bulgarian dissident writer Georgi Markov worked for BBC World Service in London until he was murdered with a poison-tipped umbrella in 1978.
The global arts and culture show, The Strand, will be speaking to Hamid on Monday 10 May about his role as Writer in Residence.
Adrian Washbourne, Editor of The Strand says: «BBC World Service has been the home of many great writers across the decades. In the spirit of this, we take great pleasure in announcing Hamid Ismailov as Writer-in-Residence. The Strand will be speaking to a number of other writers who have undertaken similar assignments for other organisations, to find out what creative benefits can emerge from these relationships».
Hamid is a prolific writer of poetry and prose and his books have been published in Uzbek, Russian, French, German, Turkish and other languages. His critically acclaimed novel The Railway was translated into English in 2006.
«This was a wonderful opportunity to celebrate the art of writing and to take time out to reflect in prose, on different news events, topics of discussion and, more generally, on life here at BBC World Service, in a way that I hope readers will find stimulating. I hope this is a starting point, to encourage others to spend a small amount of time writing and reflecting on life around them.» says Hamid.
On Monday 10 May 2010, Hamid will launch the Writer in Residence blog live on The Strand at 22:30 BST (GMT +01:00)*. To read Hamid's blog, visit bbcworldservice.com/writerinresidence