The international campaign in protection of Maxim Popov is launched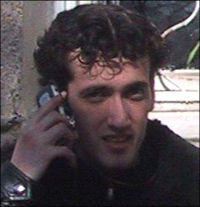 Photo: Maxim Popov
The NGOs across the world have launched the campaign in order to protect Maxim Popov, sentenced to seven years of jail and two years of limited rights by the Chilanzar district court of Tashkent (Uzbekistan).
Ferghana.Ru already reported the case of Popov: Mr. Popov, a 29 years old activist, was the founder and leader of Izis, an organization of young medical professionals and activists, which focuses on HIV/AIDS prevention and empowerment of drug addicts and sex workers. He was accused of financial violations (allegedly, he embezzled the donors' funds) and distribution of "Healthy Lifestyles, The Guidance for Teachers" book, issued in Almaty and re-issued three times. The book was supported by UN, USAID, UNICEF, PSI, Global Fund and others. The Uzbek government said that the book constituted an "assault on minors without violence" and ordered the book incinerated and barred from circulation.
After Izis shut down operations the sponsors and donors of Maxim Popov showed no reaction. At least Ferghana.Ru does not know anything about the measures, taken by them to free Popov.
"Immediately inform us what you are doing to in order to release Maxim Popov!"
The international committee for Popov's protection published Open letter, addressed to the top-managers of organizations, cooperating with Izis. Among the addressees there are DFID, Global Fund to Fight AIDS, TB and Malaria, PSI, UNAIDS, ПРООН, UNICEF, USAID, World Bank, Secretary of State Hillary Clinton, Assistant Secretary for South and Central Asian Affairs Robert Blake and US Committee for foreign affairs representative Howard Berman.
The letter was signed by 107 NGOs that expressed deep concern about Popov's imprisonment. "Mr. Popov was the director of the non-governmental organization IZIS, which was funded by USAID, UNICEF, UNAIDS, the Global Fund, the U.N. Development Programme, and the Department for International Development (UK). IZIS conducted activities such as counseling services, provision of sterile injection equipment, training for an AIDS education hotline, and anti-drug education for youth. These services are desperately needed in Uzbekistan, which has the highest HIV prevalence in Central Asia, and where over half of those living with HIV are between the ages of 15 and 30" the letter indicates.
"The court cited Healthy Lifestyles. Teacher's Guide XXI, a booklet funded by UNDP, UNAIDS and USAID, and imported into Uzbekistan by Population Services International (PSI), stating it was used "with the aim of committing indecent acts against people he knew to be under age 16…bearing propaganda promoting homosexuality and prostitution, as well as pornographic images, among youth." HIV and AIDS Today, a brochure written and funded by UNICEF and PSI that included a discussion of same-sex relations and the use of condoms, was also cited. A publication of UNAIDS was "categorically in contradiction with the mentality, the morality and moral foundations of society, religion, customs and traditions of the people of Uzbekistan".
"We find it unconscionable that the donors who supported his vision and funded his work have abandoned him, and we are calling for concerted diplomatic efforts to secure his immediate release. The bilateral agencies, international donors, and NGOs that encouraged Mr. Popov's work should take all possible steps to protect him and win his amnesty. The international fight against AIDS cannot succeed if local partners are forsaken when the political winds shift".
"We request a report on what steps your organization is taking to get Mr. Popov released as quickly as possible. We must all work together to right this horrible wrong", the letter concludes.
The International AIDS Society (IAS) also joined the campaign in protection of Popov, saying that "The International AIDS Society (IAS), the world's leading association of professionals working in the global response to AIDS, notes with alarm the imprisonment of Maxim Popov, sentenced to 7 years jail, primarily for the promotion of HIV prevention efforts. The IAS calls for the immediate release of Popov and urges foundations and donors to ensure better protections for HIV professionals working in environments hostile to effective responses to HIV and AIDS".
IAS statement also pays attention to the reasons of Popov's imprisonment: "Mr Popov has been jailed for attempting to address his country's growing HIV epidemic with effective, evidence based approaches. Popov, 28, is the author of "HIV and AIDS Today," a brochure that discusses the use of condoms in HIV prevention, the need for sterile needles for injecting drug users, and education on HIV prevention within same-sex relations…. The Uzbek government said that the book constituted an "assault on minors without violence" and ordered the book incinerated and barred from circulation".
"Imprisoning Maxim Popov is not only a violation of human rights, but it has hurt public health efforts in Uzbekistan," said Robin Gorna, Executive Director of the IAS. "In most countries around the world the work done by Maxim Popov would be drawing praise and support. It highlights the need for donors, like those who funded Mr. Popov's work, to improve protection of their frontline HIV educators from harassment and arrest."
"According to UNAIDS, Uzbekistan has one of the world's fastest-rising HIV infection rates. About 16,000 cases of HIV were reported in 2009 — more than an eleven-fold increase from 1,400 cases in 2001. Uzbekistan is one of the countries that will receive attention at AIDS 2010, the International AIDS conference convened by the IAS in Vienna 18-23 July 2010".
"I urge all influential political and public health leaders to join IAS in calling for Maxim Popov's release from prison," said IAS President Julio Montaner. "Countries will never fully address their HIV epidemic unless their citizens have open access to information and evidence-based interventions. Governments, donors and funders must recognize that assuring the safety, legal protection and support of those implementing evidence-based programs is essential to ensuring that programs are effective and deliver value to the citizens of both recipient and donor
countries. Committed professionals such as Maxim Popov should never be subject to the kind of treatment he has received, merely for acting in the public interest of his fellow citizens and for implementing proven, effective interventions to prevent HIV."
The CIVICUS recommendations on protection of Maxim Popov
The World Alliance for Citizen Participation (CIVICUS) also joined international campaign on Popov's protection and recommended the following actions to be undertaken:
- Sign the Open Letter Calling On International Agencies To Support Amnesty For Maxim Popov
- Write a letter to President of Uzbekistan, H.E. President Islam Karimov [download letter, fill date and your name and email to: presidents_office@press-service.uz This e-mail address is being protected from spambots. You need JavaScript enabled to view it ]
- Write a letter to the Office of the UN High Commissioner for Human Rights
Ferghana.Ru provides the translation of the letter, recommended by CIVICUS to address to the President of Uzbekistan:
To: H.E President Islam Karimov
President of Uzbekistan
Your Excellency,
I write to express my extreme concern about the unfair trial and sentencing of Mr. Maxim Popov, psychologist, HIV/AIDs activist, and founder of NGO Izis, to seven years imprisonment for selflessly serving the people of Uzbekistan to educate them about prevention of sexually transmitted diseases and promotion of healthy lifestyles.
I believe that the charges against Maxim Popov, including "promoting homosexuality", "corrupting minors in anti-social behavior" and "embezzlement" of funds received from international donors were politically motivated and contradictory to national and international law. To date, none of the charges relating to embezzlement have been confirmed by the international donors themselves, and no such allegations of misuse of funds have been made against Popov earlier in relation to his work.
Further, his book on HIV/AIDS, which primarily explains STD prevention, was deemed "illegal" by the criminal court of Tashkent, finding it as "disrespectful of the national culture and the Uzbek People." This verdict, denying Popov his fundamental rights to freedom of expression, is in breach of not only national constitutional guarantees, but also Uzbekistan's commitments under the International Covenant on Civil and Political Rights.
Maxim Popov is one tragic case, but I know that arbitrary detention is widespread and ongoing in your country. I urge you to immediately and unconditionally release Mr. Popov and all other individuals unjustly imprisoned and denied their basic human rights to peaceful expression, association and assembly.
Sincerely,
Name, Country, Organization (if applicable)
* * *
The international campaign in protection of Maxim Popov gives some hope that Maxim will be "released", as it was the case of Umida Niyazova, Sanjar Umarov and Umida Akhmedova. Perhaps, the activists in Uzbekistan, finally seeing the support from international community, will start doing normal and right things and the republic, step-by-step covered by poverty and ignorance, will escape humanitarian disaster.
Mariya Yanovskaya