The war with no winners: The most difficult is to forgive and live on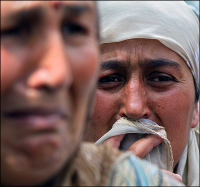 I want to talk neither about politicians, geopolitical games, peacekeeping troops, lack of humanitarian aid, possible capture of those, who planned and sparked this tragedy, nor about upcoming referendum…
Within one night I lost my south Kyrgyzstan, very hospitable, open and little sly, but at the same time hot and bright-colored home of pilaf and paprika that had barrenwort Kyrgyz with hundreds of colored beads, shy Uzbek girls that shamefacedly avoided eye contact with men, and greybearded aqsakals in kalpaks and skull caps, drinking tea in the shadow of willow; when each of them was speaking native language everyone perfectly understood each other.
We lost the splendid oasis, where the strangers are ready to offer you a cup of tea and have conversation with very slight irony. We lost busy bazaars with spices and most delicious samsa in the world.
The crowds of people killed the neighbors in each other that always generously shared hot griddle cakes with melting butter.
The houses, bazaars and roads can be reconstructed. What about murdered people? What did they die for? How are they going to make it through this pain?
How are they going treat each other? How are they going to sleep on trestle-bed, anticipating that someone can come back and massacre them? How are they going to enjoy the sound of grasshopper and the silence of starlight night?
How would I take my friends to my hometown so that they could get totally astonished, discovering something they never pictured before: the south of the country, looking so rural at first glance, suddenly becomes bright-colored and fragrant, serves delicious pilaf in "min-terek" and produces nicest talks at trestle-bed after enjoying pilaf and juicy watermelons, purchased by the melon field from sun-tanned farmer. Would they taste aromatic tea from old teapot with broken head?
I am crying and cannot look at the pictures, shot in my south…
I sorrowfully admit that only since the night of June 10, when the massacre began in the southern regions, I started real praying: until this time the prayer for me was some unconscious act, serving as the background in the funerals or while visiting the grave of mother and grandfather… Today, the prayer became the only way to cross the line after which I could hardly tell I was human being.
I started praying in order to try to understand my Kyrgyz brothers and my Uzbek brothers. I started praying since there is no bigger temptation than to try to justify what happened there or blame some instigators although I have no doubts in their presence.
On one hand, you think that regardless of the scale of provocative acts, prepared by Bakievs, mercenaries, previous regime officials or other states and groups, ORDINARY UZBEKS and KYRGYZ should not have started killing each other, burning the houses, where their neighbors were burned alive.
The instigators only started the massacre while it was continued by ordinary people.
On the other hand, it is nearly impossible to stay tolerant for those who lost mother, daughter, son and brother, brutally killed by professional soldiers of fortune; at that moment people did not realize the fire was sparked by third parties that totally ignore this nation and which are ready to go on end for little money.
Whatever others say this is not the fault of common people.
I called my friends that witnessed the glow of fire and tried not to show I was crying. I begged them to stop young men from burning houses and assaulting others but they were not able to prevent this tragedy.
My younger brother had to admit he was not able to stop people he DID NOT KNOW. He just said that together with our Uzbek neighbor he was silently observing the crowd, devastating all around.
It always seemed to me I was well aware of mentality of South Kyrgyzstan; its unique feature was obvious both for me and other southerners.
The pogroms reached my home village two days after the massacre in Osh. Why did not the patriarchs gather village residents and explain that the tragedy puts everyone on "loose-loose" position? Why were Kyrgyz and Uzbeks gathering in different parts of the village, being perfectly aware of the death toll in Osh and Jalal-Abad?
Well, I can provide the answer myself: the entire interethnic card game was played so professionally that both Kyrgyz and Uzbeks had not a single chance to change things.
There could be no chances when hired sharpshooter was killing everybody, while the instigators accused Uzbeks of killing Kyrgyz and blamed Kyrgyz in massacring Uzbeks.
Neither Kyrgyz nor Uzbeks were given a chance to think how horny hands of ordinary laborers would end up holding sniper rifle or launcher…
Nonetheless, today Kyrgyz and Uzbeks must leave at least a weak chance for the future existence and life…
My south is slaughtered, burned and treaded to piece. My south is eliminated. It is rattling and bleeding to death. My south is starving and being sick. My south is frightened and panicking. But I still hope my south is not going to revenge itself.
These days my cell phone battery was dying just within few hours because of endless talks with relatives, friends and colleagues. Even though people were dying after hearing stories from friends, relatives and colleagues I still had hopes: when it is all over, there will be a chance to restore peace.
Friends told me the interethnic group in my home village ditched the vehicle of the looter. He was carrying stolen TV and refrigerator.
My aunt shared there were only about 15-20 Uzbek families in her village. The locals were shocked to see they them leaving their places. It turned out that Uzbeks escaped to fields. The delegation of Kyrgyz patriarchs returned them home, being a little offended that Uzbeks could think Kyrgyz would not protect them from looters.
I still have hopes for better future because my friend was standing there side by side and fighting those who wanted to burn the houses of his neighbors. He is a Kyrgyz, living in classic mahallah – the Uzbek district. He told me over the phone he was afraid of not being able to control the crowd. Meanwhile, few Uzbek children and women were hiding in the basement of his house.
The group of aqsakals in Osh shared stale bread as a sign of reconciliation. Men were hugging each other while their eyes were full of tears. They left their districts as a sign of accommodation, not being afraid to be shot by sharpshooter that does not want piece in this community.
I believe there is a chance to restore piece when ordinary volunteer guy and 17 year old soldier were delivering humanitarian aid. They continued to do it even facing the bullets of those who wanted to demoralize hopes.
I suppose we still have a chance if Uzbek neighbor shares bread with Kyrgyz guy who is defending the district from looters, when the neighbors cry in unison at funerals, not identifying the nationality of the dead bodies.
Whatever happens, we – Kyrgyz and Uzbeks – will go nowhere. Our ancestors rest in the same land. We drink same water and eat same bread. We are going to grow our children in this land.
My Kyrgyz and Uzbek brothers, your fates were defined by other forces. The fates of your family and house, street and district were defined while having a glass of brandy, cocaine and looking at the map of Southern Kyrgyzstan during the preparation of special raid of soldiers of fortune. You never had a chance to change what had happened.
Rest in piece those who died. Stay safe those who survived.
Sultan Kanazarov (former head of Ferghana.Ru bureau in Bishkek, current deputy CEO of National TV and Radio Broadcasting Corporation, Kyrgyzstan)