Medecins Sans Frontieres reports continuous violence in south Kyrgyzstan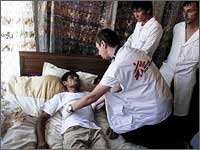 Photo © Alexander Glyadelov, MSF website
Medecins Sans Frontieres (MSF), an international humanitarian and medical aid organization, says that it observes violence in south Kyrgyzstan on daily basis. It produced a movie, dedicated to its work in Kyrgyzstan and disseminated message in English and French, reporting continuous violence and gap between Kyrgyz and Uzbek communities, fear and distrust that undermine normal life and that ethnic Uzbeks in Osh and Jalal-Abad oblasts, as well as one month ago, cannot access medical aid.
The film, produced by MSF and dedicated to its operations in Kyrgyzstan
Although it has been over one month since the tragedy in the south the ethnic identity still matters at accessing medical services.
"Every day, in our mobile clinics and health facilities with which we collaborate, our medical teams treat patients who recently suffered heavy beatings or who even show signs of torture. Many people, especially from the Uzbek community in Osh, told us they are not going to a public medical structure as they are afraid of being arrested," says Andrei Slavuckij, MSF Program Manager for Kyrgyzstan.
MSF has worked in Kyrgyzstan since 2006, providing medical treatment to tuberculosis patients in the penitentiary system, including those suffering from the most resistant forms of this disease. Today, 45 MSF employees, including 19 international and 26 national staff are running the current emergency operation. One MSF crew works in Jalal-Abad and Bazar-Korgon. Three crews work in Osh and help out in Kyzyl-Kishlak, Furkat, Onadir, Sheyit-Dobo, Cheremushki and other districts. MSF teams provided equipment and medicine to 25 facilities. Overall, MSF helped 20 thousand people. 30 percent of registered patients had problems with fear and stress while 20 percent had exacerbation of chronic deceases.
According to MSF, amid a climate of fear and deep mistrust between Uzbek and Kyrgyz communities, access to health care is still a major concern due to the presence of armed personnel in and around some health structures in Osh. The fear of not receiving adequate and impartial medical services deters many persons requiring urgent medical attention from seeking adequate care. The point is that Uzbeks do not believe they can get help from Kyrgyz physicians.
"In such a tense and volatile context, we call on all responsible authorities to preserve the neutrality of medical facilities. It is essential that any patient who needs care can receive adequate treatment, regardless of their origin," insist MSF physicians that urge to take armed people away from hospitals.
66 year old Uzbek woman, assaulted in Osh, says: After being beaten I came here to see doctor. I was in the town and I am afraid to go back there. I need X-ray picture. If I am accompanied there I will go. Otherwise, just give me tranquilizers.
On June 11-16 the medical facilities had lots of patients: both Uzbeks and Kyrgyz were getting medical service. Later on wounded Uzbeks stopped visiting physicians, preferring to invite doctors to mahallah or simply stay home. MSF notes that at the moment many Uzbeks still face troubles accessing medical service. MSF already escorted 25 patients to the hospitals.
"This 5-year old kid fell from second floor. When we were approaching the hospital his mother, seeing armed men, refused to go in. We had to take the boy back and take care of him at his home. Many people suffer from deceases these days while we are not able to help everybody". (MSF nurse)
MSF crews help assaulted people at least twice a day; in the last four weeks, MSF helped 51 assaulted patients. At least 5 of them said they were tortured.
"I do not know how they broke in my house. I am not sure it was police. They were beating me and my brother. They wanted to know if my brother is involved in the murder of two policemen. After 20-minute torture I said "yes" although he is the leader of local community and of Islamic guidance. They do not allow him to see lawyer. (38-year old man, Osh).
There is continuous violence in Osh. On July 10, Uzbek woman was beaten by Kyrgyz women in front of police office.
"One wounded man decided to stay home despite ballistic wound". (MSF nurse).
According to UN 2277 houses (1805 destructed and 72 damaged houses in Osh Oblast and 400 destructed houses in the Jalal-Abad Oblast) were devastated or eliminated. 375 thousand people fled from violence. 75 thousand people found shelter in Uzbekistan (although the refugees were returned home by the referendum date). Dozens of thousands of people, whose homes were devastated, lived in the border areas for few weeks. According to MSF, today, many people have to live in the tents.
MSF confirms that police raids often take place in Uzbek mahallah that result in disappearance of people. Psychological deceases only get exacerbated. Kyrgyz and Uzbek communities still distance away each other. Uzbeks do not trust local authorities and do not believe they will improve their situation.
"I am afraid for our boys. They have to hide and not sleep in the night. Five days ago despite mother's protests police officers came back in the night and took the boys". (50-year old woman, Osh).
"Three days ago they came to see who was living in the tents. Our complaints remained unanswered in the government". (The leader of Uzbek community).
The resident of Osh (film, produced by MSF): "This is my house. They burned everything. In the night they were shooting us from the mountain. Many people died. I managed to rescue my kids and take them to Suratosh. This is my devastated house. I lost all my documents, IDs, property documents. This is the room of my daughters. I cannot sleep any more. I am trying to sleep, but wake up in fear and alert. Now, it is all different. People do not go to work. They stay at mahallah in their devastated houses".
In the opinion of MSF, people mostly need psychological support. At the moment, there are four MSF psychologists working in Osh and Jalal-Abad. They provide both group and individual consultations.
Last week MSF psychologists revealed over 180 patients with psychological disorders, including kids.
"Both Uzbeks and Kyrgyz need urgent psychological assistance. However, it is even more urgent in Uzbek mahallahs – it is like to experience the earthquake". (Anya Volts, MSF Coordinator in the Osh Oblast).
"I cannot sleep. I see nightmares. I am in constant fear. It is very painful to observe burned houses. I do not want to discuss what happened. I cook meals for my family, but I do not want to do it. When my kids tell me the food was not very good, I get irritated. I do not know what happened to me. I cannot control myself". (The patient from Jalal-Abad).
"People are belittled. They do not feel themselves secure. They need to calm down and figure out what to do next. They say they have no hopes: if there are new clashes, Uzbekistan will not open borders". (MSF psychologist)
The MSF statement on continuous violence and ethnic discrimination was produced in the days when Kyrgyzstan witnessed the wave of protests against the deployment of OSCE police forces. Ferghana.Ru sources report that many Uzbeks of Osh and Jalal-Abad view these policemen as the last hope for regaining safe and normal life. MSF report one more time proved that the region does not have the stability yet and only the assistance of international organizations can be solution for this challenging situation.
Prepared by Mariya Yanovskaya