Uzbekistan: The employees of National Television and Radio Company sharply criticized the management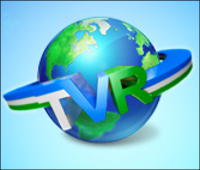 On August 23 at the press-conference, held in the Tashkent office of Ezgulik human rights center in Uzbekistan, the employees of Yoshlar (Youth) TV channel of National Television and Radio Company of Uzbekistan Malokhat Eshonkulova and Saodat Omonova shared about "censorship and localism at the state television and embezzlement among the management team". The press-conference was attended by human rights activists, representatives of independent media, diplomats from USA, France and Germany.
Observer Saodat Omonova and correspondent Malokhat Eshonkulova said that "any produced video may cover both positive and negative sides; however, as a rule, all critical comments are cut off. The corrections can be made by any state structures: from presidential office to Security Council, representatives of banks, tax and customs authorities".
"In the last 2-3 years in the official news programs we have to read the text of Akhborot (News) program of Uzbekistan TV channel and duplicate the coverage of "presidential" and other official events – Omonova continues. – I do not want to read someone's text since I have my own opinion on the current events. In 1998 I was the personal correspondent of Davr and we had very critical stories".
The journalists affirm that "most of state funds, allocated for the development of television, are embezzled by management while they buy cheap and low quality equipment". The substantial part of ad revenues does not go to state budget either.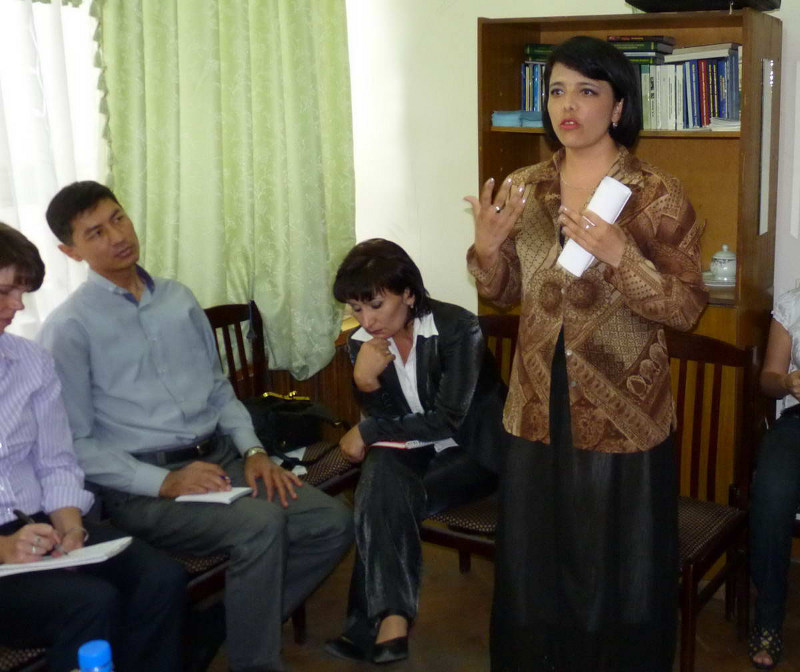 Saodat Omonova and Malokhat Eshonkulova (on the left) at the press-conference in the Ezgulik human rights center

Saodat came from Samarqand to Tashkent in 2001 and got employed in the state television company. According to her, "the employees from Tashkent originally have higher salaries than those coming from the regions". As a journalist with higher education and extensive work experience Saodat gets paid 500 thousand sum (about $230) while the fresh graduate of secondary school, as an administrator, may get million or more sum.
In the opinion of Ms Omonova, this way Khairulla Nuritdinov, the director of Yoshlar TV, "supported" by head of NTRC Alisher Khodzhaev, launders money.
"Mr. Nuritdinov has the privileged well-paid group of employees. Other staff members work overtime but get paid much less", says Omonova.
"My colleague Malokhat Eshonkulova started fighting corruption and embezzlement in December of the last year – Ms. Omonova continues. – She addressed law enforcement bodies and other top agencies. In response our administration put high pressure on Eshonkulova".
According to Ms Omonova, over 40 employees were interrogated on cases, described by Malokhat Eshonkulova. As a result, the prosecutor's office reported 47 million sum that were illegally paid to some employees of the television.
"Today, there are many discontent people at the television. I believe my statements are the right move. I know I will lose my job but I am ready to go on end in order to finally inform the president about these things", Ms. Omonova concluded.
The Republic of Uzbekistan Law on mass media (article 7): "No censorship of mass media is allowed in the Republic of Uzbekistan. No party is authorized to demand preliminary approval of articles".
Despite civilized legislation of Uzbekistan there are many facts of censorship, filtering websites, filing records on independent journalists, fabrication of charges against undesired journalists, criticizing the government.
According to Freedom of speech index, annually reported by Reporters without Borders, Uzbekistan's rank is one of the last in the world. It is still "black zone" for press. Journalist profession is accompanied with high risks in Uzbekistan.
In his comments to Ferghana.Ru, Sukhrob Ismailov, the head of Tashkent-based Expert Working Group which attended the press-conference, said the following:
"I respect the courage of these people because they are put in worse conditions than human rights advocates and independent journalists that at least enjoy minimum protection on the side of international community.
Serving in the official structure, Malokhat Eshonkulova and Saodat Omonova were performing their duties professionally. The main priority is to protect them, stay in touch and help them on time.
In this case, considering the laws of Uzbekistan and international practice, it makes more sense to prepare the letter of complaint for civil court and make the case public; in this case, international and domestic organizations, such as Ezgulik, will have the official opportunity to protect the persecuted journalists", Sukhrob Ismailov underlined.
Meanwhile, Uzbek service of BBC published the radio interview with Sokhibjon Alidjonov, the chief editor of Davr information program. The supervisor of above-mentioned employees says there is no censorship in Uzbekistan. The translation of interview from Uzbek language is presented below:
* * *
Sokhibjon Alidjonov: - We need to find out what they mean by censorship. I partially read their statements, given at press-conference. The cancellation of interview prior to broadcasting is the normal process in the world.
ВВС: - But the journalists affirm that the editors cut off those materials, prohibited to be covered.
Sokhibjon Alidjonov: - No…In the last four years I have not observed such incidents. Many decisions are made by collegiate authority. Did they specify the certain case?
ВВС: - Watching news programs at Yoshlar and Akhborot TV channels we see the same content. Why?
Sokhibjon Alidjonov: - There are general requirements in journalism. In my opinion, if the events are the same, the coverage will have the same content as well…
ВВС: - Many Uzbekistanis say that Davr and Akhborot produce "news from paradise" with no criticism.
Sokhibjon Alidjonov: - What do you mean, mentioning criticism?
ВВС: - For instance, besides the achievements there are also some problematic areas in Uzbekistan. They are not covered.
Sokhibjon Alidjonov: - No, no…This statement must be verified with evidences. Based on general opinion it is hard to make certain conclusion. If you could give me 2-3 days I would review the programs in the last 6 months and could tell you the number of stories with critical comments.
ВВС: - Why does Saodat Omonova make such statements?
Sokhibjon Alidjonov: - First of all, we need to ask her. I am a bit surprised: Saodat is our journalist and good worker.
* * *
Contacting Saodat Omonova over the phone, Ferghana.Ru correspondent learned that immediately after press-conference she was prohibited to make coverage of events. However, on August 26 she was already assigned to produce the video in the Bostanlyk district of the Tashkent Oblast. Commenting on the interview of the chief editor she said that "he is afraid to tell the truth".
It has to be mentioned that criticism of management at Uzbek television is very rare event; however, this is not the first case. Few years ago famous broadcaster Elmira Khasanova protested against the censorship. As a result, she was fired. Nonetheless, being professional journalist, she was invited again.