Uzbekistan: Famous family in Kokand became the victim of mafia security structures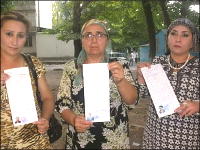 Iroda, Rakhbarkhon and Mukhaye Adilovs. The photo was provided by human rights advocate E. Urlaeva
In the interview, given to Ferghana.Ru correspondent, Adilovs shared how they were totally made bankrupt, humiliated, tortured and raped by law enforcement officers in Uzbekistan.
Unfortunately, it is not possible to check the facts, reported by Adilov sisters and their mother. Looking at video camera, they were not afraid to share the details of shocking story, where the law enforcement officers raped younger sister, attempted the life of elder sister and brother; as a result, all family members were imprisoned and deprived of property. Further we report this tragic story from the words of Rakhbarkhon, Mukhaye and Iroda.
According to Adilovs, they were known in Kokand as wealthy, noble and respected family. Rakhimzhon Adilov was holding the managerial positions in law enforcement bodies of Uzbekistan. His wife Rakhbarkhon Adilova was running a small shop that step by step turned into the chain stores. Their two daughters – Iroda and Mukhaye – were no less successful: Iroda graduated from Frunze polytechnic institute and worked at Kokand meat factory. Mukhaye finished teacher's college in Kokand; she also married rich businessman from Pakistan.
The wealth of Adilov's family produced jealousy and willingness to expropriate their property. In the opinion of Adilov's, the important fact was that the Interior Ministry supervisor for Ferghana Oblast Shukur Ruzmatov wanted to marry Mukhaye, but was denied. The serious problems still had to be faced later.
According to Iroda, in 1994 the Kokand meat factory became the joint stock company. It was defined that 25% of shares must be bought by foreign investors, 25% must be offered at the market, 25% must be owned by staff, 25% must be owned by supplier companies.
While staff members gained 25% of stocks, the rest 75% were sold to influential mafia boss Ibragim Tazhibaev. In 1997 the CEO of the meat factory was fired because "he paid low dividends". Iroda was offered to take over this position but she said "no". One year later the meat plant was already headed by Ibragim Tazhbaev that, according to Adilova, "immediately started fraud operations, also replacing all highly qualified experts by his relatives, having no idea about the job".
Later on Tazhbaev proposed Iroda to attract Pakistani businessman as the foreign investor. As a result, in 2000 Ali Shah Izhad Akhmad Ali Shah – the husband of Mukhaye – bought Tazhibaev's stake for $150 000; Mukhaye even offered one million sum as the security deposit, which became the reason of the conflict.
Receiving one million, Tazhibaev changed his mind and did not return the security deposit. After interference of Pakistan's Ambassador, Tazhibaev returned money but fired Iroda. Iroda started addressing the complaints to various agencies and filed a suit. In response, Tazhibaev decided to get rid of Adilova.
"On October 31, 2003 my 13-year old son was kidnapped. Friends of Tazhibaev threatened to kill him, forcing me to "sell" my stocks to Tazhbaev and sign the resignation letter", said Iroda Adilova. She wrote an application but got no response from police. Iroda started writing about the despotism of police structures in the Ferghana valley. Later on the family learned from Sultan Tashpulatov that police received "instruction from above" to "expropriate the property and imprison all family members". "Technical work" was to be conducted by Ibragim Tazhibaev.
Not being aware of the danger, Adilovs were looking to rent out big house, owned by Iroda. They hired Mukhaye Ashurova as security guard for house, not even having an idea she was the niece of Tazhbaev. Later on Ashurova started working in the house of Rakhbarkhon Adilova.
One day Rakhbarkhon Adilova and her daughters met Asma Sultanova, the local trader of jewelry (and professional fraudster). After few conversations with her Rakhbarkhon gave Asma 9.5 million sum as the advance payment for "high-quality gold jewelry".
Asma Sultanova showed up only on December 6, 2005 when Mukhaye was home alone. Somehow Asma convinced Mukhaye to show family's jewelry collection. Suddenly few men broke in the house and took away about 3 kilograms of jewelry.
The investigation ended with weird results: Mukhaye Ashurova (at the moment of robbery she was in the hospital) was found guilty in this crime; Mukhaye Adilova was accused of organizing the robbery and arrested in January of 2006.
Mukhaye Adilova said that during 27 days in row she was being tortured and raped by the law enforcement officers, "blessed" by top authorities.
"In pre-trial detention center 5-6 men were raping me every day. I was injected something (the doctor said it was heroin) so that I could stay up. I got pregnant, but had miscarriage", Mukhaye Adilova shared.
It has to be mentioned that the relatives of Mukhaye were never allowed to see her in the detention center. They put best efforts to take her out. They sold most of their assets and gave money to the investigator Alisher Khuzhamkulov and Shukur Ruzmatov, the "supervisor" for Ferghana Oblast. However, these efforts were useless.
Desperate Iroda Adila wrote complaints, where she informed that Asma Sultanova "was illegally importing gold sand from Chechnya to Uzbekistan", about mafia between Tazhbaev and Kokand's security officers and Shukur Ruzmatova, "the patron" for criminal business in the Ferghana Oblast.
Later on Iroda and Rakhbarkhon became the target of number of honeytrap situations, organized by Asma Sultanova under the patronage of local law enforcement and judicial structures. As a result, they were sentenced to 8 and 6 years of prison respectively on the following charges: false testimony, false information, blackmailing and other. Nazhot, the younger son of the Adilov's family, was outside of Uzbekistan. Upon his return home in 2008, he was sentenced to 6 years of jail under trumped-up case.
Few years later Mukhaye and Nazhot were released on amnesty. Rakhbarkhon-opa, suffering from cancer, also spent few years in jail before the release.
Meanwhile, the investigator Alisher Khuzhamkulov, which organized the torture and raping of Mukhaye, changed the last name. The head of Ferghana law enforcement structure Shukur Ruzmatov was arrested by national security agency and sentenced to 10.5 years of jail as well as Khusan Yuldashev that was also involved in Adilovs' case.
Adilovs' family does not want to go back to Kokand. Losing absolutely everything, Adilovs' family still does not give up. Addressing wider audience through independent mass media and attracting the attention of "competent authorities" that, in their opinion, can help restore justice, they hope to return their property. They also want to address the international human rights groups and left their contact number: +998909551400.