Come out of the shade. The photographers from Central Asia and Southern Caucasus are invited to participate in "Documentary photography"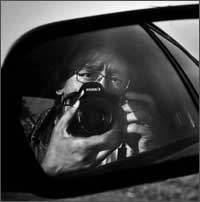 Documentary photography project and the Program for Support of culture and art, funded by Open Society Institute announced the next phase of the project, which was conducted for the first time in 2009. The contest is open to photographers from Central Asia, Afghanistan, Mongolia, Pakistan and Southern Caucasus. The applicants must indicate the topic of their documentary projects they would like to develop.
The preference is given to the topics, interesting for OSI: the right of ethnic and sexual minorities, gender issues, migration, citizenship problems, preliminary detention, military crimes and crimes against humanity, religious freedom issues, ecology, urban changes and development, healthcare issues, including tuberculosis, HIV and hepatitis, child labor, domestic violence, development of small business, life in traditional communities, youth organizations and other. The contest organizers say there may be other topics.
The program finalists will get the stipend in the amount of 3500 US dollars, audio equipment and software for production of their own multimedia projects; besides, they will attend two seminars.
The first seminar will take place in July of 2011 and it will consider the proposals and future projects of the award recipients. The program finalists will be trained how to use multimedia equipment, take photos and edit them. The first seminar will last 7 days. The second seminar (after 6 months) will take 5 days, where the participants will present their projects. During grant period (6 months) each photographer can consult with mentors – worldwide famous photographers. The program finalists may present their works to the mentors twice a month. The grant is available from July 2011 and expires in the beginning of February, 2012.
The contest team underlines that photographers from Afghanistan, Armenia, Azerbaijan, Georgia, Kazakhstan, Kyrgyzstan, Mongolia, Pakistan, Tajikistan, Turkmenistan and Uzbekistan are encouraged to apply. If you apply for the grant you must live in your country unless you are a photographer from Uzbekistan or Turkmenistan (in this case, you can do it outside your home country). The applicants, originally from other countries, must provide the evidence of connection with the indicated country for several years (e.g. job). Another requirement: the candidate must speak English or Russian.
Deadline for application is December 3, 2010. The details are available here.
The following 9 photographers were previously selected for Documentary photography project: Akhtar Soomro, Barat Ali Batoor, Farzana Wahidy, Hayk Bianjyan, Justyna Mielnikiewicz, Karen Mirzoyan, Mery Agakhanyan, Rena Effendi and Valery Kaliyev. Their mentors were Antonin Kratochvil and Yuri Kozyrev.
Ferghana.Ru reached Valery Kaliyev, the last year award recipient, and interviewed him about the project.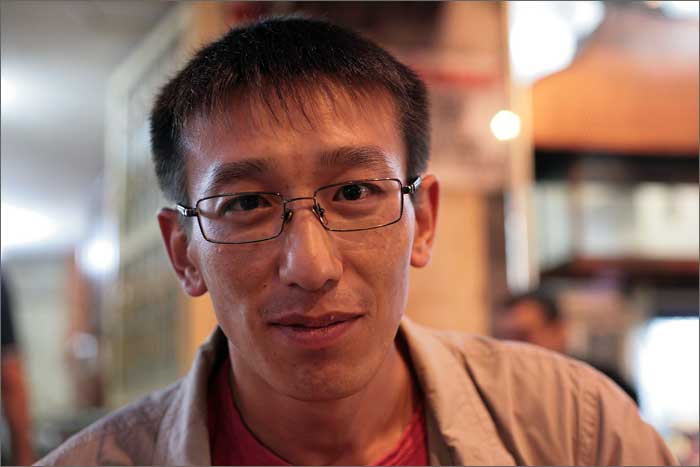 Valery Kaliyev was born in 1975 in the city of Saran (Kazakhstan) and currently lives in Karaganda. Photo correspondent of Novyi Vestnik newspaper. Photo by Akhtar Soomro.

Story by Valery Kaliyev
"I learned about the contest from friends and NGO list-serve…I disseminated this information to others as well. Later on I was told that there were 9 winners out of 130 applicants: 2 persons from Afghanistan, one from Pakistan, three from Armenia, one from Georgia and one from Azerbaijan.
I decided to prepare the project about labor migrants, coming to Kazakhstan from neighboring Kyrgyzstan, Tajikistan and Uzbekistan. I took pictures in Astana, Almaty, Karabas, Shymkent, Zhetysay, Taraz, Saryagash, Abay, Karaganda Oblast, Bishkek and Tashkent…I visited construction sites, bazaars, cotton fields and even strip bar in Almaty…The idea was to show the vulnerability of labor migrants and the challenging conditions, they live in. I want to take photos of illegal migrants, but I never checked IDs…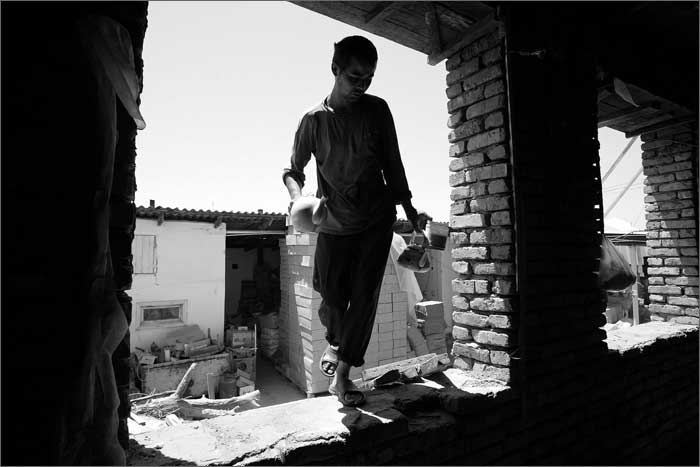 The construction site at Zhetysay, Southern Kazakhstan. The Uzbek crew is building the house for the local entrepreneur. Photo by Valery Kaliyev

Under Documentary photography project I attended two seminars. The first seminar helped us figure out the areas of work and what to do better. This helped a lot. At the second seminar in July we presented projects. My project consisted of 82 photos.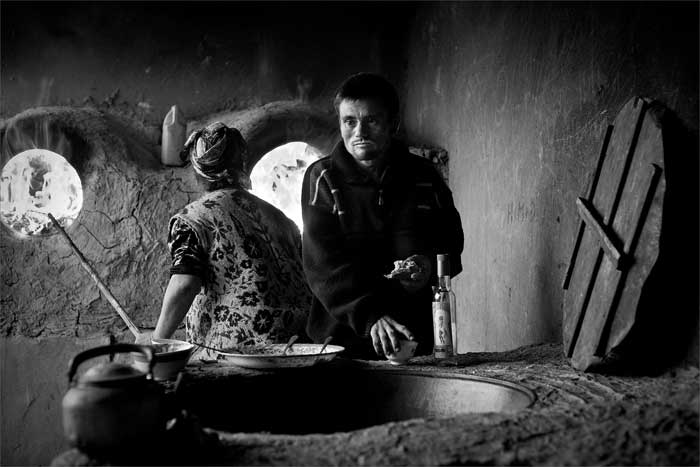 The cotton-pickers in the morning. Daniyar is finishing his breakfast, while the woman is cooking griddle-cake to bring lunch to the cotton field. Photo by Valery Kaliyev

My mentor was Yuri Kozyrev and I am very thankful to him. He said I needed police in my photos in order to show conflict and drama. My mentor's comments were very appropriate and fruitful.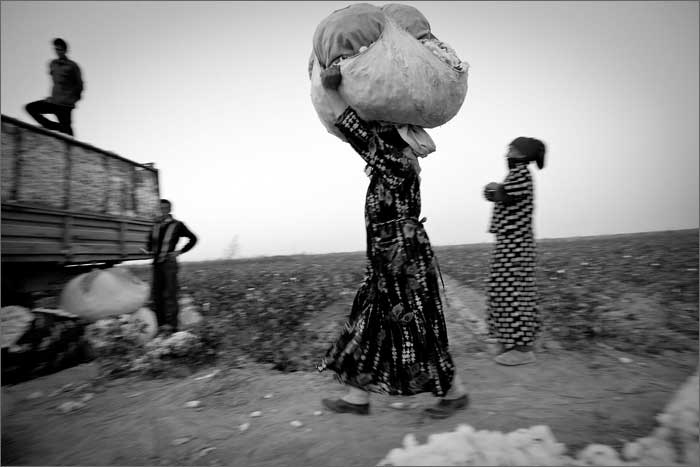 The end of day shift in the cotton field of Southern Kazakhstan. Photo by Valery Kaliyev

We were taught to run multimedia projects from internet resources, work with video and photo and take short interviews. We were presented professional equipment…
In my project I mainly focused on Kyrgyz and Uzbek citizens. I visited Bishkek and Tashkent. That was great experience for me…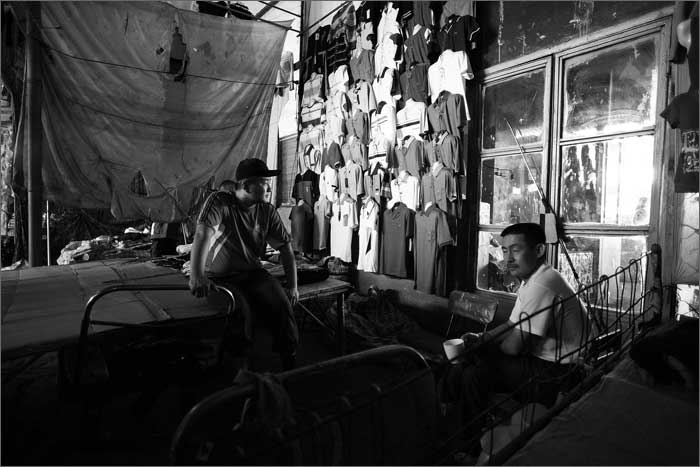 People from Kyrgyzstan at the market of Taraz. Photo by Valery Kaliyev

I want to organize the exhibition of my project photos. I know that contest team already took our few pictures in order to show them in photo festival in Washington DC, November 6-13".
Mariya Yanovskaya