Vugar Khalilov: Investigators told me, "how can you be not guilty if the journalists keep saying that you are Bakievist?!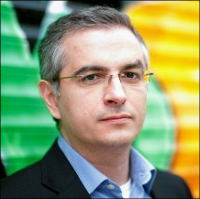 Vugar Khalilov, the Director-General of the "Flexi Communications" PR agency has complained to Radio Free Europe/Radio Liberty (RFE/RL)'s President Jeffrey Gedmin, asking him to provide evidence to back up the libelous allegations aired in a programme broadcast by the Kyrgyz service of Radio Liberty (Radio Azattyk).
Khalilov, who is a British citizen, has sent copies of the complaint to the Chairman of the Foreign Affairs Committee of the US House of Representatives Howard L. Berman, the Executive Director of the BBG (the Broadcasting Board of Governors, which includes all U.S. civilian international broadcasting, including the Voice of America (VOA), Radio Free Europe/Radio Liberty (RFE/RL), Radio Free Asia (RFA), Radio and TV Mart?, and the Middle East Broadcasting Networks (MBN)—Radio Sawa and Alhurra Television) Jeffrey N. Trimble, U.S. Secretary of State Hillary Clinton, U.S. Ambassador to Bishkek Tatiane Gfeller, Charge d'Affaires of the U.S. Embassy in Azerbaijan Adam Sterling, and British Ambassador to Kazakhstan and Kyrgyzstan David Moran.
The essence of the claims made by Vugar Khalilov is that on April 14, 2010 Radio Azattyk broadcast an interview conducted by broadcaster Burulkan Sarygulova with a person who was introduced as "Bishkek journalist Bakyt Urmatov".
In the interview it was reported that Vugar Khalilov was the "right hand" of Yevgeny Gurevich, head of the MGN Group (a financial services firm providing investment banking, asset management, market research and broker-dealer services to clients in Central Asia including corporations, financial institutions and high-net-worth individuals).
Bakyt Urmatov claimed that Khalilov was an official representative of Gurevich and defended him at press conferences, that Khalilov was working for and with "AziyuUniversalBank", that Khalilov was "the close associate of the former President of Kyrgyzstan Kurmanbek Bakiyev and his son, Maxim," and that he "knows a lot" about the secret transactions, conducted by MGN. Following the broadcast, the claims made by "Bakyt Urmatov" were reprinted and re-broadcast by many local and foreign and local media outlets, including our agency.
In his letter of complaint, Khalilov says that the charges brought against him after his arrest were virtually identical to the accusations made on Radio Azattyk. He asked who was behind the pseudonym "Bakyt Urmatov". RFE/RL has been looking into the issue.
A reminder: Vugar Khalilov was detained on April 12, 2010, and two days later was charged with Article 183 (laundering of illegal funds) of the Criminal Code of Kyrgyzstan. According to the investigators' allegations, "Vugar Khalilov was involved in corruption schemes created by Bakiyev's family and their associates", for the laundering of money, as well as illegal occupation of property, the illegal privatization of state property, and embezzlement of public funds in a large scale".
However, the state prosecutor refused to support the charges made by the investigators, and Khalilov was acquitted by the court.
Up to that point Khalilov was detained in a prison belonging to the State National Security Service (GSBN) of Kyrgyzstan for nearly five months.
After he was acquitted, Khalilov returned to London. He and his lawyers then began to unravel the tangle which has been 'wound' around his name. In addition to the letter sent to the president of Radio Liberty, on 16 November 2010 Khalilov sent an appeal to the Prosecutor General of Kyrgyzstan Kubatbek Baibolov, demanding "an investigation into the identity and whereabouts of unknown person, who, hiding under a false name, Bakyt Urmatov, slandered and libeled me, and misled the public and relevant authorities in Kyrgyzstan through the dissemination of false information."
On November 17 the trial began regarding the events of April 2010. We do not know what evidence against defendants will be brought before this court - but now we are interested in learning more about how the investigation of Khalilov was conducted - a man who was seen by the investigators as Bakiyev's man (we already know how investigation into the case of Azimzhan Askarov, who was sentenced to life in prison, was carried out).
We offered Vugar Khalilov an interview, and he agreed on the condition that the interview was done in written form.
- Vugar, did your Flexi Communications agency work with the Secretariat of President Kurmanbek Bakiyev and its head Oksana Malevanaya? Had you accepted any other orders for work for government agencies in Kyrgyzstan? Had those relationships been formalised by contracts?
- No, my agency did not work either with them or with any other state agency. By the way, these questions were asked of me by the State National Security Service (GSBN) of Kyrgyzstan as part of the investigation. The court trial cleared me of all charges and accusations, and the court gave a verdict of acquittal on the basis of the refusal of the state prosecutor to support the accusations, because they were baseless and there was no corpus delicti. And the court found that the conclusions of the investigators were based on inferences and assumptions only.
- Did you have any dealings with MGN (E.Gurevich's company)? Did you do any work for AUB (AsiaUniversalbank)? Have you ever worked with Maxim Bakiyev? Have you been personally acquainted with Yevgeny Gurevich, Maxim Bakiev, Oksana Malevanaya?
- I did not deal or did not have a deal with MGN. Simply, that company was one of Flexi Communications' clients for PR and marketing services. No projects with AUB existed, and I did not ever work with Maxim Bakiyev and I was not even acquainted with him. As for Gurevich, I knew him as his company was one of our company's clients. I knew Oksana Malevanaya too - the whole media community and Kyrgyzstan as a whole, including members of the current political elite, all know her.
If by putting this question you wanted just to find out more about the activity of Flexi Communications in general, I can tell you that my company had been working not only in Kyrgyzstan but also in Central Asia in general.
For example, we participated in a tender for PR and marketing services for the Carlsberg plant in Uzbekistan, and we were invited by the biggest European consulting firms to participate in the tender for informational support of the Nabucco project. So, the range of our potential customers has been quite broad.
- What you were being accused of by the investigators?
- Before answering the question, let me just mention that the investigators who interrogated me not so long ago are now themselves under arrest, and they are under investigation.
From the very beginning the investigation was trying to elicit from me what I simply do not know and could not know. Then, to justify their actions in illegally detaining me, they accused me of crimes that I did not commit, and physically was unable to commit - accusations of money laundering. I stress that there was no complainant and there was no evidence that I laundered money in the case they launched against me. The investigation was being conducted based on abstract "operational data," the source of which has not been disclosed yet.
But this charge was a formality. On April 12, when I was taken to the State National Security Service (GSNB) of Kyrgyzstan, they kept asking me questions that were irrelevant and not applicable to me on the whereabouts of MGN Group's CEO Yevgeny Gurevich, the head of the Central Agency for Development, Investment and Innovation (CADII), Maxim Bakiyev, about where their money was, etc. It looked like a pure provocation. Then I was blamed for "working with the Jews." All this nonsense and madness lasted 48 hours, and I was not allowed to see a lawyer or the British consul.
What is very interesting is that during this time, as it turned out, the Kyrgyz services of BBC and Radio Liberty (Radio Azattyk) had been spreading defamatory and libellous information about me. They portrayed me as someone close to Bakiyev's team. They did not say a word about the violations of my human and civil rights. They did not say that I was kept incommunicado for two whole days and that no one knew what was happening to me. Instead, they reported details of the interrogation at a time when I was still being held as a witness and when no charges were being brought. And the investigation, in turn, virtually duplicated the libel and accusations made in the reports by Radio Azattyk (RFE/RL) and the BBC Kyrgyz Service.
But after long conversations with me, the State National Security Service (GSNB) agents realised that, in detaining me, they had slipped up, they had put their foot in it, that they had been set up, and that they could not produce any evidence of my guilt. They even asked me, "How can you be not guilty if the journalists say that you are Bakievist?!"
But they failed to produce any facts to support this accusation, except for the libellous reports by the BBC and Radio Azattyk. Thereafter, the City Prosecutor's Office intervened. Without any justification, I was charged with money laundering, and they took me very swiftly to the Pervomayski District Court, where they have managed to turn those cooked-up accusations into a formal charge, and I was put under arrest.
All this was done in order to arrest me and keep me in custody. After a month in the State National Security Service's jail, the Deputy City Prosecutor Manas Nishanov made a "friendly visit" to my cell and asked me the same questions again - where is Gurevich, where he keeps his money, and where is Maxim Bakiyev's money. I was told that I should understand that I am guilty and, the Deputy City Prosecutor said, "guilty, because I had been working with the Jews."
- How was the investigation carried out?
- Actually, there was not any investigation or interrogation. All these were semi-official interrogations. There was only one formal interrogation at the end of the investigation period and the case was immediately sent in a rush to the court. And it was done retroactively (they put a fake date, ie an earlier date), because at that time I was in hospital, and according to the Code of Criminal Procedure, the investigation at this time was to be stopped, postponed. I should also note that the interrogation was conducted immediately after the forensic medical examination, when I was in a grave and semi-conscious condition.
- What happened to you?
- The aggravation of a herniated spinal cord. I was in a great pain. To treat this medical condition special procedures needed to be done, but I was given just basic painkillers to relieve pain only temporarily. City Prosecutor's Office did not hospitalise me. I did not sleep due to the severe pain for about two months, and was nearly unconscious because of the pain and lack of sleep.
But despite this, the investigator, Anatoly Khegai, insisted on conducting the interrogation immediately after the doctors left. My lawyer protested, but Khegai pleaded that he was under pressure 'from above' and said that he could do nothing.
I'd like to emphasise that all this time while I was under investigation, Radio Azattyk and the BBC, who were already reporting based on a trumped-up charge, continued to label and build me up as 'Bakievist.' All this was misleading public opinion in Kyrgyzstan and misleading the opinion of the leaders of the country's law enforcement agencies
In the end, I had to forbid my lawyers and my support group from communicating with journalists and cut these radio stations off from any information about me. The embargo remained in place until I returned to London. In fact, I had to defend myself from Radio Azattyk and the BBC.
- Under what conditions were you kept in jail? What were the procedural irregularities?
- My detention in the State National Security Service's prison was not a source of complaint. But there were a lot of investigative and procedural violations by the city prosecutor's office. I was detained without a warrant, without explanation, and the people who detained me did not produce any documents or ID. I demanded to see my lawyer and British consul, but they rudely refused my demands. My relatives were not informed about my arrest. Under threat of violence I was forced to sign the interrogation protocol. And most importantly, later I found out that City Prosecutor's Office had no right to keep me in custody, since according to the Code of Criminal Procedure, suspects of committing economic crimes (and this was the charge they made against me), if they paid bail, did not need to be detained in prison.
I was not even informed about the existence of such rights and this right was not offered or granted to me. Investigators refused it. I was kept in isolation (incommunicado) for about a month, without free access to a lawyer or access to the consul of the United Kingdom. My lawyer had to go to court every time he wanted to see me in order to get official permission. Even the diplomatic notes of the British Embassy were ignored by the City Prosecutor's Office and its investigator.
- Do you know why the investigation made almost exactly the same accusations against you as those contained in the report of by Radio Azattyk? Were you given any other evidence to prove your guilt?
- It is the investigators who should explain why the text of their indictment is almost identical to the reports aired by Radio Azattyk and the BBC Kyrgyz Service. This is a very important point. These two radio stations broadcasted libellous and slanderous reports about me when I had the status of a witness, when there was no trial or court decision. That is, Radio Azattyk and the BBC Kyrgyz service 'jumped the gun.' The investigators had no evidence with which to indict me.
I believe that the authorities of the country have been pumped with false information about me from outside. Instead of checking these false denunciations, they blindly trusted their sources. No evidence was there. Everything was built on the guesses and suppositions of the investigators.
For this reason, even the state prosecutor, during the trial at the district court, refused to endorse and support the conclusions of the investigators. But despite this, the City Prosecutor's Office persisted. They filed an appeal to a superior, municipal court, repeating the previous charges.
During my trial at the City Court, when a representative of the City Court Prosecutor's Office began to read the same text the second, consecutive time, he stopped short: probably, in a hurry, they copied the same text out twice on their computer. But no one heard any explanation or justification of the City Prosecutor's Office's protest. The logic of the charges was simple: 'He is guilty because he must be punished.'
- How, do you think, did this 'black PR' on Radio Azattyk begin? Do you have any information?
- I have no information yet. I expect to receive this information from the president of Radio Liberty, Jeffrey Gedmin. The only thing I can understand is that the management of Radio Liberty's Kyrgyz Service aired a false interview by a person who was hiding under a pseudonym, Bakyt Urmatov, without proper fact-checking and editorial control. If the information they disseminated was true, then why did that person need to hide under a pseudonym. And I demand to know who it is.
- What do you think, does the fact that city prosecutor Kubanychbek Abylov, his deputy, Manas Nishanov and head of the Investigative Department Anatoly Khegai lost their posts - might this be linked to your case?
- I can only say that after my acquittal on 7th September, I made a complaint to the General Prosecutor with a request to investigate the actions of individuals you specified in your question, as well as actions of the City Prosecutor Office's senior investigator Altynbek Namazaliev.
- You said in an interview that "15 GSNB agents" were hunting for you. How do you know that, have you any details? What does it mean - hunted? It was 'outdoor advertising'? Or have in mind something more dangerous?
- My company had been sealed and was arrested on 11th April, on a Sunday, which again is a violation of the law. That evening the investigators, led by A.Namazaliev, questioned several employees of the company, over a period of 6-8 hours, and at gunpoint. Despite the fact that I was in Bishkek, that I was not hiding anywhere and did not escape anywhere, they started a real hunt for me on Sunday - surveillance, searches, pursuit. I think the Prosecutor General's Office would be interested to find out how much gasoline and working hours were spent on this 'operation.'
I was detained in Bishkek. When I was put into a car and driven to the GSNB, I noticed that I was accompanied by the whole convoy, consisting of four cars. There were 3-4 operatives in each car. Behold, now count. The investigators then told me that they had followed me for more than a day, intercepting my mobile phone conversations. Was it worth spending state money on this? I did not disappear anywhere. They could have called me in and I'd have come myself.
- What do you think about charges brought against 'former Bakievists,' whose trials have begun in Kyrgyzstan? I'm talking about the charges against "persons who took part in important decision-making," as it was formulated by Beknazarov...
- The 'former Bakievists,' as you say, have their lawyers, and the lawyers know better how strong these charges are. It's tactless and wrong for me to comment this issue. I hope the court will make a fair decision.
- In late October, you said that your "company's financial documents and office equipment are still being kept in the City Prosecutor's office. And so the company can't operate." Is this still the case? What's happening with your agency now? Are you going to return to Kyrgyzstan?
- Yes, all the company's important documents are still being kept in the City Prosecutor's Office. And this is despite the fact that the Kyrgyz court acquitted me.
Moreover, the former leadership of the City Prosecutor's Office have "managed" to lose several important company documents, without which Flexi Communications cannot operate.
Now the company is reforming. While the documents and equipment are not returned back to us it's too early to say what will happen to the agency and whether I would come back. But why not? Kyrgyzstan is a beautiful country with wonderful people.
- At the Flexi Communications agency's website you say that your dream is to learn to eat manti properly. Has the dream come true?
- Yes, it has come true ... They cook outstanding manti in Kyrgyzstan ...
- In correspondence with our chief editor, you wrote, ironically, that "if I were a PR person for Bakiyev, then April 7 would not have happened." I see the irony in the your words, but I wonder: if you really were a PR expert for Bakiyev - what would you do?
- You are right – this was said with irony, nothing more. But if you're interested, I can improvise a bit. The point is that both the events of 7th April and the large number of victims were a result of the fact that a so-called 'information bubble' was created, and that information bubble was inflated by illiterate and mostly false information. Many journalists both inside and outside of Kyrgyzstan have tried this. This 'bubble' was inflated for a few months. Any experienced PR person would be able to cope with it, and then you would be seeing not bloody clashes, but constructive, peaceful and civilised debates in the media and in Kyrgyzstan.
- I do not get it. What kind of information bubble?
- I'm talking about what journalists had been writing about the economic situation in the country before 7th April. Many theses and assertions were simply unfounded, serious accusations which have not been proved were put forward.
- What accusations are you talking about?
- I'm talking about those publications which covered the economic programs of the previous government. Many journalists, instead of having tried to examine the situation, conduct journalistic investigations and submit facts based on different points of view, and so have provided the public with one, and only one, way of thinking.
- A pro-Bakiyev view?
- No. A pro-opposition view.
- Do you think that if the media would scrutinize more thoroughly the proposed economic programs and have organized discussions, round tables and so on, then the riot in Naryn, because of higher tariffs would not have happened?
- If Bakiyev's government believed that raising tariffs (for electricity etc) could lead to tensions in society, then it should have spent time explaining to the public why prices needed to rise, and what benefits every citizen would gain from this. This did not happen. And when there is an information vacuum, it quickly is being filled in with assumptions and speculations. I am speaking now as an outside observer.
- Did I understand correctly: the information bubble that you are talking about and that appeared before the April events, appeared because the previous government did not carry out a competent media campaign to promote its own programs, and all media outlets were approaching to the situation in the country only from the opposition point of view, relying mainly on speculations and baseless accusations?
- Yes, you understood correctly. But not all media outlets. Let's just say - most of them.
- How could the media have held the opposition point of view until April, when an information blockade was imposed in Kyrgyzstan in March? Many sites were blocked, and the government had struck a deal with the local media (24.kg, AKIpress) on loyalty?
- And do you really believe that blocking access to these site did not allow the media to express an opposition point of view?
- No. It was possible to express it. But the blockade did not allow that point of view to influence the situation in the country.
- How many news sites had been blocked?
- Four. True, it happened in the last month before the April events.
- Yes, only in the last month. I am a former journalist and I am against the blocking of any media. But do you really seriously believe that the information can be blocked? Even in the era of the Iron Curtain in the Soviet Union, people could listen to VOA and BBC. In the times of developed internet, social networks and various proxy-servers, any attempt to block Internet resources is a Sisyphean toil. There is an interview with a member of the current government, where it was said that the opposition worked via the Kyrgyz service of the BBC. And you want to say that there was a total block on the alternative media in Kyrgyzstan?
You have not yet taken into consideration the existence of opposition press in the Kyrgyz language. News in Kyrgyzstan is made not only by Fergana.Ru, AKI-press and 24.kg. Just recall the article about Gurevich, published prior to 7th April. In that article, the authors used the word "yid" (a derogatory name for Jews) openly and unashamedly, though for using such language in the West, you can find yourself behind bars.
You do not know what the BBC Kyrgyz Service and Radio Liberty were broadcasting. Roza Otunbayeva herself admitted that Radio Azattyk was the most reliable and accurate source of information. My appeal to the president of Radio Liberty shows how reliable this source is. And the same story with the Kyrgyz Service of the BBC, they also aired false information.
As for blocking, it is impossible to block information - it creates the opposite effect.
- I think you're exaggerating. This is similar to the thesis "it's journalists who are to blame for everything." But perhaps this view is that of a PR manager, who believes that any policy can be justified if the spin doctors wisely build a policy and work properly with the media.
- This question is not for me. I beg you not to confuse the work of a PR man with the work of a spin doctor. These are entirely different things. In connection with this issue I'd like to remind you that I am a PR specialist, and that I am an independent PR specialist, not a political strategist or spin doctor. As for the issue of information: where there is false information, then objective information should be put in place.
- Why did you decide to come from London to Bishkek in 2009 and then open an agency here? Were you promised something? (Khalilov's agency made a site for the president of Kyrgyzstan in 2009 - Ed.)
- You know, there are several foreign PR agencies with foreign management in neighbouring Kazakhstan. Tell me, please, what they have been promised? I wonder why they have come to Kazakhstan? I've seen a lot of foreigners in Kyrgyzstan - they are doing business in various industries there. Were they, too, promised something?
Flexi Communications is the first communications company with a wide range of PR services in the Central Asian region. Its employees, are all, except me, citizens of Kyrgyzstan.
In just one year, we won recognition at international level and hopes to join the ranks of finalists among the world's most well-known public relations companies.
Who in Kyrgyzstan has suffered from this? Why not open a PR agency in the country where this industry does not exist? My arrest and the absurd accusations against me prove that there is not a proper PR industry in Kyrgyzstan.
Vugar Khalilov was interviewed by Maria Yanovskaya