Abdumannob Pulat passed away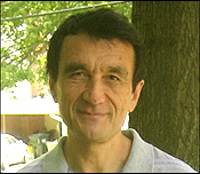 Abdumannob Pulat. Photo of Yangidunyo.com
Abdumannob Pulat (Pulatov), the prominent Uzbek political emigrant, passed away in USA on November 21, 2010 after serious decease. In the recent period A. Pulatov suffered from oncological decease. He was buried yesterday at one of the Muslim graveyards in Springfield, Virginia. Ferghana.Ru editorial office brings deepest condolences to his relatives and friends.
* * *
We asked Mr. Pulat's friends and colleagues to share about him.
- It is very big loss for the opposition movement of Uzbekistan– said Bakhrom Khamroev, the head of Central Asian political emigrant community in Moscow. – Unlike many political emigrants, Abdumannob-aka was very diplomatic and had weighted decisions. Although he was kind person, this influential person bravely criticized Uzbek government, expressing his own position on important issues.
- I met Abdumannob Pulatov in 1992 during the conference in Bishkek – shared Arkadiy Dubnov, the international observer of Moscow-based Vremya Novostei. – It was the period that changed the life of Abdumannob: I mean when Uzbek special services kidnapped him.
Abdumannob Kayumovich Pulatov was born on December 16, 1951 in the Tashkent Oblast of Uzbekistan. In 1974-1979 he studied in the graduate school of mathematics and cybernetics of Moscow State University. Abdumannob Pulatov is one of the founders of Birlik opposition movement of Uzbekistan. In December 1991 he founded human rights community of Uzbekistan (HRCU) and was managing it until 2001. In 1992, being political emigrant, he was kidnapped by Uzbek special services in Bishkek and taken to Uzbekistan. In January of 1993 the Supreme Court of Uzbekistan sentenced him to 2 years of jail, but he was immediately released on amnesty.

Since 1993 A. Pulatov has been residing in USA. During his official visit to USA in 1996 Islam Karimov invited Abdumannob Pulatov to go back to Uzbekistan and promised legalize opposition movement, guaranteeing personal security for him. Some sources indicate that at that time Mr. Pulatov reported the improvement of human rights situation in Uzbekistan and expressed readiness to cooperate with government. In this concern, many Uzbek opposition leaders blamed Pulatov in treason.

In 1996 under the pressure of official Tashkent Mr. Pulatov emigrated and became American citizen; in USA he was the head of Central Asian information center for human rights.
To me, Abdumannob Pulatov was extraordinary person, adhered to principles. Generally speaking, he was not able to hate people. This person was seeking the truth. Sometimes he did mistakes…Well, everyone does…
After spending several months in Uzbek prison, 1993 he headed to Washington DC. He was offered to stay there and enjoy special status, allowing him to work. He did not know whether it was worth of staying… Finally, he made this uneasy decision.
Abdumannob decided to become the mediator between the government of Uzbekistan and dissidents. He tried to build the ground for them, find common interests between official Tashkent and dissidents. I believe this idea was destined to fail from the very beginning although Abdumannob was always seeking for cooperation, but not conflict. Such approach was supported neither by Tashkent nor by his colleagues and human rights advocates.
There are very few Uzbeks that enjoy psychologically comfortable life abroad. He loved Uzbekistan, but it was not home for him. He could not feel at home in US either.
- In 1990s I visited Abdumannob in USA – said Sanobar Shermatova, journalist and the member of RIA Novosti expert council. – There was very warm family atmosphere in their house. He wanted his children to communicate in Uzbek language.
For me, Abdumannob Pulatov is one of the best representatives of Soviet intelligentsia. Despite jail, prosecution, emigration he managed to keep his dignity. He always stayed committed to the ideals and principles.
He tried to come back home and find his place in modern Uzbekistan. Unfortunately, current model of Uzbek political system does not accept outer elements. Abdumannob became alien for Uzbek elites. He was coming for conferences but leaving again, understanding he could not become the part of this society.
Nonetheless, I still believe Abdumannob could be demanded at home. He could be the deputy of the parliament. He had excellent public speaking skills, he could get along with common people…Unfortunately, such "perestroika"-minded people could not find the right place in Uzbekistan.
Abdumannob Pulatov represents big page in the history of Uzbekistan. Unlike many emigrants, he was neither marginal nor radical person. He managed to keep clear and pragmatic view on things, putting the emotions aside. Many emigrants live in the past – Abdumannob did not. He was kind person, adhered to principles…