Kyrgyzstan: Black lists of June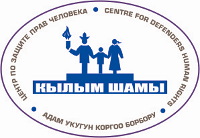 The workers of Kylym Shamy human rights center (Kyrgyzstan) conducted serious work and prepared a revised list of people, killed in the June tragedy. The list is not final yet and it does not have all the last names of deceased people. There are still 36 unidentified bodies and some missing people, but the Kylym Shamy representatives decided to publish their own information about victims and caused damage, since official information is still not available. Aziza Abdirasulova, the head of Kylym Shamy, shared with Ferghana correspondent about the work, how the list was prepared and how it differs from official information.
Houses, property, vehicles, documents
According to Aziza Abdirasulova, Kylym Shamy was mainly working on documenting the damage and preparation of dead lists through questioning the residents in south Kyrgyzstan. They observed 1759 houses (overall, about 2 thousand houses were damaged) and estimated the damage by two criteria: property damage (destruction of house, vehicles, personal belongings) and elimination or damaging the documents.
"We observed the condition of the houses, talked to owners on their evaluation of the size of damage and what was being done by the state to reconstruct the house – said Aziza Abdirasulova. – We estimated the property damage. Third, overall 374 vehicles were damaged or stolen. 1755 out of 1759 owners said their houses were eliminated; 1721 houses were burned (in Osh Oblast – 592 houses; Osh – 673 houses, Jalal-Abad Oblast – 176 houses, Jalal-Abad – 177, Bazar-Korgon – 137 houses".
The survey discovered that 7517 documents and 15 types of official papers were either damaged or eliminated.
Documents:
The dead list
of people killed in June riots in Osh and Jalal-Abad (Kyrgyzstan).
Tables 1, 2, 3 and 4
(sorted by dates of death, national identity, gender, age and types of wounds).
According to Kylym Shamy, the damage size in the south reached 9 billion KGS (Osh Oblast – over 5 billion; Osh – over 2 billion, Jalal-Abad Oblast – over 713 million, Jalal-Abad – over 293 million).
"The first survey was completed in August; the second 10 percent selective survey was finished in November. The survey included 150 citizens; 122 from Osh Oblast and 28 from Jalal-Abad", Ms. Abdirasulova continued. "The second survey showed that 89 out of 150 victims received financial and material aid from the state; 100% of respondents were assisted by international donors. Only 30 families indicated their houses were 100 percent reconstructed. 78 people said that their houses were rebuilt by 70 percent. Many people indicated that they had to reapply and pay for new documents".
The dead list
"We received official information from the office of Prosecutor General and Healthcare Ministry of Kyrgyzstan. The interesting thing is that we have different results. As of December 1, the Healthcare Ministry reported 418 deceased – 266 Uzbeks, 104 Kyrgyz and 5 people of other nationality. 264 people died from gunshot wounds, 56 – traumatic brain injury, 45 –stab wounds, 32 – thermal burns". "Our data reported 423 killed people. We received the dead lists from the hospitals. This is very challenging job. We checked information again and again in the local village administrations.
Kylym Shamy organization sent the request to the office of Prosecutor General regarding the missing people. As of December 8, there were 120 missing people. At the moment, 84 people were found while other 36 are still missing.
According to Kylym Shamy, 270 Uzbeks, 82 Kyrgyz and 3 persons of other nationality were killed in the Osh Oblast. 25 Kyrgyz, 42 Uzbeks and 1 person of other nationality were killed in the Jalal-Abad Oblast.
The human rights organization also estimated the number of people, killed in days of riots: June 11 – 109 people, June 12 – 137 people; on June 13-14 the death roll had smaller figures. On June 15 and later the figures were 78 killed people in Osh and 10 people in Jalal-Abad.
"The figures may vary a little bit because, as I said, there are 36 missing people, 43 unidentified corps – Ms. Abdirasulova noted. – Speaking of women, 38 were killed in the Osh Oblast and 6 women in the Jalal-Abad Oblast. Overall, 50 kids under age of 20 died in the Osh and Jalal-Abad oblasts".
"The matter of responsibility of state"
"Many people ask why the human rights defenders need the dead lists. I am affirmed that preparation of such lists is only the beginning of our work because after we complete the lists we have to defend the rights of the family members of dead people. Many kids died. This is tragedy.
However, I would like to draw special attention to the responsibility of state for ensuring the safety of its citizens. If the government fails to ensure the safety for citizens it must pay compensation. I do not say everybody needs to be compensated. However, our list includes children and women…I am concerned about Begaly Faizullaev: all his family (7 people) were burned. He is the only one who survived while his family is not even included in the official lists. I think the government must support this guy".
"The point is not how many people and of what ethnic identity were killed – the human rights leader underlines. – The point is that what the government does today and what responsibility it bears. Perhaps, some people will be indignant with our lists, but I think we did the right job. After June tragedy I visited five countries for the meetings with human rights leaders and everyone was concerned about the death toll. Various rumors report few thousand dead people. In order to avoid such statement we need to reveal real numbers and names. May these names remain in the history".
After April 7 people were talking about hundreds or thousands of victims. However, after the announcement of official list of 87 names the issue was cleared. Osh riots are a different story. There are still missing people, unidentified bodies. Several times we were re-writing the lists, indicating exact names, last names, and dates of birth. It was very painful to write down the names of people, born in 1980s, 1990s and 2000s. Perhaps, in the future we will publish a book with full list of dead people. People must know this in order to prevent such things in the future".
Please see (in Russian only): The list of people, killed in June riots in Osh and Jalal-Abad (Kyrgyzstan). Tables 1, 2, 3 and 4(sorted by dates of death, national identity, gender, age and types of wounds).
Ekaterina Ivashenko. Ferghana international news agency