Uzbekistan: Justice Ministry denied the accreditation of another representative of Human Rights Watch
On December 23, 210 the Justice Ministry of Uzbekistan officially denied the accreditation of Steve Swerdlow, the head of representative office of Human Rights Watch (HRW) and his wife Tandot Bhakti Dhirsinh.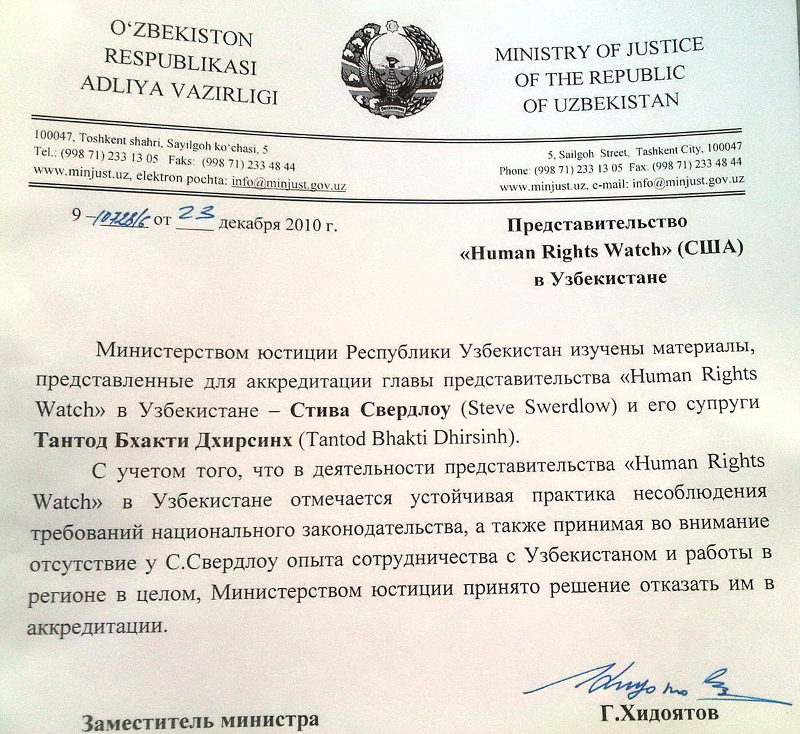 The denial of accreditation of HRW in Uzbekistan

HRW representative learned about the denial of accreditation request through the letter, signed by deputy Minister G. Khidoyatov. The document says that "the steady practice of non-observance of national legislation requirements is observed in the operations of HRW representative office in Uzbekistan" while "Mr. Swerlow does not have experience of cooperating with Uzbekistan and work in the region in general".
It has to be mentioned that activities of this famous international human rights organization were shut down in Uzbekistan in 2007 because Andrea Berg (heading it since fall of 2005) had to leave the republic in 2007 after the accreditation term expired and new accreditation request was denied.
American citizen Mihra Rittman, which arrived in order to replace Andrea Berg in that position, was also denied accreditation and she had to go back. Therefore, Human Rights Watch office in Uzbekistan has not been formally shut down, but it stopped operations because nobody could work there. Meanwhile, by that period Uzbekistan already expelled dozens of western human rights and charity organizations.
The later attempts to revive HRW operations in Uzbekistan also failed. In May 2008 the authorities denied the accreditation for Igor Vorontsov, the next representative of HRW that had to wait several months for official response. The reason for his denial was the fact that allegedly "he is not aware of the mentality of Uzbek people and he is not able to evaluate reforms, run by the government of the republic".
In the opinion of independent human rights advocates, the accreditation denial is the proven method, used by Uzbek authorities in struggle against Human Rights Watch representatives that carefully write down such crimes of the state authorities as tortures of persons in remand and prisoners, illegal conviction, show trials and extrajudicial execution.
Ferghana international news agency