Uzbek Mass Media Ignore, Alter ME Events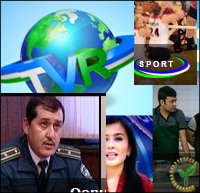 With such a backdrop behind, revolutions and popular uprising shaking the Middle East these days became an exception even for such "myopic" media outlets as those in Uzbekistan. Strangely enough, many Uzbek mass media are covering these events taking place in the Arab world. However, not everything and not always is covered.
Uzbek state-run news agencies (non-state ones simply do not exist) have not uttered even a word about the revolutionary developments, which the whole world is currently following. Newspapers "walked away" from the topic by printing short, one to two paragraph news bytes. Only the Novosti Uzbekistana (Uzbekistan News) weekly is providing relatively detailed coverage. The weekly ran two articles on the Arab revolutions in its previous issue: Radical Islamists can take over in Jordan and Cairo: Stiffly controlling radicals. Both articles express concern that so far repressed radical Islamists could potentially takeover power in the wake of these popular revolutions.
Tashkent-based FM radio stations, on the contrary, are providing quite detailed coverage of the current events in the Middle East. For example, Poytakht and Oriat Dono are talking about not only what is happening in Egypt and Tunisia, but also about the thousands-strong demonstrations in other Arab countries. However, the accent is unobtrusively placed on colossal losses the anti-government protests are inflicting on the Egyptian economy, on over a million of tourists leaving the country, on the bloodshed, etc. Such coverage usually "fails" to mention that Egyptian President Hosni Mubarak is in power for 30 years thanks to backing of the army for the fifth term. Probably the motivation behind such near-sightedness is the desire to avoid apparent parallels between those and Central Asian "heads of nation."
As far as news bulletins on Uzbek TV stations are concerned, it turns out that different channels of the Uzbek National TV and Radio Company utilize differing approaches to covering the issue. Here is a comparison of World Affairs section on Uzbekistan and Tashkent TV channels.
Uzbekistan Channel traditionally talks about cataclysms and catastrophes befalling other countries. Although the Egyptian protests are "a-bad-thing-out-there" story, the channel has been ignoring them since they were launched two weeks ago. President Mubarak's concessions, March of Millions, political reshuffling in Cairo – nothing of this ever happened. Otherwise Uzbekistan Channel would sure have reported.
Tashkent Channel, on the other hand, is indeed providing quite a detailed coverage of the events. It is not failing to cover even the spillover of protests into Yemen and Jordan. However, as mentioned earlier, the major cause of the outbreak of protests—corrupt governments, poverty, unemployment—are ignored.