Uzbekistan: No journalist is immune from slander, defamation charges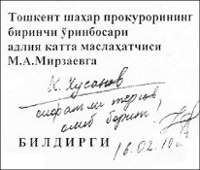 The already short list of journalists, who are officially registered with the Uzbek ministry of exterior, has recently shrank. There were 38 such journalists last year, the renewed list now has 33. Given that some 80 foreign journalists were accredited prior to the Andijan events [in 2005], attempts to minimize the number of foreign reporters are obvious.
In fact, the number of foreign journalists present on the ground in Uzbekistan is even smaller than 33, because many return home after they receive accreditation. That is why the press service of the ministry of foreign affairs faces significant difficulties to have even 8-10 reporters come to those rare news conferences it rarely hosts.
The above-mentioned list of accredited journalists includes five Russian mass media reporters, two Reuters news photographers (not present in Uzbekistan), two BBC Media Monitoring Service employees, a France Press reporter, a female reporter for the Belgian Le Soir newspaper, seven Chinese mass media reporters, five Turkish journalists, Kazakhstan, Iran and Azerbaijan have three registered journalists and Kyrgyzstan uses services of one accredited journalist in Uzbekistan.
Whereas those who lost their accreditation heard no explanations. One of them, Rakhim Sultanov, an own correspondent for the Golos Rossii (Voice of Russia) Radio, was accredited in Uzbekistan with the foreign affairs ministry since 1994. He used the governmental decree on foreign correspondents activities in the Republic of Uzbekistan to ask for explanations for such a decision, but his request was left unanswered.
It must be noted that should an Uzbek journalist lose his "accredited journalist" status, s/he is close to literally joining the ranks of those unemployed, because the national authorities build any possible obstacle before a journalist with no permission to cover stories in the country. There is even a governmental decree "Main regulations of journalists' activities who work for foreign mass media outlets," signed by Prime Minister Shavkat Mirziyoyev and adopted on 24 February 2006. Despite the fact that this documents is in contradiction with the Uzbek constitution and all laws regulating mass media, authorities prefer using it and openly ignore the main piece of legislation.
There were several attention-drawing trials in 2010 into the case of Mr Vladimir Berezovskiy, a correspondent for the Russian Parlamentskaya Gazeta newspaper and the editor of the Vesti.Uz website, Mr Malik Boboyev, a reporter for the Voice of America Radio, and Ms Umida Akhmedova, a photographer and documentary film maker. The Tashkent City prosecutor's office accused them all with insulting and slandering. Ms Akhmedova has allegedly insulted and defamed the whole Uzbek nation and Vladimir Berezovskiy did that to unknown entities, because there was no suffering party in the presentment. Mr Boboyev faced a bit more serious charge – defaming and insulting "authorities, judicial officers and law enforcing agencies." On top of all this, Mr Boboyev [allegedly] filed reports for the Voice of America Radio which contained information that aimed at "distracting citizens of Uzbekistan, violating good-neighborhood relations, inciting distrust in authorities, law enforcement agencies, political parties and MPs, and stirring panic" to name a few. Several quick court trials found all three guilty despite the fact that the national legislation requires the presence of specific victims of the journalists' actions, i.e. specific individuals, and not organizations or legal entities, let alone the "whole Uzbek nation."
Actually the State vs. Boboyev case cleared several issues for the latter's colleagues, which were ambiguous to date. Among those, as it turns out, is a criminal case initiated against other journalists in Uzbekistan. Apparently, since September 2010, the Tashkent City prosecutor's office was vigilantly filing based-on-alleged-evidence sort of criminal cases against other journalists incriminating Article 244 of the Uzbek Crime Code (Mass Disorder). The second part of Article 244 is called "Establishing, leading and participating in religious extremist, separatist, fundamentalist and other banned organizations" and provides for five to fifteen years of imprisonment. The curiosity of the situation is that the accused journalists were absolutely unaware of the criminal case—the cases were being initiated and "investigated" secretly.
The Fergana news agency has received several documents (see the full text in Russian here), which suggest that an array of court trials against freelance reporters was planned back in 2009 and that already prepared "experts' findings and conclusions" in regards with other journalists considered under one criminal case No. 18/10-2616 were merely waiting for the right moment. However, this case is still shelved for some reasons. Maybe because of the public resonance caused by trials against Akhmedova, Boboyev and Berezovskiy, which not only cast a significant crack on the Uzbek authorities' image and prestige, but also uncovered the status quo in Uzbekistan when it comes to ensuring the constitutional right for freedom of thought and speech is upheld.
Aleksey Volosevich (Tashkent, Uzbekistan). Fergana International News Agency