Satellite dish sales are booming in the Uzbek capital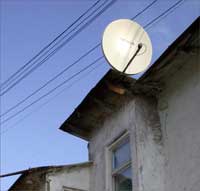 The demand (and prices) for satellite dishes in Tashkent has sky-rocketed since September 2010. Meanwhile, the boom would appear not to be caused by economic reasons, such as a sudden increase in the prosperity of the Uzbek people, but rather by politics: last fall, the "Kamalak-TV" cable provider, which used to primarily relay Russian and other foreign TV stations in Tashkent and the surrounding region, was discontinued. Another development that pushed the population toward buying sat dishes came when popular (among the Uzbek audience) Russian channels TNT and DTV had been banned and struck out from standard cable packages. Deprived of their favorite shows and entertainment, people have rushed out to the Navoi market to snap up satellite dishes.
First Wave: Kamalak-TV discontinued
The growth of consumer demand for satellite dishes is accounted for by the fact the Kamalak-TV station broadcasting Russian and domestic television channels went out of business. So did the huge market for illegal homemade antennas that were used to leech the company's signal and that enabled owners to avoid the monthly fees: it has also disappeared. Even though the latter option used to be tremendously popular among residents in the Tashkent region.
A "Ferghana" correspondent asked residents in Tashkent and other regions for their views on the advantages and disadvantages of dishes and what problems they have had getting them.
"Cable TV is mostly provided in urban areas, and doesn't reach the countryside, because it is just impractical to roll out the cable for large distances just for the sake of a small village. So everybody has to use aerials, some of them old ones dating back to the Soviet era, that can only pick up the signal for Uzbek channels," said residents in the Tashkent region.
Meanwhile, a resident in Chirchik, a town northeast of Tashkent, explains how the pirate aerial market started up: "Around 1999, pirated Kamalak aerials appeared on the market, which
the majority of people bought without hesitation. Within a couple of years, these antennas towered over nearly every single roof. They were convenient, cheap and at 50.000 soum ($21 at the current rate) including installation - affordable even for low-income customers. It had around 30 channels, most of them Russian. In contrast with the real Kamalak-TV, Russian advertising was blocked and replaced with images of nature and sometimes with advertising for Uzbek goods.
Furthermore, some channels would periodically appear in "negative," the colors would not show up properly. They used to say that this was an attempt to block the pirate's frequencies,.
However, in 2010, the Kamalak-TV was discontinued, and reported by Uzbek media to have switched over from analogue television to the digital DVB-T standard ((Digital Video Broadcasting). The pirate's free lunch also came to an end. Those pirates (basically each and every rural resident), were left with their TV sets, but nothing to watch. Those that could afford pricey satellite dishes rushed to solve their predicament.
"As soon as Kamalak was gone, we immediately went to the market to enquire about prices for dishes. Our grandfather lives in a country house in Yangiyul, he's and old man who got used to watching his favorite channels. When we saw the prices, we were shocked -- in the summer, our friends bought a similar dish for 350.000 soum. We had to spend as much as 450,000 soum. The price has apparently been pushed up by increased demand and despair," one interviewee told us.
A dish salesman at Navoi market says he is delighted at the roaring trade: "The merchandise sells like hot cakes, customers are swarming, which is particularly pleasing. Besides, there is a striking feature among local people: if one person has bought something, then neighbors will grit their teeth and do the same. Often, as we are installing a dish, we get interested clients asking for business cards or enquiring about prices".
The salesman explained that if you want to get stations from Russia, Europe and neighboring countries, you have to buy a decoder, two dishes – a 180-centimer dish and a 90-centimeter dish – a few low-noise blocks and pay around 480,000 soum, that's with a discount.
Or you can get just one small 90-centimeter dish with one LNB to receive 13 Russian stations. That sets you back 185,000 soum with installation excluded. It costs 40,000 soum if you want the dish installed on the roof or 55,000 soum put it on the balcony. If you get a 180-centimeter dish with four LNBs on it and a decoder, it will cost you 290,000 soum without installation. With that, you get 95 channels, of which 40 are Russian, while the remaining channels are European.
The Alternative
Two replacements for Kamalak-TV have appeared offering digital television services: Uz Digital TV and Stars TV.
In case of "Uz Digital TV", you have to buy a digital tuner at 233,000 soum, an antenna for 20,000 soum and other equipment such as a coaxial cable at 750 soum per meter. The tuner becomes the property of the owner, but you still have to pay a subscription of between 4,500 and 15,000 soum monthly. The company's site also notes that it maintains the right to change packages and remove certain programs without advance warning.
With Stars TV, which offers service only in Tashkent and in Tashkent region, the connection costs $100 at the official government rate, equipment remains the property of the company and is rented to customers. On top of it, the monthly subscription fee is between $3 and $10. The cost of an extension cable is paid for by the customer.
Anyway, the digital television has not really spread much and, on the whole, Uzbeks prefer to stick to satellite dishes.
As far as traditional cable subscribers goes, the difficult choice about picking an operator or wondering about the appeal of a satellite dish facing rural residents, had not touched on them. At least that was the case until Feb. 9, when all cable providers in Tashkent suddenly stopped providing much-loved Russian channels, TNT and DTV. And so people quickly rushed out for dishes again.
The Second Wave: Blocking of TNT and DTV
We remind, that according to independent media, TNT and DTV were excluded from the offerings of cable companies because of certain "immoral" content that "failed to respect Uzbek traditional mentality." (One popular DTV show is raunchy candid camera show Naked and Funny, while TNT broadcasts Big Brother-copy Dom 2, as well as the racy Sex with Anfisa Chekhova show). That account was confirmed by Uzmetronom, which has reminded of a meeting between private media representatives and deputy Prime Minister Abdullah Aripov, who express his misgivings about the dubious moral content of certain publications, preceding the revision of the cable companies' broadcasts.
"The purpose of the meeting was to warn editors, mainly of the provincial media, about the publication of questionable content in terms of the morality, existing country's cultural and spiritual values. Abdullah Aripov repeatedly stated that Uzbekistan's examination of the output of Russian TV channels provided by cable companies, as well as the government's desire to compel media to comply with the basic decency principles, should not interpreted as an attempt to restrict freedom of speech.
"We have not opted for a ban on satellite dishes, as some countries have," - Uzmetronom.com cited Aripov. Meanwhile, the authorities would not bother to explain the grounds for a ban, as usual.
* * *
"As soon as I get paid, I'll run out immediately to buy a small dish to catch TNT. And to hell with cable, I'd rather pay that much (small dish with a tuner costs 185.000 soum, excluding installation – 40.000 to 55.000 soum) and not have somebody's finger wagging at me and dictating what I can watch and what is immoral," a Tashkent resident said.
Many in the capital share that view. The purchase of a satellite dish has become a cherished dream among many Uzbeks. It might be that Aripov is hiding his real motives behind a professed concern for decency in the media, while defending the interests of dish retailers, as well as other companies created in Tashkent that, according to some rumors, will provide DTV and TNT for a monthly fee.
In the province, the pirate dishes catching "Kamalak TV" were immediately replaced by those made in China or even USSR, with modifications. Bakhtiyor Khamrayev, a member of the Human Rights Alliance of Uzbekistan, explains what things are like in his city, Jizzakh: "In the city center, there is cable TV, but since the majority of the population lives in rural areas the cable is not reachable. About 5 percent of the population has satellite dishes, but because they are so expensive, less than everyone can afford to buy them. Mostly, they use traditional, sometimes Soviet-era, antennas to watch Uzbek channels and the Russian state-owned Channel One."