Moscow based human rights group "Memorial" has published another report on political persecution in Uzbekistan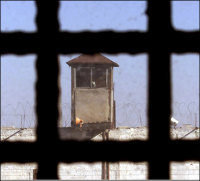 At least 868 people have been convicted under politically motivated charges in Uzbekistan in 2009 and 2010. Another 550-600 persons have been kept in short-term arbitrary detention. By the end of 2010, at least 105 suspects have been under investigation or in expectation of a trial. The report names at least 5 asylum seekers who have been extradited to Uzbekistan from Russia and 4 more persons extradited from Kazakhstan in 2010. These findings have been presented by Vitaliy Ponomarev, the Central Asian program director of the Moscow-based human rights center "Memorial" which has published its report, entitled "Political reprisals in Uzbekistan in 2009 and 2010".
According to the report, Uzbekistan remains one of the most oppressive countries in the world. It points out that this country, led for the last 22 years by the former Communist party high official Islam Karimov, has got no legal opposition or independent media. Civil society and religious communities have been heavily oppressed by the authorities. Political reprisals appear as an inherent part of the state policies. Tortures are practiced on a systematic basis. There are considerably more political prisoners in Uzbekistan than in all of the former Soviet republics put together.
Several thousand political prisoners are held in jails, while majority of these people have been convicted and sentenced to imprisonment terms under more than dubious charges of alleged terrorism, Islamic extremism and illegal religious practices, whereas over 1200 persons are being currently under investigation on similar charges, the Memorial's report reads. The "black lists" are ever growing to embrace dozens of thousands of the country's citizens that potentially liable to criminal persecution.
Many of them are convinced that international community is not taking sufficient measures in order to change the situation. Last October the European Union removed its sanctions imposed after the "Andijan" events so that it actually appeared as an act of approval of the Islam Karimov's oppressive policies. The same symbolic meaning has been attached to Islam Karimov's meeting with the president of the European Commission Jose Manuael Barroso in January 2011 in Brussels.
The current real politik toward Uzbekistan pursued by the United States and European Union is urged to be reviewed, particularly in the light of the recent Middle East events, that have high chances of re-occurring in the Central Asia. Report writers believe that in case of Uzbekistan, the violent scenario seen in Libya has a higher degree of probability rather than a peaceful resignation of the head of the state under pressure from protesters, as seen in Egypt. They are also confident that the issue of political prisoners in Uzbekistan should be raised as a matter of concern and put into agenda of the international discussion, while reminding that during the period of the active cooperation between Uzbekistan and United States in 2001 – 2003, the former released annually up to 1000 political prisoners. Quite understandably, that did not create any problems with stability of the political situation within the country but in reality lowered the degree of tension in the society.