Sex slavery: personal story in detail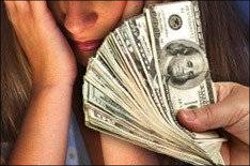 It's never been a secret that women from Kyrgyzstan, Uzbekistan, Tajikistan and Kazakhstan regularly work abroad as prostitutes. Yet, few people know of details of such "labor migration". Fergana has taken an interview of a person, citizen of Bishkek, who has worked as a prostitute in Dubai (OAE).
- How women get to work as prostitutes abroad?
- There are many different ways. Firstly, you can get abroad if you're already involved into prostitution at home. Some people visit saunas and other places where prostitutes gather and offer a job abroad. Secondly, some other people contact girls from poor families and explicitly offer them to work as prostitutes. The last, but not the least, is a pure deception: girls are offered as job abroad as waitresses or receptionists in hotels, but as they arrive to a country of destination they are forced into prostitution.
Indeed, in all three options women and girls are promised good pay. In most cases they are told that once they start to work thy only have to repay around $5000 (five thousand), including the cost of visa, work permit, and initial accommodations and afterwards they are free to continue working for their own sake or just return home at any moment.
Pimps particularly like to recruit some very young, 13-year old girls. In order to cross the border they are provided with fake passports, stating their age at, say, 28-30. Special tricks are used to make them appear older: if you apply a layer of beaten egg over girl's face and let it dry, it is going to look like a face with wrinkles, and then you add make up. This trick is used twice: when making a picture for a passport and later, just before departure.
Usually, fake passports for citizens of Uzbekistan and Tajikistan can be bought in Kyrgyzstan, as it is easier. In Kazakhstan, they use their own ways for traveling to Emirates.
- What are the popular destinations?
- Mainly Turkey, UAE and China. By the way, if you are in trouble later, it is easier to get away from China than from Islamic states where prostitution is criminalized.
In Emirates, girls work in Dubai and Shardjah. The process of procurement involves quite a number of people. Some of them are here in Kyrgyzstan: they recruit sex-workers, provide them with documents and help them get through the border control, while others meet girls in Dubai do the rest.
Travel arrangement is another stage. It used to be easier to fly to Shardjah from Osh, using fake passports, but that flight was discontinued. Flying off Bishkek is more problematic because of watchful border-guards. However, this problem is solved with money. Passing though the border control using fake IDs costs US$ one thousand.
Once girls arrive to the country of destination, the fairy tale ends. They meet a madam, called "boss", normally a woman of around 50, who comes from the same country of Kyrgyzstan, Kazakhstan, Uzbekistan or Tajikistan. She takes the newly arrived to a rented flat, where she collects girls' passports and promises to give them back only after they repay at least $15.000. But this is not true either.
- What do you mean?
- A girl might make this money soon, if she has good clients she repays the money to the boss. Then boss, seeing that a girl can bring good profit sells her off to a colleague. The latter claims that a girl owes her at least $30.000. This story almost never ends. However, every other boss could keep her promises and let girl go after she brings her all the money. I know that some girls have made up to $400.000 for their bosses.
If girl "misbehaves" she is sent to work in very cheap hotels for "short-time" sessions, meaning 15-30 minutes for a client, some $15 per session. Nightly, a girl might have from 15 to 20 clients, mainly workers from India and Pakistan.
Most girls are forced into drug abuse, for drug addicts are easily manipulated. It takes a year or a year-and-a-half for a girl to completely "wear out", and less than three months for girls in cheap hotels who have 10-20 clients per night.
- How about virgins, are they popular?
- Indeed, clients like virgins very much. Some girls are sold for prostitution by their own parents. Other mothers sell their daughters' virginity only. A mother goes abroad with her daughter for a just one job, which takes 3-5 days. Mother gets the money and both of them go back home. Clients can pay up to 30-50K for a virgin. You can not do without middlemen, who take at least half of money. Virgins usually exported from Kyrgyzstan and Uzbekistan.
- Do girls get examined prior to working?
- Traditionally, girls take an AIDS test and examined by doctor for STDs. A virgin girls is examined by a gynecologist, in order to identify cases of restored virginity. It is also considered important for a girl to have even teeth and to refrain from smoking. It's okay if she drinks a lot, but clients in Emirates hate the smell of tobacco.
- How about boys?
- Indeed, boys are popular too, especially Russian boys, blonde with blue eyes, as well as Kyrgyz or Uzbek boys, particularly from Uzbekistan.
- What is the selection procedure by a client?
- Once, a very influential person required girls and boys for a party at an ocean boat. First, around 50 boys and girls were brought in a room with a one-way mirror wall. We did not see the clients, but they could see us and picked 15 boys and girls for the second round of the selection. Those 15 persons were checked for AIDS and other STDs, teeth and smoking habit. I did not pass, but some of my friends did. Instead of 5 days they returned only some 17 days later. They told me that they were forced to drink alcohol and take drugs for fear of being thrown overboard. Finally, they were paid only three thousand each, instead of a thousand per day.
- How long it takes before a girl has got a chance to return home?
- If girl has repaid the required amount, her boss can send her home. Overall, a girl can repay the debt within three months. If girl is an individual (works for herself), she spends working around a year then goes home for a "vacation" but later comes back again. If you have regular clients, you prefer to keep them, for it's hard to get any new ones.
- What happens if you're caught by police?
- A policeman undercover acting like a real client buys a prostitute and takes her to a hotel. Once he has girl's underwear in his hands (this is the main evidence of prostitution), two more policemen enter a room, one of them is a woman, for only a woman can search a woman. After arrest, a girls is detained for 3-6 months and then deported, for goods.
Police can let you go, if you name your boss and addresses of flats where other prostitutes live. It is also possible to offer a bribe, on the way to the police station, either money (at least 400 dollars) or sex.
- Does everyone have a boss?
- Many girls return to Emirates from home, after vacation and work as individuals, rent their own flat and have their own clients.
- What is the price range for sexual services?
- Girls working in night clubs prefer full-time session, i.e. one client per night, at around 300 dollars, including everything. A "short" session is $80 to $150. There is an upscale hotel in Duba, called "Moscow", with a night club called "Red Square". If you sit at the bar, you have to buy a drink, at least a mug of beer. Sitting at a table, you have to buy at least a bottle of alcohol.
- What are the clients' preferences?
- Clients from Europe prefer slim Asian girls. Arabs and other Asian men prefer Russian and Ukrainian girls. In fact, in Dubai there are also girls from England, Germany, US, Canada and Australia. Russian and Ukrainian girls are better looking and more expensive. African and Filipino girls are very cheap. Ages range from 13 to 50. Clients from Europe prefer older women. There was Katya from Moscow, who was 49 and still looked good.
All prostitutes wear an abaya (a traditional Arabic women's wear) that covers the whole body from hair to toes. Underneath the abaya they wear just a short skirt, high heel boots, etc. Then you get in a taxi or you boss's car and go to work. In a night club, you take off abaya. Taxi drivers are normally emigrants from the Central Asia. Bosses invite them to work through their contacts.
- How come bosses are not afraid to let girls go back home?
- As a matter of fact, it's no good to complain, because everyone knows everything anyway. Police and border-guards receive money from pimps who send boys and girls to Dubai. A girl in Uzbekistan wanted to complain to police and tell the truth about her boss and colleagues but all she got afterwards was a number of new problems.
Of course, no police from our countries would go to the Emirates. Instead they meet every flight coming from Emirates at the airport. Bosses know about it and do not hurry back home.
- What if you want to get back home, can you apply to the embassy of your country?
- By law, you have to go to the embassy and ask for a new passport that lets you cross the border. But it is no good to apply to the Uzbekistan's or Kyrgyztan's embassies, for they are not going to help you.
In despair, girls buy fake passports from their own bosses. Cheapest passports are those from Kyrgyzstan and Uzbekistan, while Kazakhstan's and Russian passports are the most expensive. On the average, in 2009, one could buy a Kyrgyz passport at $1500-2000. Nobody wants to buy an Uzbek passport, unless there is no other option. This is the last resort option. If you are deported, you can not go to any other country, except your own home country. But if you pay to a consul at the embassy, he can let you fly to Bishkek. For it is a lot safer to return to Kyrgyzstan and stay here than in Uzbekistan.
- How much do you have to pay at the passport control upon arrival to Kyrgyzstan?
- $500.
- What about stories of girls, who marry rich Arabs?
- Actually, this can happen. In early 90-ies, many girls from the former Soviet Union had married Arab men. Some of them are still happy in marriage, but most of them are not. Many have got children and have to stay abroad, having no money, no passport or chance to return home.
By Ekaterina Ivashenko
Fergana International Information Agency