Kyrgyzstan: A nazi and a drug lord in charge of police in Osh?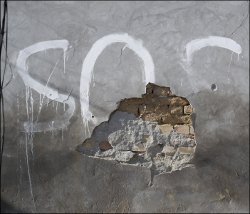 On January 11, a new chief of police was appointed in the Osh city police department. According to the local online news agency, the new police chief Suyun Omurzakov used to be a deputy minister of interior and a representative of the Kyrgyz ministry of interior in Russian Federation.
Personnel of the Osh city police department confessed that new appointment of Mr. Omurzakov came out of the blue. In various media, Mr. Omurzakov has been regularly called a very influential drug lord, a leader of organized criminal groups and a loyal supporter of the former president Bakiev.
Citizens of Osh and well-informed observers know a lot about the life and deeds of this person. At least once he was a subject of a criminal investigation. At a press conference on July 7, 2010, the deputy chair of the "Interim government" Azimbek Beknazarov mentioned an investigation underway against the former Osh governor Bakirov, his deputy Kadyrbaev and the then deputy minister Omurzakov, charged with "organization of mass riots", "violent seizure of power", etc. However, no outcomes of the investigation were presented ever after.
Meanwhile, the same names were mentioned in the report of the International Inquiry Commission, led by Kimo Kiljunen. This report reads that Suyun Omurzakov was involved in a group called "Manas Koomo" opposed to the Interim Government. That group had organized a so called "kurultai" (popular congress) on the 19 of May, 2010, which ended with mass riots, shooting, seizure of the Kyrgyz-Uzbek university and finally, establishing curfew in the city of Jalal-Abad. It's believed that events of May 2010 had led to escalation of the situation in Osh, culminating with the bloodshed in June 2010.
In October 2009, the Kyrgyznews.com published an article pointing to a direct link between the then Osh city deputy chief of police S. Omurzakov and organized criminal groups engaged into drug trafficking, referring to this person as one of the most influential drug lords in the south of Kyrgyzstan.
Another report that investigates the June 2010 events developed by a coalition of Kyrgyz and Uzbek human right defenders "Oshskaya Initsiativa" (Osh Initiative) speaks of Omurzakov as a leader of an organized Kyrgyz criminal group, along with the mayor of Osh Melis Myrzakmatov, and crime bosses Almanbet Manapiyaev and Kadyr Dusanov ("Jengo"), etc., who were directly involved into plotting, leading, financing and participating in anti-Uzbek pogroms and distributing arms and ammunition among Kyrgyz militia.
Both Omurzakov and Myrzakmatov have been mentioned in a report of the June events, presented to the Uzbekistan authorities and leaked by an independent news agency Узметроном.
«A part of ethnic Uzbek citizens, flying from pogroms, rushed towards the Uzbekistan border, while over 80 thousand people concentrated in the south-west of the city of Osh. On the 12th of June, 2010, some 500 armed Kyrgyz men came down from the Batken province raiding the area of refugees' concentration. Uzmetronom claims that this action was organized by the "former police colonel Suyyun Omurzakov, leading a local organized criminal group, closely associated with the former president Bakiev and the mayor of Osh, Melis Myrzakmatov."
Long before the tragic event of 2010, in an incident in one of the residential areas in Osh, inhabited primarily by ethnically Uzbek citizens, two teenagers had been severely beaten by unidentified persons on the 1 of January, 2008. One of those teenagers happened to be Suyun Omurzakov's son. After that, on the 1 and the 2 of Janaury, well-organized groups of Kyrgyz young men came patrolling the area and beating up all passers-by of Uzbek origin. This violence was stopped only after a crowd of Uzbek protesters gathered at a local mosque and obtained assurances from the city authorities that no violence should be tolerated.
Our source in Kyrgyzstan who wished to remain unknown has reasons to believe that violence was actually authorized by Suyun Omurzakov and might have affected the escalation of the ethnic tension in Osh. Further, according to our anonymous correspondent in Osh, the local community has been 'softly speaking" shocked with the new appointment. "Should we consider this appointment as a signal that Uzbeks do not belong here in Osh? Suyun Omurzakov, a nationalist and a bandit responsible for the bloodshed in June 2010 is to lead the Osh city police department where many houses remain destroyed and many people have their relatives killed and wounded in the June 2010 events. Are we being provoked for another open conflict?"
Fergana International Information Agency