Living in Osh: Cheremushki, tourists, mazaar, lepeshki and bazaar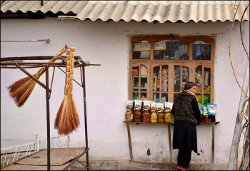 Photo © Ekaterina Ivashenko. See more images in the Fergana's gallery
Early March 2012. Another trip to the city of Osh in the south of Kyrgyzstan. In the last two years I have visited this place quite often and every time I come across some new development in the Kyrgyz-Uzbeks relationship. Indeed, there is no saying that life in Osh is fully back on the normal track. One thing for sure - the life goes on.
First thing to do in Osh is to visit the "Cheremushki", a residential area that suffered most in the June 2010 events, In June 2011, citizens were worried that the city's mayor did not want to have the houses rebuilt. A local woman told me that donors were ready to start the reconstruction and waited for a permission but "mayor Myrzakmatov would not issue such a permission, as he wants to compel Uzbeks away and use the free land anyway he wants".
Today, in March 2012, the reconstruction has not been completed yet, as it took too long for a permission to get issued. However, some construction has been started though slowly. There are some problems with the moneys: donors are going to pay only upon completion of works, while workers demand payment now which the local population can not afford…
Another local problem has to do with the electricity bills. People refuse to pay for electricity for a period of time from August through December 2010, when houses were burned. Yet the company continues sending bills adding penalties: from just under 2000 som (around $43) to 45000 (almost $1000).
On the other hand, the city has got new monuments. The monument to Manas is being finalized (over $666666). Monuments to Bars-bek and Alumbek-datka have already been erected. Citizens believe the money should have rather been spent for reconstruction but the city's authorities know better.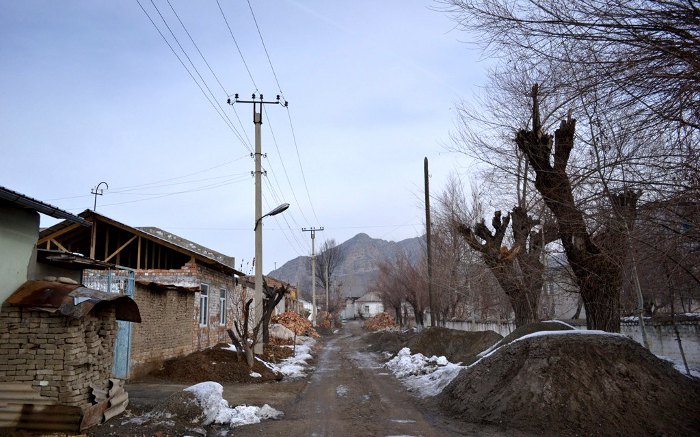 Tourists
It's true that tourists are traditionally fond of Osh. Lada Khasanova, manager of a chain of guest-houses in the south of the country, tells of what is going on today:
«Every time a revolution just kills tourism. Hardly had we recovered from the 2005 events when another revolution of April 2010 spoiled the touristic season again." She shows me her statistics: "the season lasts from April through October. In 2006 we had 97 visitors, in 2007 - 238, in 2008 – 430, in 2009 – 546. By 2010, we made plans for almost 2000 visitors, but only 45 did come. In 2011, we had 57 guests. As far as I know, the US embassy still does not recommend its citizens to visit Kyrgyzstan, and we had just one American tourist in May 2011. Fortunately, no foreigners were harmed in the June 2010 events."
"Some 10 days after the events, we had tourists that couldn't cancel their trip. We needed armed guards and I went to the province's governor who could not believe that tourists were coming at a time of a war (that's how the locals refer to the June 2010 events). After all, he helped me to get in touch with the border guards and so we had the military escort the bus of tourists from Spain, as if it were the King of Spain himself. Most tourists in 2011 were the mountaineers from other CIS countries. This year we expect a slight improvement. That's why we are afraid of any further tension in the country: tourism is a fragile business that is directly affected by the political situation", she said.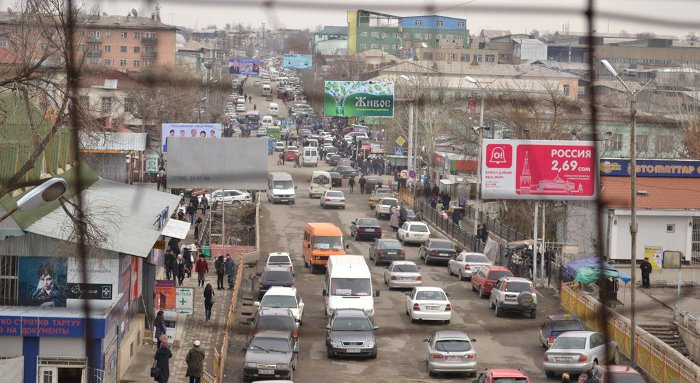 People visit the south for mountaineering and hiking. Sightseeing is popular among tourists in transit from Uzbekistan to Tajikistan, as a rule Russians or Americans.
"The biggest tourism industry problem in the south is the lack of infrastructure and poor services", Lada Khasanova continues. "If I take our guests to a restaurant, I have to check not only its menu and food but also its restrooms, beforehand. Some find it strange, but foreign tourists are very particular about toilets. And toilets are the weak link in the service infrastructure here."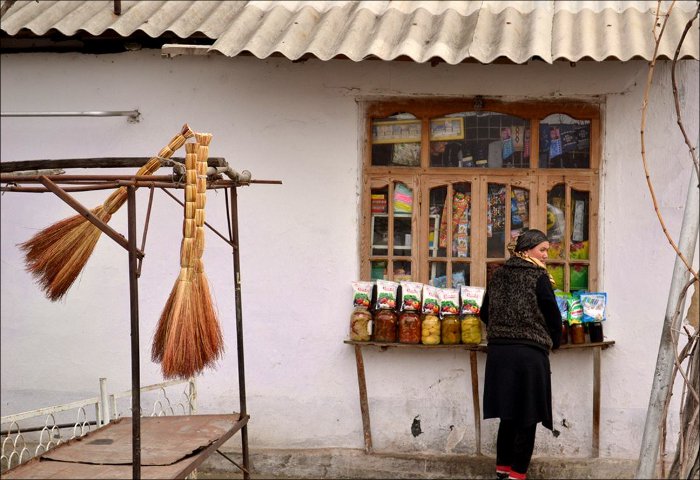 Then she says that prior to June 2010, the service industry, particularly restaurants and hairdressers', had been dominated by Uzbeks. "After the June events we were desperate to find any place to eat. Around a month after the events, some tourists left documents in our car and we went to met them. On the way we stopped to buy Uzbek samosa and foreigners who felt the smell of food from our car almost begged us for food, as there was no other place to eat. It was then when I realized that make up one and the same puzzle, we complement each other; roughly saying, no Uzbek can grow a lamb better than Kyrgyz do, but no Kyrgyz can cook lamb the way Uzbeks do. We are destined to be together!"
Following the June 2010 events, the state provided soft loans to affected businesses. Lada Khasanova applied for a loan too, but officials said that tourism industry was not entitled: it does not count! Well, if you had a restaurant, and it got burned down, then yes, we could have helped."
Graveyard
I once dipped deep into an Uzbek neighborhood (makhallya) and cam across a land lot which obviously used to be somebody's garden. About a quarter of the land was occupied with around 15 grave-hills. It was a graveyard where some victims of the June 2010 events rested. Though I never expected to find a graveyard next to houses I realized there was perhaps no other way to have the victims buried at an official cemetery. Overall, this neighborhood remained intact and unaffected by the events and perhaps, bodies of dead people were brought here from other places.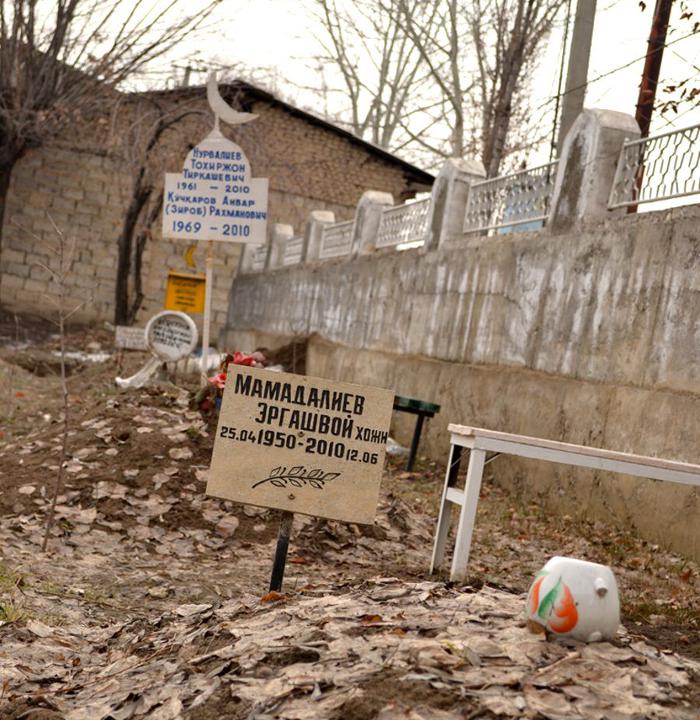 In less than 50 meters from this graveyard I found the officials cemetery "Andizhon Kucha Mozari" (Andizhon street's cemetery). There, I also saw the graves of those killed in the June 2010 events. In accordance with some local tradition, relatives would place china cups and plates with chipped edges upon each grave. (Names of people buried at this graveyard can be found in the official list of victims of the June 2010 events. The graveyard is called "Shahittar")
Humanitarian aid
Though most companies in Osh have got back to work, even now, a year after the tragedy, people keep on asking for humanitarian aid, perhaps, because it has not reached everyone at the time of hardship. Fergana anonymously interviewed those in charge of distribution of the aid. They told us that food and clothes were supplied to less than all areas in the city, whereas some received only local four, vegetable oil (150 gram per person), and rice.
Aid came from many countries. They continue by telling that the very first shipment from Turkey was made up of high quality products. It was followed by a truckful of new clothing and footwear that were distributed only a month after arrival. Then, suddenly, people found that clothes were worn out. "Our friends from Bishkek and other places called us on the phone to say that they have sent diapers, shampoo and soap, but we did not get anything. Later, these things came up at the markets, including for instance vegetable oil in large cans, labeled "Humanitarian aid from people of Denmark", says my interviewee in indignation.
"Svetoch" school
I have also visited the "Svetoch" school, at the Church of saint Michael the Archangel in Osh. The church is over 100 years old, but at the soviet time it used to be a club. Then I spoke to Olga Khozyainova, who teaches religion at the school. She has confirmed that events in Osh had compelled the Russians to leave. There are 167 students in the school, which was set up just 9 years ago. Some of them come from Osh, others from the nearby areas of Kara-Suu, Kashgar Kishlak, Uzgen. The school has got only 7 full time teachers, and 25 volunteers.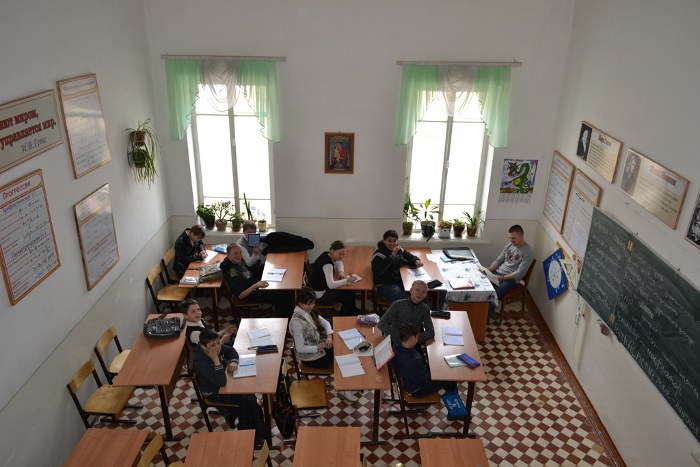 "In May 2011, an inspection from the Ministry of education was wondering how come we taught religion which was a part of the curriculum. We were able to prove that the quality of teaching is the same as in any other school. We teach religion, including biblical history and the old church language for just three hours a week. We have enough classrooms, two libraries, a room for music and dancing, a convention hall, a medical facility and a dining room, but no gym or reading room", Olga Khozyainova says.
Sponsorship is provided by ordinary people, some businessmen and organizations, the school currently needs books and computers. This May, the school expects another inspection from the Ministry of education to allow teaching 10th and 11th graders.
Uncomfortable ethnic issue
After the June events, all ethnic minorities start to admit being second-rate. In the Osh university, pictures of the best students are posted on the wall. Photo of an Uzbek student was torn away in just few days.
"They do nothing openly, and there is nothing you can prove. Until now, almost all taxi and bus drivers are Kyrgyz . Still, Uzbeks are afraid to go out after dark. They fear all kinds of political events and gatherings, including opposition meetings or local council elections. At the time of political events they close down their cafes and shops.
The ethnic issue is particularly manifested in the court: Uzbeks have suffered most in the June events, but majority of those convicted are also Uzbeks. There are rumors that one can get away or at least reduce a sentence for a bribe of $3000. People in Cheremushki have a story to tell about an Uzbek who was lucky enough to go on parole for "just" $14000.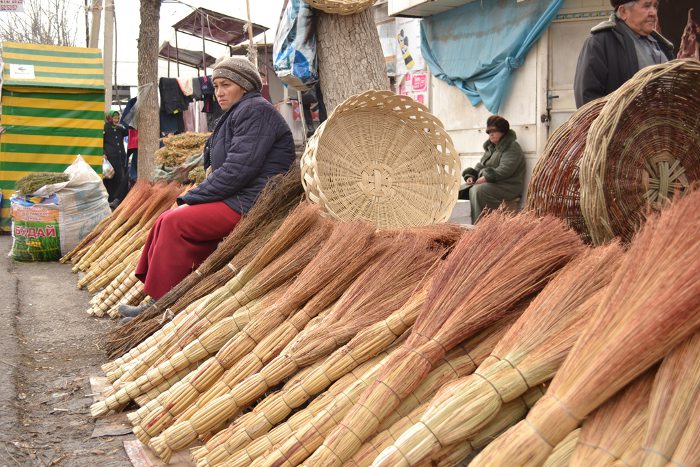 It is only at the Osh bazaar where life truly goes on and Kyrgyz merchants stand side by side with the Uzbeks, as there is no time to think about your neighbor's ethnicity. The marketplace is far from being fully reconstructed, but some traders just lay their staff on the ground. Their openness and goodwill gives optimism to anyone who visits the place which has not recovered from the tragedy yet.
By Ekaterina Ivashenko
Fergana International Information Agency