Responsible Sourcing Networks recommends: Exposure to Uzbek cotton may seriously damage your reputation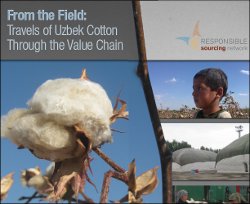 The newly published «From the field: Travels of Uzbek Cotton Through the Value Chain» paper authored by Valentina Gurney, cotton program manager at the Responsible Sourcing Network, and Patricia Jurewicz, the RSN director and Alina Shlyapochnik, as contributing editors, presents a first part of a set of learning tools the RSN is developing for brands that want to know more about the production and characteristics of Uzbek cotton. "From the field" discusses all of the channels cotton typically travels through before it is exported from Uzbekistan, brand's risk of exposure to forced child labor associated with Uzbek cotton and actions needed to start driving forced child labor out of the fields.
The second part of this series, "To the Spinner", scheduled to be released by RSN later in 2012, will take an in-depth look at the industries of cotton trading and spinning. .
Uzbekistan, listed by the U.S. Department of labor for both forced and child labor, is the only country in the world where children are forced and organized by the government to harvest cotton which earns it over one billion dollars annually. RSN refers to the Uzbek cotton industry as the organized crime: though child labor in cotton production remains endemic in many countries, nowhere it is more organized than in Uzbekistan where the government forces over one million children to labor harvesting cotton each year, shutting down schools and public offices for months at a time, and mobilizing school students, teachers and public servants to the cotton fields each fall. This abusive practice earns the Uzbek government over one billion dollars annually.
Responsible Sourcing Network (RSN) (www.sourcingnetwork.org) is a project of the nonprofit organization As You Sow (www.asyousow.org). RSN addresses human rights violations and environmental destruction in the supply chains of consumer products at the raw commodity level. RSN supports network participants in leveraging their influence to achieve significant and measurable solutions in the areas of conflict minerals and child slave labor.
RSN recommends that brands and retailers carrying cotton products should minimize their exposure to Uzbek cotton, the presence of which in a product implies both social and environmental risk and may seriously damage a company's reputation. Instead they are encouraged to contribute to bringing about the change for Uzbek children, start raising awareness of this problem, support the public statement and engage in industry and multi-stakeholder initiatives.
Download the full text of the paper here.
Fergana International Information Agency