Dance of devils – a new novel by Hamid Ismailov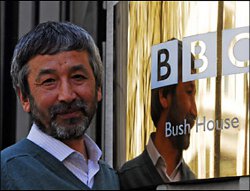 A new novel by the contemporary Uzbek writer and poet Hamid Ismailov who lives in London today, is entitled "Zhinlar Basmi" (Dance of devils). It is a story of life of a prominent Uzbek writer Abdulla Qadyri, the author of historical novels "Days Bygone" and "Scorpion from the altar", who was arrested and executed in October 1938. In the short interview for Fergana.ru, Hamid Ismailov talks about his new novel and shares details of its writing process.
You've written a new novel in Uzbek, what is this novel about?
Hamid Ismailov: Yes indeed, I wrote a novel about the life of a great Uzbek writer Abdulla Qadyri, and it's called the "Dance of devils" (incidentally, the name of one of his earliest short stories). In 1937, Qadyri was going to write a novel, which he said was to make his readers to stop reading his iconic novels "Days Bygone" and "Scorpion from the altar," so beautiful it would have been. The novel would've told about a certain maid, who became a wife of three Khans - a kind of Uzbek Helen of Troy. He told everyone: "I will sit down this winter and finish this novel - I have done my preparatory work, it remains only to write. Then people will stop reading my previous books". He began writing this novel, but on the December 31, 1937 he was arrested. All manuscripts were confiscated and later burnt. Not a single word was left of the novel. On the October 4, 1938, Qadyri was executed by firing squad, along with Chulpan, Fitrat and many other prominent figures of Uzbek culture…
My novel is about this particular period; when Qadyri - an arrested writer, is in prison and obsessed with his novel which reflects both his prison life and his literature. My novel is about this unwritten novel, which goes on in the mind of the writer. Qadyri, once said that when he was busy writing a novel, nothing else could distract him, as if his very own work possessed him.
In that sense, my novel takes place in a prison environment: where people who are imprisoned alongside him are not only participants but also co-authors of his novel. This Hellenic woman: Oyhon-poshsha, who was firstly forced to marry Kokand Khan Umarkhan (poet Amiri, who was the husband of the poetess Nadira), then (after his sudden death) re-marry his son Madamin, and eventually captured by Amir of Bukhara Nasrullahan, becomes a symbol of Qadyri's own literature, as beautiful as also betrayed.
In a sense, I wrote a novel planned by Qadyri. But additionally my novel is also about the writer and the process of his creation.
What materials did you use, seeing as so little is known about the life of Qadyri (especially about this period in the torture chambers of the NKVD) due to his manuscripts being burnt?
- Here, perhaps, it's appropriate to quote the famous phrase of Bulgakov: "Manuscripts do not burn," but, alas, they burn and burn to ashes. I re-read all the sources about this poor woman, which Qadyri read. Some historians who I cannot name (though I'm very grateful to) helped me a lot with it. Apart from that, there were materials in my possession which weren't available to Qadyri – namely: those collected by travellers and spies from England, Russia and other countries at that time. Many years ago I was very much involved in researching the life of the great Uzbek poet Chulpan, who was a close friend of Abdulla Qadyri. During the 'perestroika' I was allowed to view some archives of the KGB (as were many other writers). In short, I had plenty materials at my disposal. It remained, as Qadyri said, a task to just sit down one winter and write it out. That's all I did. But of course, it's not a documentary novel - it's rather a work in which the era of Kokand, Khiva and Bukharian courts, the very era of the Great Game with the names of Amiri, Nadira, Uvaisi, Gulhany, Vitkevich, Connoly and Stoddart been interwoven with the 30-ties of the twentieth century when Qadyri and Chulpan, Fitrat and Usman Nasir were alive. At the same time, this novel is not only about Uzbeks, but also Russians, Poles, Jews, Afghans, Brits, Tatars, and many others.
Are you going to publish the novel, where if so?
- At first, I decided to publish it chapter by chapter on my own website, as well as on Facebook ( the page dedicated to Abdulla Qadyri ) Then we'll see.