Song for Dad, or Gulnara's off-pitch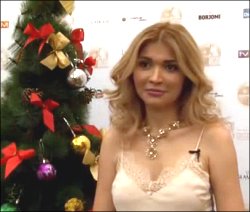 Many observers have noticed that the Uzbek president's oldest daughter has started coming out in the media, on TV screens and on the internet more and more often. Whether she has started some new stage in her PR campaign, and what aims the Uzbek princess is following is yet unknown. Maybe she just likes being in the centre of public attention, under the spotlight…
Some experts and political scientists have a different viewpoint. They see Gulnara Islamovna on her father's place and are almost announcing her as the country's future president. People say that there are no more deserving heirs, that the Asian model of passing power assumes dynasty, and Gulnara is exactly the one who can unite warring factions etc…
There is another opinion: Gulnara can become a real reformer of the country, she can provide the long awaited change from Eastern despotism to a likeness of Western democracy…
However, at the moment the president's daughter is not leading her PR campaign in that direction: the majority of her public appearances are not dedicated to politics, but to show business.
In a rare and exclusive interview with Kazakh web publication Tengrinews, Gulnara Islamovna only skidded past her previous work in the Ministry of Foreign Affairs, but mainly focussed on which boutiques her beauty line will sell in and what songs she intends to record with well known Moscow producer Max Fadeev.
- What is your entrance into society linked to? - Perhaps I am growing up, getting older, more noticeable, I am growing. I used to be one metre eighty, now I am about one metre eighty three.
Several days ago, having taken the opportunity to shine at the MT&A awards ceremony, which she curated, Gulnara Karimova (pop pseudonym Googoosha) performed "a song about father". (You can hear it at the end of this video or in an mp3 from our server here).
In a musical composition, which was played previously in one of the modern Uzbek televised movies, there are many warm words aimed at the imagined father. It seems that these verses and poetic images suit the description of the relationship between Islam and Gulnara Karimov. The performer noted this herself.
"I heard this song when I watched new Uzbek movies. It was a soundtrack, and many people didn't even notice it, but the song's words affected me so much that I cried… - she shared her emotions with Tashkent website Sayyod.com. – Then I changed some of the lines of this song and decided to sing it to my father. But when my friends found out about it, they said I have to sing this song on the stage."
In the song, Gulnara calls her father "giving wealth and not asking for gratitude," and a person whom she leans on. In reality, it is obvious that without her father's help, who has held the highest post in the country for the last twenty three years, Gulnara would not have reached such wealth and fame. However, his job was enough, the rest - connections, meetings, influence and wealth – came automatically.
The text of the pop song, created in a national manner, does not contain anything particularly different, apart from the passionate, but very understandable expression of a daughter's love for her father. Yet from the lips of the regal Gulnara Karimova some of the phrases sound differently, with an obvious hint. "If you want, I can replace one thousand sons for you," sings Gulnara. An understanding audience hears nothing rather than a direct offer to take on the tough male burden of dynastic presidency. "You forgive us when we sin," continues the singer, but a listener at least hears an allusion to the dark deeds of the princess with telecommunications giants MTS and TeliaSonera, to which the loving father and guarantor closes his eyes.
The praises in her father's direction are not, excuse the jeu de mots, Gulnara's old song. On 21 November, answering a journalist's question, Karimova said that "the potential head of the government can be anybody who has ambition and some brains and drive." As an example of this "social uplift" which is totally absent in Uzbekistan in reality, she gave her father's career: "He is a man from a relatively modest and large family, he managed to reach significant results and not only became a president, but also worked in the republic's government planning in the USSR."
She preferred not to mention where her father took Uzbekistan in the last twenty years of his rule. Maybe she does not know about the millions of migrant workers who have left the country looking for a crust of bread? About the fall in the healthcare system and the high child mortality rate? About the intellectual catastrophe taking place in the country that has been independent for two decades: that the second generation of people has now grown up in the country which does not know either its old nor its new grammar? About the fact that her father is called "Papa" – like in Soviet prisons, and this is the worst symptom of the disintegrating government?
Lovingly talking about her father and even singing songs about him, Gulnara Karimova skirts by the issues which arm or uncomfortable to her. The Twitter exchange between Gulnara and the communications director of International Crisis Group Andrew Stroehlein did not end in anything. Gulnara walked away from answering his many questions about imprisoned human rights activists and journalists, on the systematic torture in police stations and prisons, about the forced child and adult labour at cotton plantations, about the bloody quashing of the Andijan rebellion…
Gulnara Karimova's silence about torture, like her fake songs for Dad, - is the answer to the romantic expectations of those who hang hope on the current president's daughter. I assure you that there is no use in expecting change from this powerful person. She is the flesh and blood of her father – one of the cruellest dictators and tyrants of modern times. No music videos, diamonds, perfumes and social galas organised by the daughter can overshadow the crimes the father has committed against his own people.
Ivan Plahov (Tashkent)
Международное информационное агентство «Фергана»