Glimpse at misery Turkmen illegals face in Turkey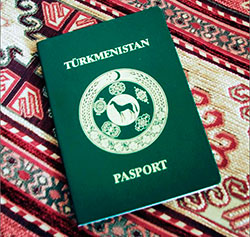 According to the Haberler.com Turkish news portal, a woman from Turkmenistan, Ms. Mehriban Gurbanova, was killed during a family skirmish with her 27-year old husband from Ukraine on 13 January 2013; three more women from Turkmenistan suffered injures. According to local police, the man came to demand the debt one of the women owed him; having faced resistance, he used a knife.
Another three Turkmen female citizens were poisoned at a New Year party having consumed poor quality alcohol, which killed them. One of the women died in a hospital after five days, still unconscious. Everyone at the party was in Turkey illegally. The deceased woman's body was delivered to her native town of Mary, Turkmenistan, and her husband was deported. The person who brought the alcoholic beverage was identified – he is in hospital treated for alcohol poisoning…
In mid-November 2012, two Turkmen citizens were found brutally slaughtered in an Istanbul suburb. Both individuals – a man and a woman – were illegally working as janitors. This case is still investigated into.
None of the Turkmen mass media outlets covered these stories, although they started working under a new law as of 4 January 2013. But that is understandable – how can a journalist write about Turkmen citizens looking for job elsewhere beyond their home country, which declared the Era of Happiness and Almightiness, and they tragically die sometimes?
Illegal Employment
As a rule, Turkmen citizens work in the services sector: house cleaning, shop assisting, waiting on tables, and guarding facilities. A big number of women work in the sex industry. Some 300 Turkmen citizens arrive at the Ashgabat Airport from Turkey every month and about a third of them worked in brothels in Ankara, Izmir, and Istanbul. For instance, prostitutes can be found in the Zeytinburnu District of Istanbul. One can see women from almost every country of the former Soviet Union. There are many Turkmen women with academic degrees among them – they were unable to find a suitable job in Turkmenistan.
The Turkmen illegal nationals in Turkey have labor division as well. For instance, "labor agents" recruit unemployed Turkmens and charge for placements. Because the majority of such employment is illegal, they cannot officially wire the earned money back to Turkmenistan. But there is a solution for that as well – so-called "money carriers" travel to Turkey, collect salaries and deliver them to recipient families in Turkmenistan, charging 5 to 10 percent of the money carried.
High security visa regime
Gundogar.org's data suggest that there are some 500,000 Turkmen citizens living both legally and illegally in Turkey. Different sources suggest that over 6,000 Turkmen citizens arrive in Turkey, and these illegal travellers make up the majority of the labor force in Izmir, Bursa, and Istanbul. Illegal labor migrants are then sent off to several wealthy countries in the region as cheap labor force. According to Gundogar, "It is factually known that there are shipping companies working in Izmir and Bursa, two Turkish port cities, which illegally transport Turkmen citizens to the Cyprus, Syria, Saudi Arabia, and other countries. This route is used very frequently as it proved to be safe and affordable."
According to unofficial sources, there are some 60,000 Turkmens illegally working in Turkey. The majority of those illegal laborers are from Lebap and Dashoguz Regions – two most socially and economically stagnant parts of Turkmenistan. According to a source in the Lebap Region administration, in 2011 alone, over 34,000 young men and women left the region seeking jobs, with the majority traveling to Turkey.
Turkey is the only country, where Turkmens can enter and remain for 30 days without a visa. They can also apply for a 90-day visa at the airport (180-day visa, according to some sources). However, no Turkmen illegal laborer keeps the time limit in mind, and stay beyond the legal period of sojourn.
Apparently the big number of violators led the Turkmen foreign affairs ministry to compile a new bilateral agreement with Turkey, following Turkmen President Gurbanguly Berdymuhammedow's visit to Turkey in August 2012. If the agreement in question is ratified, Turkmen citizens will be granted a 4-month visa on their initial visit, up to 6 months on their next visit, and up to a year thereafter.
Moreover, upon citizens who violated visa terms in Turkey return to Turkmenistan, they are entered into a centralized register and their passports are stamped, indicating their inability to leave Turkmenistan. Therefore, according to Gundogar, such illegals are returning to Turkmenistan by other routes, for instance, via Iran.
The Embassy of Turkmenistan to Turkey and its consular sections do not help Turkmen citizens who find themselves in difficult situations. For instance, a young lady called a Turkmen diplomatic representative asking for assistance in restoring her lost passport. In response she had to listen to a tirade of insult, threats, and accusations.
Toily Ashirmuradov
Fergana international information agency.