Uzbekistan: "You need to die to reach Sokh"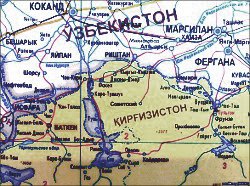 The Kyrgyz-Uzbek border in the Fergana Valley remains closed and inaccessible on both sides. The status quo leaves citizens of respective countries a few choices to deal with it and resolve daily issues: buying food, trade, and observing religious rituals.
Several visitors of the Fergana website and other voluntary informants told us about their life in blockade. It appears that despite tensions between Tashkent and Bishkek and the stalemate over the exact location of borderlines, local authorities, border guards, and businessmen are able to negotiate and compromise even in extreme situations. Apparently people learned how to live with each other and deal with day-to-day issues despite the conflicts at the highest echelons of power several hundred kilometers away…
Unconfirmed information suggests, that a 70-year person was buried in the village of Hushyar on 23 January 2013, although the village has been blockaded as part of the Sokh enclave (a patch of Uzbekistan in the Kyrgyz territory) since early January. The Uzbek journalist Bakhadyr Elebayev posted details on his Facebook page.
"Uktam-aka died in a hospital in [the city of] Fergana and his body had to be transported to Sokh for burial,' residents of Rishtan town say. 'We spent a whole day thinking over ways of delivering the body and explaining the matter to border guards. After long talks, Kyrgyz military servicemen came to the border checkpoint of Rishtan, took the body and delivered it to the Sokh enclave border. The deceased person's relatives came there, took the body to Hushyar in the enclave and buried him there at around 1700 hours. So, the Kyrgyz will let us pass [to and from the mainland Uzbekistan] only if and when we die," Sokh residents currently in Rishtan say.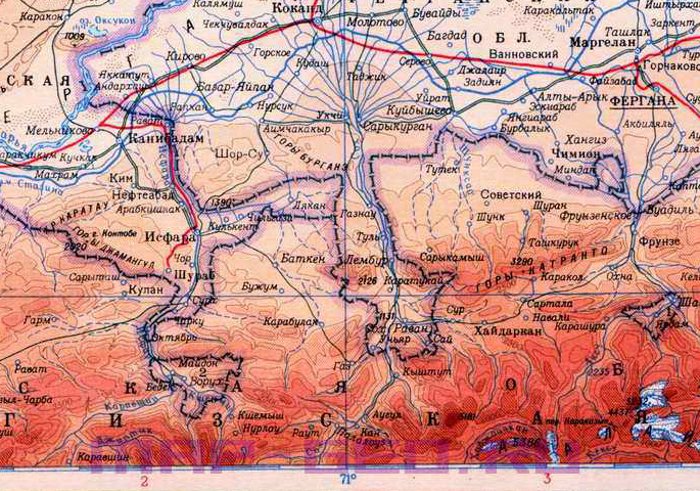 This is how modern Uzbek maps depict enclaves in the Fergana Valley
A female resident of Kadamjay, Kyrgyzstan, has to say:
"I live in the village of Kadamjay, which borders Uzbekistan. Kadamjay sits between the Uzbek village of Vuadil located on the other side [of the border in mainland Uzbekistan] and the Shakhimardan enclave [inside Kyrgyzstan]. There is a small Kyrgyz village of Kara-Shura on the other side of said enclave and one has to cross the enclave or make a lengthy trip around it to reach Kara-Shura. It is virtually impossible to get there bypassing Shakhimardan in winter because the road is usually covered in snow…
"All the roads were blocked by both sides following the events on 5-7 January: the Kyrgyz border guards blocked roads on their side and the Uzbek border guards followed suit. Obviously, residents of both Kara-Shura and Shakhimardan are cut-off from the rest of the respective countries. This left everyone – us and Uzbeks – in a stalemate. But our authorities at least delivered some food and fuels to Kara-Shura. Nobody is helping those in Shakhimardan and they are running out of foodstuff.
"There are people making profit even in this situation. Owners of Kyrgyz houses bordering Shakhimardan are offering a very expensive transfer from the enclave to the mainland. On the other hand, Kyrgyz border guards are bringing food to Shakhimardan and selling at outrageous prices. It is very difficult for those in Shakhimardan these days. There is no industry there, no employment opportunities, no cultivable land, so they are forced to seek employment with Kyrgyz citizens for meager wages. But they are deprived of even that opportunity.
"There is also the problem of bussing people to their workplace. During the Soviet times, many Uzbek citizens worked at the Kadamjay Antimony Factory; some continued working there even after the USSR collapsed. They were obviously crossing the border everyday. Well, now they are unable to get to their work! I need to cross Shakhimardan myself to get to my job. If I wanted to do that now, I would have to shell out 700 kyrgyz soms [some 15 USD] but I cannot pay this astronomic sum every day, so I am staying home.
"Rumor has it [Uzbek President Islam] Karimov is not going to open borders [for crossing]. Well, he had locked up everything anyway after the Osh events [in June 2010], but the Shakhimardan crossing was open. Now, to get to Osh, we have to use a very long and incomplete mountainous road [to bypass the enclave]…
"People are really suffering. It is not long before they lose patience because they are outraged: we are waiting for the border opening since 5 January, and it is 23 January 2013 already. At least the elders of villages are working with local populations, so I do not think the Sokh situation could repeat itself."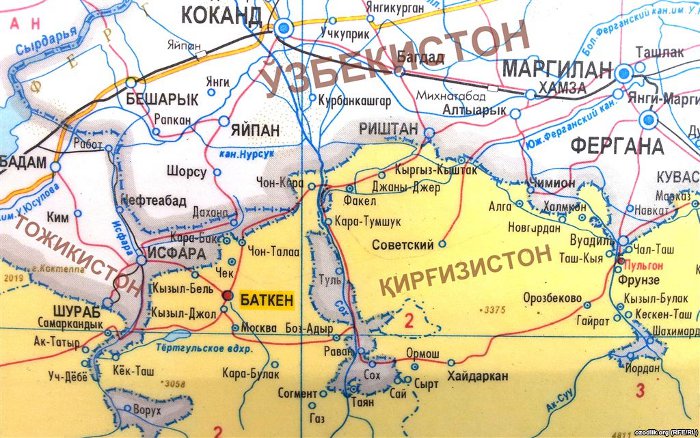 Some maps drafted in the Soviet Union times do not show the Sokh enclave – that territory is a continuous part of Uzbekistan…
"You can reach Shakhimardan from Fergana and Sokh from Rishtan. But for that there has to be a taxi driver you know well, who in turn must know well the border guards. Even before, taxi drivers could help even Satan himself, not only a local resident with no documents or a foreigner without a visa, to cross the border. Nothing has changed in that scheme, except for the price – it is much higher lately," says a Shakhimardan resident employed in Fergana.
"Poor people are hurt most, since they cannot afford the 'tariffs.' So they have to walk using mountain paths to bypass roads with checkpoints. Although you can run into a border guard even in mountains, it is a rare event. Besides, there is no distinctive demarcation of borders in the mountains. It is so quite and peaceful up there for anyone – local residents, terrorist, contrabandists, and cattle smugglers… Borders are visible on only usable roads, while the mountains are for anyone's use, just like in the Soviet Union times…"