Kyrgyzstan's "own" aliens from abroad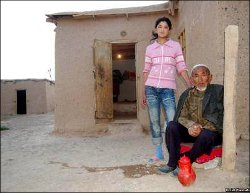 Photo courtesy Knews.KG
The tragic events of June 2010 in Southern Kyrgyzstan impacted not only the lives of those involved, but also of those abroad. Ethnic Kyrgyz citizens of Uzbekistan moved to Kyrgyzstan. The major reason is discrimination on part of Uzbeks and fear. However, having "returned" to their historical motherland, these people are facing numerous difficulties, although relevant laws grant them the "Kayrylman" [Returnee] status and guarantees social services. The law on "State guarantees for ethnic Kyrgyz" defines Kayrylman as "an ethnic Kyrgyz, a citizen of another country or a stateless person, who voluntarily returns to the historical motherland and obtains the Kayrylman status, which is a temporary legal status maintained by the bearer until obtaining the citizenship of Kyrgyzstan."
According to the Jalalabad-based Coordination Center for NGO Support Public Foundation, ethnic Kyrgyz who moved from Uzbekistan into Jalalabad Region since 2010 make up some 2,500 individuals. Fergana interviewed Ms. Chinara Zhusupova, the Center's programs coordinator, about reasons behind Kayrylmans' return and their new life in Kyrgyzstan. Ms. Zhusupova's office works in seven communities with 1,880 returnees.
Fergana: When and how did your office decide to work with these immigrants?
Chirana Zhusupova: The initiative surfaced as a result of humanitarian aid, which we provided to victims in the June 2010 events. The ethnic Kyrgyz from Uzbekistan, who moved here and decided to remain, are one of the most vulnerable groups, who lack access to basic services. They face a number of problems: lack of housing, unemployment, and the local population's negative attitude…
What forced the ethnic Kyrgyz in question to move to Kyrgyzstan after June 2010?
Ethnic Kyrgyz lived in Uzbekistan since the Soviet times. There are many reasons to flee their homes; mainly – fear. During and after the June 2010 events, many Uzbeks [i.e. Uzbek citizens] returned to Uzbekistan, and numerous rumors ensued about what was going on in Kyrgyzstan at the time. Kyrgyz [citizens of Uzbekistan] were afraid to remain in Uzbekistan and were worried that they would fall victims to Uzbeks' revenge.
They were also discriminated against. For example, there were cases when their houses' windows were smashed; ethnic Kyrgyz were also insulted for fearing national Kyrgyz headwear. [Although] there was no violence recorded, they got scared and fled Uzbekistan crossing into Kyrgyzstan, sometimes illegally. When the heat died down, they decided to remain in Kyrgyzstan.
[Passage omitted: Anecdotes of reportedly discriminatory actions against ethnic Kyrgyz]
The Kayrylmans do not like talking about themselves, since they still have families back in Uzbekistan and they could be hurt because of their relatives now in Kyrgyzstan. The major reason behind the [Uzbekistani Kyrgyz] families' partition is of socio-economic nature: there are conditions for people to live in Uzbekistan, to work there and enjoy benefits and pensions. But having moved to Kyrgyzstan, they can lose it all. That is why some [of their next of kin] decided to remain in Uzbekistan.
When they moved, how did they settle in the new place?
They used to live in border-zone villages in Uzbekistan until the June 2010 events. After the events, they moved into villages on the Kyrgyz side of the borderline. The migrants have various legal and financial statuses. More or less financially sound ones procured houses here. However, even they faced problems: because they were Uzbek citizens, they could not register the houses as their property, and the agreements on purchase are not legally solid. So they can lose "their" houses at any time. Some of them live in apartments lacking basic necessities, while others live in incomplete houses. After the June 2010 events, large groups of migrants flowed into Kyrgyzstan and many of them were forced to live in mosques.
The housing problem is more or less resolved by now. Some of the migrants found their relatives, some rent apartments, and some are gone to various parts of Kyrgyzstan seeking employment.
What is the demographic of the immigrants?
It varies significantly: there are children, adults, and pensioners. The latter are most vulnerable, since they can only receive their retirement benefits in Uzbekistan. It would be very difficult to resolve their issue given the lack of a bilateral agreement [between Uzbekistan and Kyrgyzstan] to that effect. Only a small number of families receive child benefits.
What was the local population's attitude toward them?
Clearly such movements – involving permanent relocation of whole families – cause discontentedness among local populations. Because resources are already scarce in villages, and now these new consumers arrive. Take, for example, lands leased for agriculture: After many ethnic Kyrgyz arrived from Uzbekistan, and their majority is land cultivators, agriculture land lots' lease has jumped in price. The local authorities are also allocating land lots to the immigrants for housing, which is also causing local residents' discontent, since there are many already needy locals.
Our research findings indicate that local youngsters discriminate against them as well: "Why are you here?" "Go back home, we are already in a difficult situation." To be specific, when the immigrant Kyrgyz in Uch-Korgon Village were receiving humanitarian aid, there was much discontentedness among locals, some of whom said, "We, too, live hard life and are in need! Why are you help them only?!"
Did any of the Kayrylman obtain citizenship?
A minimal number has: local village administrations report that only 10.7% [of immigrants are now officially Kyrgyz citizens]. We are now researching into the migrants' documents. This is a very hard and tedious work. The very status of Kayrylman requires collecting a packet of documents, which was compiled for some 80% of immigrants.
It is noteworthy that ethnic Kyrgyz continue emigrating from Uzbekistan although almost three years have passed since the June 2010 events. Although the inflow is now less intensive and noticeable, it is still there.
What does the Kayrylman status grant?
[According to the law,] enjoying the total array of social services: medical, educational, and financial benefits. However, we encountered a number of issues while applying for retirement and social benefits [on behalf of immigrants]. For instance, some village administrations were issuing such benefits to immigrants, while others were not. Our research revealed that immigrants are unaware of the fact that they have to apply with the local administrations, which would then issue those benefits.
Concerning education: the immigrant-children faced no issues attending their new schools. There was, however, a problem with knowledge the children had: the level of education in Uzbekistan is lower [than in Kyrgyzstan]; besides, the two curricula are totally different. In other words, a 7th-grader would not be able to handle the 7th grade curriculum here. Nonetheless, children were placed in those grades, in which they were back in Uzbekistan [before moving to Kyrgyzstan].
Another problem is obtaining birth certificates for newly born children: parents do not register their children and the lack of birth certificates prevents them from receiving child benefits.
Does the government help you in your work?
We do not receive funds from the state for our projects. However, we still closely cooperate with local administrations, social security agencies and other state offices.
Yekaterina Ivashchenko
Fergana international information agency.