Kyrgyzstan: Rights activists continue insisting authorities objectively reconsider Azimjan Askarov case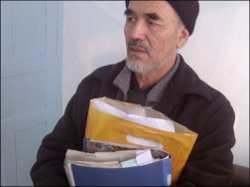 Mr. Azimjan Askarov, a human rights activists and a journalist from Kyrgyzstan, has been imprisoned for over two years. All this time, Mr. Askarov's both local and foreign colleagues have been pushing the Kyrgyz government to reconsider his case and hold an impartial investigation.
Mr. Askarov is an ethnic Uzbek and he was charged with having allegedly committed a number of crimes, including murdering a police officer, in the aftermath of the tragic events in Southern Kyrgyzstan in June 2010. His lawyers have gathered piles of evidence on his innocence. However, these documents were handed to people, who have had a grudge against Mr. Askarov for a very long time because he published a number of serious crimes law-enforcing officers committed in the past. It is, therefore, no wonder that they denounced the lawyers' evidence as irrelevant.
But the human rights activists and advocates community is not losing hope. On 27 Feb. 2013, the Committee to Protect Journalists (CPJ) voiced another appeal to reconsider Mr. Askarov's case. The letter was addressed to the Prosecutor General of Kyrgyzstan Ms. Aida Salyanova. See the full text below.
Dear Prosecutor General Salyanova,
The Committee to Protect Journalists is writing to bring to your attention the case of Azimjon Askarov, an investigative reporter and human rights activist imprisoned in Kyrgyzstan. CPJ has written widely about Askarov, who was sentenced to a life term on fabricated charges in a trial marred by procedural violations. Now, following new evidence that has come to light, we ask that you respect Kyrgyzstan's commitment to the rule of law and fulfill the public pledges that President Almazbek Atambayev has made in regards to the journalist's case.
Askarov was sentenced to life in prison in September 2010 on charges that included incitement to mass disorder, attempted kidnapping, and participation in a police officer's murder during the ethnic unrest in the region in 2010. CPJ, along with several international human rights groups, U.N. officials, and Kyrgyzstan's own human rights ombudsman, believethe charges and jail term handed to Askarov were in retaliation for the journalist's exposés of corruption and abuses of office by law enforcement officials and prosecutors in the region.
When asked about Askarov's case at a December 24 press conference in Bishkek, President Atambayev told journalists that he was interested in preserving the rule of law. He said that only the court--and not his office--was able to overturn Askarov's verdict, then said, "But if there are any particular witnesses [confirming Askarov's innocence], then the case must be reopened." Earlier that month, the president had made a similar statement during a visit to Germany, in which he said the case "must all be strictly according to the law and be decided by the courts, not by the president."
As you are well aware, articles 384 and 385 of the Kyrgyz Code of Criminal Procedure state that a case can be reopened based on new evidence and disclosure of biased court proceedings.
After the verdict in 2010, Askarov's defense lawyers began to gather evidence from witnesses whose statements confirmed his innocence. Before the trial, authorities had failed to take any statements from persons who would have spoken in the journalist's defense, according to CPJ research. This substantially limited Askarov's defense, and violated his right to a fair trial. And, according to article 352 of the same code, these violations in and of themselves provide legal grounds to nullify his verdict.
Askarov's lawyers provided CPJ with the statements they received from the journalist's neighbors and other witnesses who confirmed his testimony and said they saw him at specific dates and times in places that would have made it impossible for him to have participated in the officer's murder or other crimes. For example, at least three individuals confirmed seeing Askarov in his courtyard between 7:30 and 9 a.m. on June 13, 2010, far away from the scene of the officer's murder. Another witness said he saw Askarov at around 9:30 a.m. near the center of their village, which was at least a mile away from the scene of the murder.
Askarov's lawyers told CPJ that they had sent the defense witnesses' statements to your office in May and that your staff sent the documents to be evaluated in the same jurisdiction that Askarov was tried. However, we believe there is a conflict of interest in asking these prosecutors--the same ones whose abuses Askarov exposed in his stories, the same ones who fabricated evidence against him, and the same ones who sought his life imprisonment--to review the statements. We weren't surprised to learn that the prosecutors told you they had checked the statements and found them "baseless."
In order to avoid any conflict of interest, we ask that you appoint an independent team of investigators to reopen and examine Askarov's case in a transparent manner. We also ask that you ensure that he be tried with full guarantees of due process.
When Askarov was first taken into custody, police did not register his arrest for a full day, which renders that 24-hour span of his detention illegal. The journalist was also denied a lawyer for three days. He has reported being beaten and tortured throughout his detention and trial. The allegations of torture were confirmed by a doctor who concluded that he appeared to have "suffered severe and lasting physical injuries as a result of his arrest and incarceration." We ask that you ensure these allegations are duly investigated and do not occur again.
Throughout Askarov's imprisonment, Kyrgyz authorities, including President Atambayev, have expressed their commitment to the rule of law. We urge you to demonstrate this commitment in practice by reopening Askarov's case without further delay.
Thank you for your attention to this urgent matter.
Sincerely,
Joel Simon
Executive Director
CC list: President Almazbek Atambayev, Muktar Djumaliev, Ambassador of the Kyrgyz Republic to the U.S., Pamela L. Spratlen, U.S. Ambassador to the Kyrgyz Republic, Erlan Abdyldayev, Minister of Foreign Affairs of the Kyrgyz Republic, Almambet Shykmamatov, Minister of Justice of the Kyrgyz Republic, Michael H. Posner, U.S. Assistant Secretary for Democracy, Human Rights, and Labor, Robert O. Blake, Assistant Secretary, South and Central Asian Affairs, Christopher H. Smith, Chairman of the U.S. Commission on Security and Cooperation in Europe, Nils Muižnieks, Council of Europe Commissioner for Human Rights, Dunja Mijatovic, OSCE Representative on Freedom of the Media, Navanethem Pillay, U.N. High Commissioner for Human Rights, Irina Bokova, UNESCO Director-General, Baroness Catherine Ashton, EU External Relations Commissioner, Barbara Lochbihler, Chair of the Subcommittee on Human Rights of the European Parliament.
It is noteworthy that almost nobody was lately able to visit Mr. Askarov at Colony No47 in Bishkek. Fergana.RU received a written refusal to visit him due to an allegedly "limited number of permitted visits."
However, during a phone conversation before the written refusal was received, the department for legal issues and international cooperation of the State Penalty Enforcement Service told a Fergana.RU journalist that the visit was impossible "due to the inmate's poor medical condition."
Only Mr. Askarov's lawyer, Valeryan Akhmedov, was able to briefly meet him last week.
"Our brief meeting resulted in an address to President Atambayev and Prosecutor General Salyanova. Ms. Tolekan Ismailova and I signed these appeals and sent them to the addressees. They shed light on the violations of Kyrgyzstan's criminal and procedural code and its international obligations in the field of human rights."
"Having studied the criminal case, I have come to firmly believe that both preliminary and judicial investigations were carried out with gross violations of the national legislation and the international obligations Kyrgyzstan assumed in the field of human rights. I do not understand why the Supreme Court has not ruled at least to-investigate this case," Mr. Akhmedov says.
Meanwhile, Ms. Tolekan Ismailova, the head of a center for human rights "Citizens Against Corruption," confirmed to Fergana that Mr. Askarov's health has significantly deteriorated. However, the penitentiary facility refused to allow independent physicians to examine him.
However, Mr. Ismailova does not trust such letters: "Azimjan's health has deteriorated: he is losing sight and his muscle ache very badly. We are trying to provide him with medicines. It was also brought to my attention that doctors from the healthcare ministry took Askarov out of the [penitentiary] colony for an examination. Howsoever, they denied providing a copy of the examination findings for some reason. (Fergana was denied access to the findings as well: the doctors in question demanded Fergana provides a written approval from the healthcare ministry.) Even Askarov has not seen the findings. And now they are denying access for independent doctors. It is very important that a commission of the healthcare ministry visited Askarov right before the Kyrgyz authorities delivered a report before the UN Commission on Racial Discrimination. Apparently this is how they [authorities] are demonstrating their care of Askarov," Ms. Ismailova told Fergana.
According to her, independent doctors, including a psychologist, confirmed Mr. Askarov's poor health condition, upon completing their last successful visit.
"Their daily help was very helpful for him; now he is denied access to doctors and psychologists. Although the State Penalty Enforcement Service told us itself about its inability to provide him with necessary medical treatment."
Ms. Ismailova is certain that someone is purposefully hiding Mr. Askarov from the public by denying everyone access to him.
"I think a political will in Askarov's case remains a dilemma for the authorities. There are individuals in the ranks of authorities, the judicial system and the prosecutor general's office, who are interested in keeping Mr. Askarov behind bars. Because if society learns the truth from him, the truth would undermine their jobs. There are too many officials, members of the interim government, including those who are no longer in power (I mean Roza Otunbayeva), who are afraid of the truth."
Fergana international information agency.