Uzbek opposition leader insists President Karimov suffered heart failure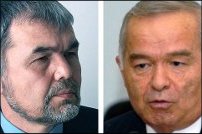 Muhammad Salih (l) and President Islam Karimov
The website of the Popular Movement of Uzbekistan, an Uzbek opposition group, reported Friday that Uzbek President Islam Karimov suffered a heart attack late 21 Mar. 2013. The information, however, was later refuted: the RIA Novosti agency's anonymous sources claimed, "Uzbek President is in great shape as usual and does not display even indications of illness."
The Uzbek service of the BBC interviewed Mr. Muhammad Salih, the head of the opposition movement, who currently lives in Turkey. Mr. Salih insists he has reliable information from a source close to or even in the Uzbek government that the Uzbek leader is indeed ill. Fergana translated a part of the interview from Uzbek.
BBC: Given that Uzbekistan is a closed police state, it is quite possible that even those in the government might not know the president's real condition, right? How reliable is your source?
Salih: It is very reliable: the information is coming from most secret groups.
BBC: Has this source provided you with information that was later confirmed?
Salih: We receive a lot of information and use them in our articles. There are people who do not like this government and circles around it. And they provide us with information, which they have.
BBC: During the celebrations of Navruz on 19 Mar. 2013, the population of Uzbekistan saw President Karimov was quite healthy. He even danced [at the ceremony].
Salih: That is indeed so. But a heart attack is an illness that can make a healthy person collapse in a matter of minutes. Information on Karimov's health is usually kept secret.
BBC: Reports on President Karimov's illness initially surfaced in 2003. The rumors lasted for some time, but were not confirmed. Would it not be correct to be cautious of such news?
Salih: Indeed, one needs to exercise caution. I am personally very careful in this regard. We often receive information of this kind and do not report them in our news; some of them were not confirmed. However, this particular information was provided by a reliable and secure source; hence, the publication. Also, I think that circles close to Karimov purposefully leaked all rumors and reports to this day with his approval. It is possible that this disinformation [initiated by President] Karimov, who is thusly attempting to say, "Be patient a little more and stop attacking me because I will leave soon." However, this particular information is a very serious one. That is why we published it.
Mr. Tashpulat Yuldashev, an exiled Uzbek political scientist, told the interview such rumors were often circulated ahead of parliamentary or presidential elections.
"On the other hand, perhaps this information could have been conscientiously circulated to scan [the situation to learn] how these or those groups would react to his alleged illness."
According to information Fergana has, the Uzbek president suffers from a set of chronic diseases. However, no reliable information on his health is available. There is no information on foreign doctors that examine him or hospitals he stays at. It is also unknown where and when President Karimov spends his vacations. This secrecy around the president's private life is frequently the very source of most incredible rumors about him.
Muhammad Salih has been living in emigration since mid-1990s. He is the main opponent of Islam Karimov: Salih challenged Karimov with over 12% of votes during the first and realistically alternative elections in 1991. Salih was later accused of complicity in a conspiracy and was sentenced to 15 years of imprisonment in absentia.
Fergana international information agency.