Uzbek President: "It is impossible to encircle the Internet with an iron fence or ban it"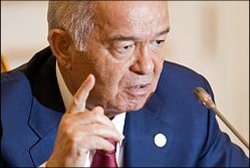 President Islam Karimov is against restricting Internet access
The head of Uzbek state is certain that it is impossible to ban the Internet altogether. He has said so during a speech at the Tashkent Regional Council on 1 Apr. 2013. It is noteworthy that the official Uzbek mass media outlets did not publish this rather outstanding statement delivered in Russian, except for Gazeta.uz that put it under the Quote of the Week section.
"Our youth understand everything. Young people learn many things via information mediums, particularly the Internet. It is impossible to surround the Internet with an iron fence or ban it; rather, it is impossible even to imagine that," said Islam Karimov. "There are many protests and standoffs taking place in various parts of the world and the Arab countries. [While] there are many reasons for that, the majority of those [disturbances] arise from the lack of proper attention to the youth and to the resolution of their problems; that cannot be overlooked. Therefore, all of us, those in leadership positions primarily, must always remember that our job is to meet youths' vital interests, create opportunities for them, unleash their talents and capacities in correspondence with modern requirements."
President Karimov's statement sounds more like a Fools' Day joke and begs for nothing more than surprise. The Uzbek leader is either shamelessly lying or is completely unaware that his country is listed in the Top 10 "the Internet's enemy" countries. Uzbek special services, loyally serving Islam Karimov, have instructed all of local internet service providers to block access to hundreds of independent and opposition websites, although they break no local or international laws. By the way, the very website you are reading now – www.fergananews.com – is, too, banned in Uzbekistan since the summer of 2005.
Background: Some of President Karimov's previous statements were far from reality in the past; local mass media often quote him on various occasions.
Fergana international information agency.