Silent approval: Judges "sustain" beating advocates in Kyrgyz courts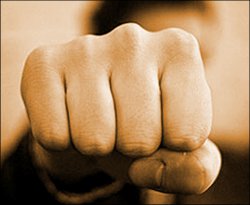 Beating lawyers is becoming somewhat of a norm if they are defending suspects tried for June 2010 events in Kyrgyzstan. In 2010 alone, about 150 lawyers refused to represent and defend interests of ethnic Uzbeks, fearing harassment and beating by claimants and their supporters. Fergana wrote about specific incidences and attacks on lawyers, which were most frequent in the country's south. But not all lawyers are backing down under such an enormous pressure and hazard. Unfortunately, their requests for protection at court are usually ignored.
Fergana has written about several trials there. Over the last three years that elapsed since the June 2010 events, ethnic Uzbeks' cases were tried at all judicial levels and some even reached the Supreme Court in Bishkek, in the country's north. The lawyers were hopeful judges in the capital would be more civilized and would demand order in their courts. However, it was not so.
Fergana's own reporter was present at several hearings at the Supreme Court. Every single supposed victim and their supporters were admitted in courtrooms, while the defendants' side would have only one or two persons allowed to be present. The lawyers stated several times that they had never seen these "victims" during hearings at lower level courts.
There are several women among the claimed victims (making up to several tens of people) who provoke the situation: they shove the defendants' representatives, slur using words pertaining to their ethnicity and call them "murderers." When the defending lawyers are given the floor, the victims comment their words, use profanity and interrupt them. All the while the judges silently and idly sit watching, only occasionally asking the provocateurs "to be a little more quiet." At certain point the women launch the assault: they harass and beat the lawyers and witnesses. As we have written about a hearing at the Supreme Court on 2 Apr. 2013, a group of "victims" (some 30 individuals) has beaten up a defendant's lawyer and mother – the only two representatives of the defendant. The judges only silently observed…
Security
Fergana asked several competent bodies as to who is responsible for maintaining security and order in courtrooms in the country. The press service of the ministry for internal affairs said their officers are present at hearings if judges make requests to that effect. The press service of the Supreme Court added that the National Guard provides security at courts.
"However, as far as I know, they have no right to interfere with whatever is taking place in the courtroom. We do not have other security personnel; besides, the Supreme Court hearings are open to public. "Visiting security" is provided when there is an assumption that this or that hearing would cause many people's gathering at the Court," the Supreme Court's press service added.
While the hearings on the June 2010 events do "cause many people's gathering," the Supreme Court personnel does not think so and request no guards for those hearings.
We have asked Col. Toktogul Abdrakmanov, head of staff of the National Guard, to comment on the powers soldiers are entitled to at hearings.
"We are tasked with protecting the [court] buildings while it is in session and after its business hours to prevent people from penetrating to set it on fire or take things away; we also man the checkpoints. Soldiers have no other powers. They do not participate in court processes. That is why, I think, the soldiers were not proactive in the June 2010 hearings. Other [power wielding] bodies are to provide security at actual hearings," Mr. Abdrakmanov said.
Prosecutor General shuns responsibility
Employees of the NGO Kylym Shamy were first to assist the assaulted lawyers Ulugbek Usmanov and Tatyana Tomina on 2 Apr. 2013.
A legal advisor of the NGO, Gulshayir Abdirasulova, said she met with the council of rights advocates as soon as she heard about the incident at the Supreme Court: "We had to decide what to do about the incident – should we publicize it or not, because we could jeopardize the lawyers' safety, who were to return to the south after the hearing. Ms. Tatyana Tomina has decided to report the physical attack against her. Mr. Ulugbek Usmanov's case was more complicated – he was beaten by women and, as a gentleman, he could not fight back; he was initially hesitant, but then he also decide to report the incident to police."
"We have photographed Mr. Usmanov's injuries and bruises, printed them and attached to the medical reports and went to a local Bishkek police station to report them. Head of the station received all these documents and the two lawyers' reports on the incident. We have also attached the articles on the hearings carried by local press."
Ms. Abdirusaluva continues saying "the most interesting part" has unfolded afterwards.
"Ms. Tomina went to the prosecutor general's office but her report was rejected. The prosecutor on duty said it was in the prosecutor general's office's competence to investigate the Supreme Court judges' actions on inactions. The prosecutor general's office has thus shunned its responsibility and refused to fulfill its direct duties. Because only the prosecutor general's office is authorized to look into complaints against courts. I have then personally went there myself and was refused as well. We have then sent them a registered letter, which they are obliged to respond to. If they again say, in written form this time, that they are not competent, what do we do then? Either we – lawyers and rights advocates – do not know what the prosecutor general's responsibilities are, or the prosecutor general's office does not want to fulfill its legally binding obligations," Ms. Abdirasulova concludes.
What lawyers have to say
Head of the coalition For Democracy and Civil Society, Ms. Dinara Oshurakhnova, is also puzzled as to why law enforcing agencies and judges do not react to the lawlessness and do not enforce order in court.
"If judges see such a thing, they must not retreat but step up security and safety in court," Ms. Oshurakhnova states. "They must call upon those acting disgustingly in courts to order and prevent any aggressive behavior, and be very firm about it. We have been talking about beatings of lawyers for several years. Violators respect neither law, nor judges and it has resulted in beatings in the Supreme Court! This can have a chain reaction effect. Such people must be brought back to their sense administratively, or we will face total anarchy."
"I would like to use your website as a platform to ask "Why is the interior ministry silent about this? Why are the judges not asking for security and why is everyone ignoring these violations of law? Should claimants/defendants provide their own security at court now?" You know, let alone security in city streets… But when such a thing occurs in establishments where justice must be respected… This is unacceptable!" Ms. Oshurakhunoa says.
Ms. Lyubov Ivanova, who is a former judge and presently a lawyer on April 2010 cases, is certain that such fracas are taking place in courts because the lower level courts did not prevent or stop them. The perpetrators continue treating higher instance courts as those before – they feel they are totally unchecked, unpunished and they threaten anyone who disagrees with them.
"As far as the judges' actions are concerned: while they cannot initiate criminal investigations, they certainly can respond to violation of order in court and they can inform the prosecutor's offices who actually can launch criminal investigations. Otherwise this lawlessness will never subside. The judges are afraid of this crowd. The year 2010 was a precedent of when "victims" feel they will not be punished for whatever they do," Ms. Ivanova ascertains.
"The judges must have had taken steps to step up security, because they have seen what happened at lower level courts and previous hearings. What is happening is a criminal responsibility – violation of Article 318 (Obstructing lawyers' activities)," Ms. Ivanova reminded.
"It is a system we have here – no one is responsible for anything," lawyer Nurbek Toktakunov says. "Someone broke into my car recently and reporting it to police was the last idea that crossed my mind… The judges had to react in that situation and ask for more officers. But I understand why they did not do that: they are feeble and impotent."
"Only corrupt people became judges. We had a council for selecting judges recently, so they reelect judges but by new rules," Mr. Toktakunov continues. "Because the currently serving judges are simply incapable of being just. Therefore, they cannot ensure sessions are secure, they cannot defend witnesses and lawyers. They are incapable of resisting illegal and unlawful influence; take the crowd's pressure, for example. Being a judge is a risky profession because being just is always risky. We need people who can not only withstand the government's pressure, but the crowd's pressure as well."
"Concerning the lawyers: Nobody will protect them and there will be no justice, simply because we have no justice in this country. If lawyers are afraid, then they should move on to other professions. I am not judging them, I understand them – why do that, which you can be beaten up for? If they want to remain lawyers, then they must fight back. I was assaulted as well and I have reported that to competent bodies. Yes, reports could be ignored. But they must continue lodging those complaints so the culprits know their victims will not be silenced. Everything is in the lawyers' hands and depends on their persistence," Mr. Toktakunov recommends.
* * *
The beating of lawyers at the Supreme Court is a precedent that has revealed the total failure of the judicial system in Kyrgyzstan: the judges that do not prevent or stop fracas in courtrooms, the security that is not interested in getting involved, the prosecutors' offices that do not want to control the judges' actions, and finally, the unchecked crowd that has come to understand that it calls the shots and it is the only force to be feared of. A court ruling based on laws is no longer a "just decision" for the majority in Kyrgyzstan.
The Kyrgyz politicians must immediately attend to the matter and stop flirting with the crowd, because the total disregard of law and judicial norms will eventually lead to the ruining of Kyrgyzstan.
Yekaterina Ivashchenko
Fergana international information agency.