German airbase in Uzbekistan: Illegal market for German goods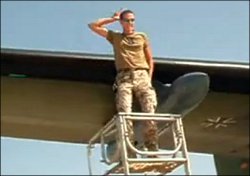 The Strategic Military and Transport Base of the Federative Republic of Germany is located in the Uzbek town of Termez near the Afghan border; its maintenance costs several tens of millions of euros a year.
The Germans use this civilian airport as a "trampoline" into Afghanistan since late 2001. The base houses several hundreds of servicemen who provide logistics for dispatching and receiving aircraft with cargo and troops.
The exact amount of money the German government spends on the base is unverifiable. On the other hand, the base does not only mean expenditures. Since early this year, the base has turned into a source of significant side income for the German soldiers and officers.
Uzbek President Islam Karimov signed a statute on "Measures for further strengthening competitiveness of local products and stepping up illegal trade and goods circulation in Uzbekistan" in January 2013.
The statute has significantly shrunk the number of imported goods: household appliances, construction materiel, and personal hygiene items. The population is obviously unhappy with poor quality and limited quantity of Uzbekistan-made products. But the statute did boost locally made products sales. For instance, labor migrants returning from Kazakhstan or Russia are better off purchasing products locally and not importing them, since high customs clearance fees and the rampant corruption at the customs makes the original price spike.
The German servicemen were quick to take advantage of the aforementioned ban – they started flying in household appliances bought in Germany into Uzbekistan in military planes, which are free from customs and border control. A big number of German servicemen built friendship ties with local residents, so vending the "imported" products is not very challenging.
This video clip was compiled by the German servicemen at Termez, Uzbekistan, and it talks about their challenging service and limited entertainment options
"This is the only way for us, more or less well-off citizens of Uzbekistan, to procure quality German products; there is no other way," a Termez resident says. "And for the enterprising Germans, this is a good opportunity to make a descent profit. Everybody knows how cheap appliances are in Germany, especially during seasons of various sales. They bring plasma TVs, microwave ovens and air conditioners. There is a line of people wanting to buy the German appliances. Everybody knows when the next plane flies in and even make preorders."
Fergana learned that both Termez authorities and law enforcing agencies were well aware of the illegal trade. However, they take no action and turn the blind eye.
"The local authorities are not going to fight about this problem and elevate it to the international level. Moreover, police officers and officials are pretty well off financially. They do not mind using an opportunity to procure a quality imported product," another Termez resident, who works at the city airport, told Fergana.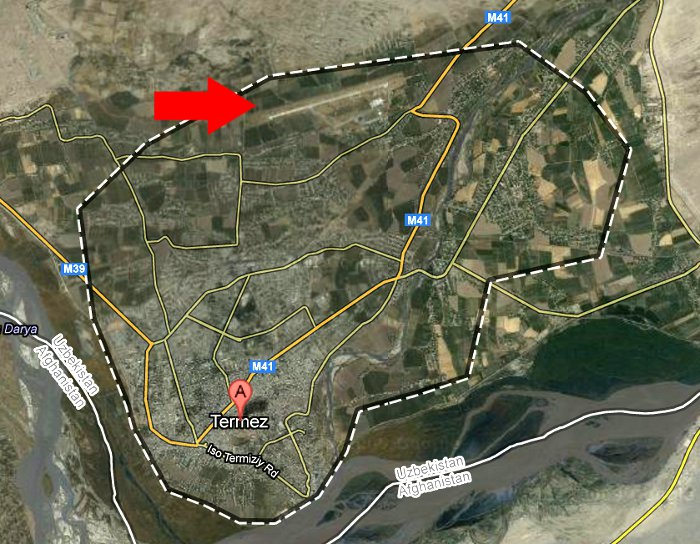 The airdrome is very conveniently accessible for Termez residents. Google Maps