Sergey Abashin: Osh events at crossroads of oblivion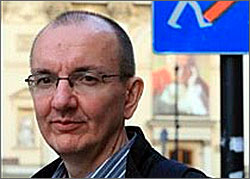 Sergey Abashin, PhD in history, is a leading fellow at the Institute of Ethnology and Anthropology under the Russian Academy of Sciences. In his piece below, he ponders lessons and challenges of the bloody events in Southern Kyrgyzstan in June 2010.
* * *
Today is the third anniversary of the conflicts in Osh and Jalalabad, which has resulted in mass killings of people and colossal destruction of their property, let alone psychological and physical traumas. Since then, all the deceased were buried, the destroy houses are restored and wounds healed. Seemingly, life is back to its former – the pre-conflict – pace and style. The June 2010 events are discussed less often, and new events in people's life are pushing this topic out of day-to-day conversations. But does this mean that those event are now perceived completely or, at least, almost completely normally, the pain is gone, the culprits are punished, the sufferers compensated for, and the Kyrgyz authorities, society and international institutions learned their lessons and proper conclusions?
Unfortunately, facts stubbornly claim that there is no ground for such optimism. Indeed, investigations were held into the events and, on the surface, culprits seem to have been punished. But let us look at the figures: While 70% of the killed are ethnic Uzbeks and 30% are ethnic Kyrgyz, 75% of the convicted are ethnic Uzbeks and less than 25% are ethnic Kyrgyz. These official numbers suggest there is an apparent and obvious distribution of responsibility for the atrocities committed during the events.
The most resonating case is the conviction of Azimjan Askarov. In spite of multitudes of statements human rights advocates recorded on the violations of investigation and trial procedures, Mr. Askarov remains convicted for life. Many leaders of the Uzbek community of Kyrgyzstan were forced to leave the country fearing similar partial investigations and prosecutions. No single regional or central official in post at the time was held responsible or accountable. Au contraire, the majority retained positions or even were promoted.
Indeed, those who sustained financial damages – i.e. ethnic Uzbeks, a fact that nobody doubts – were compensated for their domicile destruction and they were able to partially restore their looted property. That, indeed, warrants a positive attitude. However, one must keep in mind that international organizations and foreign countries provided the significant portion of the help in question specifically for ethnic Uzbeks. But does this mean that all disputes are resolved and all demands fulfilled?
I am afraid the answer is "No." While billions of Kyrgyz soms [the national currency] were spent on restoring houses, there are numerous cases of illegally raiding and taking over ethnic Uzbeks' businesses, which are not officially registered anywhere. On top of these clandestine moves, there are quite legal attempts to push Uzbeks out of the historical center of the city into suburbs under the excuse of "infrastructure reconstruction." I am far from claiming that all of such facts of persecution are the government's purpose-oriented policies. But the fact that the authorities are either incapable, cannot or unwilling to protect people and their interests causes frustration.
It is very sad to read reports on exodus of Uzbeks from Kyrgyzstan en mass, especially over the last three years. It is to be mentioned that other ethnic groups, too, have representatives leaving the country en mass, including the Kyrgyz, seeking employment abroad. Therefore, strictly speaking, it would be erroneous to claim that the June 2010 events along triggered mass emigration. However, it is impossible to overlook the fact that Uzbeks, both psychologically and sometimes physically, are pushed to flee the country; the overall challenging environment that came about after said events is a very convincing factor, indeed.
While I am penning all these circumstances, I am far from claiming that nothing has changed in Kyrgyzstan over the last three years. The inevitability of joint life is encouraging people to put aside mutual pretentions, to interact in daily life and even to improve relations. But one cannot dwell into isolated cases of arbitrariness and injustice toward a certain ethnic group, recorded by human rights activists and journalists, and then claim this is the current situation. At the same time, it would be equally wrong to cling onto several cases of gradual overcoming of mutual alienations after the conflict. The topic that I am discussing here is "Have fundamental and structural shortcomings in the Kyrgyz society, which led to the conflict, been mended?"
It would hardly be an exaggeration to say that the Uzbek minority in Southern Kyrgyzstan is exposed to double repression: physical and moral, and then symbolical. Having wrongfully labeled the conflict as "Uzbek separatism," the country's leadership enjoyed almost the entire top-echelon's support in drafting and implementing various formal and informal steps to further exclude this minority group from politics. The emphasis was specifically made on the group's ethnic minority status. They have done so instead of pondering over their integration. Although Uzbeks make up the second largest ethnic group in Kyrgyzstan, their representatives still make up a fringe minority in state positions, far less than their numbers entitle them to. Uzbek-language mass media, educational and cultural institutions have either ceased to exist or saw an abrupt decrease in number and scope. According to the adopted concept of "ethnic policies and societal consolidation," one of the major state strategies is a deeper and wider integration of the Kyrgyz language into the educational processes and administrative practices. This move making me think that it will lead not toward "integration" of the minority, but toward the increasing marginalization of the Uzbek language and Uzbek identity. In other words, the move will further increase the structural disproportion between the ethnic majority and the ethnic minority.
The ability to speak the Kyrgyz language does not make the minority's life any easier. I can't stress enough that the minority's knowledge of Kyrgyz does not allow it to hold such positions in the society, which it is actually entitled to at least because of its sheer number. In order to avoid turning the language integration, let's be frank, into a desperate attempt to assimilate Uzbeks instead of genuinely integrating them, it is necessary to rather courageously reconsider whom the Kyrgyz society is composed of: Is it a society of ethnic Kyrgyz or a unified nation for all citizens wherein ethnic minorities have equal rights for existence. That said, in the latter case, the unity must be maintained not by imposing certain specific features of one group, albeit the largest and the "titular," onto everybody else, but by searching for features which would indeed be common and interesting for everybody in said society.
Although the topics in question are discussed in Kyrgyzstan – to even such an extent that certain official documents discuss "civil" basis for the national unity – I still see no substantial progress toward seriously reconsidering the 2010 events and drafting reasonable, balanced and efficient steps to decrease injustice and prevent negative processes from happening. I only see an attempt to forget and discard the problem via silence or general words and wishes.
Having sincere sympathy for Kyrgyzstan, its nation and culture, I am forced, nonetheless, to admit that the authorities and experts are displaying weakness, incapacity and unwillingness to elevate above their narrow interests and attitudes. I reckon this inaction does not necessarily harbor bad intentions. However, the lack of such intentions does not alleviate, but on the contrary, worsen one's conclusion that the inability and incapacity to formulate and hold a position serves as the proof and grounds for more fatally pessimistic prognoses in future.
Unfortunately, two conditions bore the status quo: First, the international community, despite the OSCE- and UN-mandate international commission's investigation, failed to formulate a joint position and plan of action to tackle those apparent and outrageous crimes and heinous violations of human rights, which this commission and other organizations have recorded and subsequently reported. A sudden competition for influence over Kyrgyzstan turned the June 2010 events into an inconvenient episode, and they were better off forgotten.
Second, the neighboring Uzbekistan has practically refused to publicly discuss the issue of "the Uzbek diaspora" in Kyrgyzstan. [The official Tashkent] decided that repercussions of potential politicization of the issue would surpass any moral or emotional points it could score [by raising the issue and showing empathy]. Indeed, there are too few or no substantial external factors and/or potential initiators for propelling this or that decision, which the Kyrgyz authorities are reluctant to independently adopt and act upon.
The third anniversary of the conflict in Southern Kyrgyzstan is, thus, coming with a backdrop of lacking stabilization in the region and the world. The crises are surfacing everywhere and more and more countries are facing various difficulties; some are confronting each other and even waging wars. When projected on that "canvas," the events in Kyrgyzstan do not seem small and perhaps insignificant episode, which is long gone. Howsoever, the past tends to return and punish for unlearned lessons it taught.
Sergey Abashin
Originally published by the Alisher Navoi Institute.