Islam Karimov: Far from reality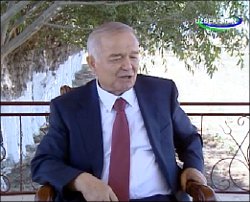 President Islam Karimov pictured rapping "those lazy migrants" during an interview with the Uzbekistan TV Channel
Uzbek President Islam Karimov called the Uzbek labor migrants engaged in sweeping streets in Moscow "lazybones" and "street beggars." Perhaps, President Karimov's words were addressed for the local audience, for "local consumption" so to speak. The online media outlets in Uzbekistan appeared embarrassed for their leader's harsh and strange claims having decided not to reprint his statements. The part about "lazybones" would not have made its way into the "foreign consumption" copy of the interview if not for vigilant foreign news agencies.
BBC Media Monitoring was the first to pay attention to this strange, to put it mildly, statement the Uzbek leader uttered during his trip to Jizzak Region on 19 June 2013. The Ozodlik Radio later carried the video clip below on its website Monday. The Fergana News Agency has its own translation of the Uzbek president's statements.
"There are fewer and fewer of these lazybones in Uzbekistan nowadays. Who I think lazy ones are: Those going to Moscow to sweep streets and squares there. What is it about that place? This is disgusting. The Uzbek nation is demeaning itself [by doing this]; supposedly one has to travel that far [to earn] for a piece of bread. Nobody is dying from hunger in Uzbekistan, thank God! I call them lazy, because they are disgracing all of us by pursuing ways of quickly earning a lot of money."
It is not the first time President Karimov paid attention to labor migrants traveling abroad to seek employment. He spoke in similar vein several months ago upon learning about the fate of an Uzbek janitor who has beaten up a boy in Moscow for throwing snowballs at him. Back then the president blamed the minister for internal affairs for the situation. Rapping the minister resulted in heightened control at border checkpoints in attempts to identify labor migrants. Frankly put, labor migrants now have to bribe to leave the country.
Uzbek President often allows himself making such non-prescript statements. Such impromptu throw off simultaneous translators and speech recorders (typing speech into a text) and editors of official mass media.
"One doesn't know what to type. He starts a sentence with one idea, but finishes with a totally different one. He often uses colloquialism, not curse words, of course, but unofficial vocabulary that is inappropriate for heads of state," an editorial employee journalist says. Indeed, President Karimov's words mostly contradict one another. Take this very speech, for example. How can one call somebody "lazy" when the latter is traveling to a foreign country to sweep streets there? Or are they there for "a piece of bread" indeed, because they cannot earn it at home? Also, they are well paid for their "lazy performance?" And that is "disgraceful?" The official Uzbek mass media usually let such "impromptu" statement fall through crack on the floor. This case was no exception. The official information circulated by the main news agency of Uzbekistan, the UzA Agency, reprinted by all the mass media with no exceptions, contains no word about President Karimov's attitude toward migrants. It only speaks of the country's success stories "under the wise watch" of the irreplaceable Uzbek leader.
The head of Uzbek state also claimed that it is impossible to find beggars and homeless people in Uzbekistan. Perhaps, to his mind, this is the ultimate support for the argument that the economy is "blossoming" and the citizens' standard of living is on the rise. President Karimov's subordinates only nodded in synchronized head movements, for they are perfectly aware of the simple method of solving said problem: local police are tasked with "fetching" at least 10-15 homeless and beggars. Nonetheless, impoverished elderly women standing with extended open hands and young mothers with infants can always been seen in Tashkent's underground crossings at any time of the year or day…
The father of the nation's phrase turned into another joke among the populace in yet another demonstration that he is far from the miserable lives of the common citizen. President Karimov, apparently, only learns about the latters' "happy and prosperous" lives on Uzbek TV news and rosy reports his complacent officials file.
Meanwhile, President Karimov's claims stirred a storm of raged among hardworking Uzbek migrants abroad. The Ozodlik Radio's interlocutors and commentators on its website reacted telling their stories about factors that forced them to leave close people and travel to foreign lands seeking jobs. One of the most frequently mentioned factors was the lack of appropriate jobs back home, an inherent desire to somehow provide for the family and help children find their place in life. In short: We had to leave in order to survive!
It would benefit the esteemed president and other officials in his entourage to remind the dire consequences that would have inevitably befallen the Uzbek economy if not for the multimillion-dollar transfers these very "lazybones" send from abroad. In 2012 alone, according to the Central Bank of Russia, they provided bout 6 billion USD to the Uzbek budget!
The excerpted quote above clearly shows that reality is something removed and remote for Uzbek President Karimov, the inadequacy of whose statements is obvious for the common Uzbek resident.
"Honestly, our president's behavior started reminding the late Soviet secretary general, Leonid Brejnev, who had no idea whatsoever as to what was happening in the country," a labor migrant from Uzbekistan working in Moscow told Fergana. "If Russia, God forbid, decides to deport the millions of my compatriots back home, a serious socio-economic chaos may ensue in Uzbekistan. So, logically, the [Uzbek] authorities are to thank both the Russian economy and those "lazybones" supporting their families and the motherland's overall economy while enduring hardships and deprivations away from home."
In the past, the head of Uzbek state and other officials made several rather unexpected statements, which were in significant discrepancy with reality on the ground. For instance, Islam Karimov made several promises that that the average monthly salary would be 500 USD while it is currently 150-200 USD at best. Or, in May 2005, when hundreds of website carrying news and articles on events in Andijan were blocked in Uzbekistan, then Minister of Foreign Affairs Elyor Ganiyev repeatedly claimed "there exist no way to restrict access to the Internet."
Fergana international information agency.