Bakhodir Choriyev: My father's case is testimony to legal nihilism and injustice in Uzbekistan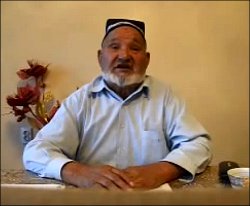 Hasan Choriyev in an undated photo
Many experts familiar with the matter believe the detention and charging Hasan Choriyev, 71, with grave crime are linked to his son's oppositional activity. Said son, Bakhodir Choriyev, is the head of Birdamlik (Solidarity) Popular and Democratic Movement, who urges citizens of Uzbekistan to non-violently oppose the authorities. Recently, he has also announced plans for presidency. In an open letter, Bakhodir Choriyev writes, "The persecution of my father is testimony to legal nihilism and injustice in Uzbekistan. It also indicates the regime harbors vengeance against an old and ailing person for not bowing to their demands and for his sons' oppositional activity; that is disgraceful."
* * *
No matter how trivial my words may sound for some and doubtful for others, humanism is the basis for our political, social, economic, cultural and organizational activities. Birdamlik Popular and Democratic Movement was conceived of in the wombs of theory and practice of altruism in the East and the West. For our movement, fighting for human rights, freedoms and honorable life starts with the overcoming of their fears, indifferences, and beliefs in the false ideologies of totalitarian and authoritarian regimes. Realizing the civic duty and transition to active opposition are the direct paths to join our ranks, the ranks of non-violent fighters for civil disobedience.
I would like to emphasize the fact that after obtaining independence, Uzbekistan slid back into backwardness and obscurantism instead of moving forward in the direction of the democratic West just as the majority of citizens wanted. Uzbek President Islam Karimov has repeatedly claimed that, first and foremost, he is an economist and an engineer, and only then a politician. But in reality, he did not steer the country toward market economy, did not facilitate the establishment of the class of proprietors. As a result, Uzbekistan is facing the destruction of its economic, engineering and technologic potential. Instead, he is very much interested in what journalists and pundits write about him and his regime. Hence, any brave soul that dares to say the truth about the incumbent regime in Uzbekistan and its "irreplaceable" leader will face imminent revenge. That is one of the reasons that pitted the authorities against my father, Hasan Choriyev.
My father is an independent, brave and hardworking man, who is always ready to offer help. He was both strict and just with us in the family and everybody else in society. Ever since I was a child, my father has been instilling in me the responsibility to serve as a good example for my brothers and sisters, since I am the eldest child. My parents would demand that we never lie, whatever the circumstances are, study well and work hard.
In the early 1980s, my father worked in a local collective farm. He was once able to deliver four railway wagons of timber for our relatives' and acquaintances' needs. The Soviet regime of the time deemed this illegal commercial speculation. He was summoned to the prosecutor's office and imprisoned. He was released after nine months; however, his case was not closed leaving the risk of four-to-five year imprisonment lingering over him. He has then moved onto a different collective farm to work as an orchard tender and cotton cultivator. He would explain to me, a thirteen-year-old boy, he was going to achieve the cancellation of the unjust ruling, so I would have to fill in for him at his work from time to time. I would, therefore, work on the cotton field, the orchard, attend to the cattle and manage our household. The distance between our house and the collective farm I lived and worked at was 160 kilometers.
My father would rarely visit us because he was busy in his attempts to cancel the unjust ruling: he constantly visited prosecutors' offices, courts and lodged complaints. This has lasted for about a year. Only after the unjust verdict was cancelled, he returned to the collective farm. I was very proud of my father and happy: after all, I was returning home after a yearlong break and would resume going to school. And the independent work I accomplished would later serve me as my father's school of perseverance and persistence.
Both before and after independence, my father would always fearlessly speak about the condition in Uzbekistan, its national and regional leadership and administrators in Kashkadarya Region and Karshi and Shakhrisabz towns. Thanks to his committed labor and entrepreneurship, my father was able to provide a decent livelihood for his large family. I believe it is important that he was able to raise his children truthful, entrepreneurial and hardworking.
My father established a farm after he retired in 1988. Thanks to his hard work, perseverance and managerial skills, the farm has quickly expanded and grew. But corruption, by then enshrouding Uzbekistan like an octopus, did not spare Shakhrisabz. Officials at different levels and services kept pressing my father for bribes. His only response: I owe nothing to anybody. They then resorted to blackmailing. They brought up the fact he was critical of the dictator Karimov, state administrators at regional and district levels. He faced troubles because of me too: His eldest son, Bakhodir Choriyev, criticizes Uzbekistan's leadership and does not recognize the country's "achievements." The pinnacle of the vicious attacks against Hasan Choriyev was a trumped-up case and the confiscation of his affluent farm. It is curious to see that the governor of Kamashi District, where my father established the abovementioned farm, has issued an ultimatum: either his eldest son abandons his oppositional activities and troubles cease to exist, or Hasan Choriyev would be imprisoned.
I have recently announced my plans to run for president of Uzbekistan. I have also said the oppositional movement I lead is quite capable of staging a "colored" revolution employing non-violent civic disobedience, given the dire status quo of Uzbek citizens.
Several days after the announcement, Hasan Choriyev has again faced the authorities' and the power-wielding bodies' assaults: He, a 71-year old ailing old man, is charged with trumped-up and politically-motivated allegation of raping a 19-year-old young woman. He has been held as a hostage in Karshi for two months. At that, contrary to the national and international norms, he is denied access to relatives and a public defender. But that "lawyer," who was removed from my own sister's case for inaction, states that all investigation and judicial proceedings are allegedly completed. However, we were unable to obtain pertaining documents despite the repetitive attempts of the public defender, other human rights advocates and friends.
The "lawyer" alleges the court sentenced my father to five-years-and-two-months imprisonment. This unverified news indicates that the central authorities in Tashkent want to imprison Hasan Choriyev, whatever the cost is. They do not care this old man has weak health; most probably, he is not provided with any medical attention. Therefore, concerns and worries expressed by relatives, friends and sympathizers in Uzbekistan and the USA are completely justified.
At this point, I would to point out two issues, which are covered incorrectly in mass media outlets. First, mass media outlets link the Saint Louis-Washington and Back political and anti-dictatorial rally, held under the "Freedom, Democracy and Human Rights for Citizens of Uzbekistan" slogan at popular support on 27-28 Jun 2013, with my father's arrest. That is not so, because the Birdamlik movement has planned the rally long before Hasan Choriyev's arrest, which has only fanned the flame. Second, we see my father's trumped-up charge not as an isolated and single case, but as an example of other tens and hundreds of thousands of people, who are illegally arrested and unjustly imprisoned in Uzbekistan. The Hasan Choriyev case rests on those factors, which the corrupt and repressive regime is intolerant of: a) he withstood the corrupt system; b) he did not allow the repressive system to scare him into silence; and c) he did not abandon politics, acute problems and political activities of his successful seven sons in the USA.
Unfortunately, there are very, very few independent, honest and brave Hasan Choriyevs in Uzbekistan nowadays. I am writing these in the sole pursuit of establishing justice, not because said person is my father. If anyone doubts my words, I urge to watch the three statements embedded in this article and you will see who Hasan Choriyev is for yourself.
His alleged "crime" once again confirms that legal nihilism, violence and injustice reign in Uzbekistan. The persecution of my father is testimony to legal nihilism and injustice in Uzbekistan. It also indicates the regime harbors vengeance against an old and ailing person for not bowing to their demands and for his sons' oppositional activity; that is disgraceful. Apparently, this is the reason why the civilized world, international human rights organizations and governments of democratic nations are interested in this case.
Bakhodir Choriyev, Leader
Birdamlik Popular Democratic Movement
Fergana international information agency.