Nadejda Atayeva: Seven-year imprisonment sentence and property confiscation for human rights activism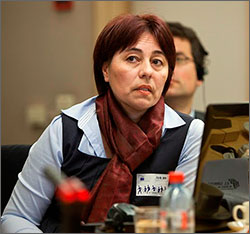 Photo: Nadejda Atayeva at a hearing on forced labour at the European Parliament, November 2011
On 22 Jul 2013, head of the France-based Human Rights in Central Asia Association announced on her Facebook page: "On 19 July 2013, the Tashkent City Criminal Court sentenced me, in absentia, to seven years in prison and to confiscate my property. The trial took place without my lawyer or myself. I was accused of embezzling entrusted property. The testimony of 69 witnesses, who had also been convicted and who had worked for my father, established my guilt. No expert's conclusion on the amount of damages was made available. This decision of the Uzbek "justice" was preceded by online and e-mail threats, provocations and numerous extradition requests. Well, we live on!"
News of the in absentia sentence of the leader of a human rights organisation that actively opposes the torture of prisoners in Uzbekistan, fights against the use of child labour among other issues was rather unexpected, and Fergana contacted Nadejda Atayeva to find out more.
- What was the origin of these criminal proceedings?
Nadejda Atayeva: - This in absentia sentence is really unexpected. Although our family has been subjected to criminal prosecutions since March of 2000 and these prosecutions were the reason why we left the country.
The story began in 1999 when my father, Alim Atayev, did not want to participate in the falsification of statistics on grains harvest. In 1996, President Islam Karimov announced a national program for food security and grain self-sufficiency. In 1997, my father assumed the post of the chairman of the Uzkhleboprodukt Corporation. The corporation consisted of 400 enterprises including grain mills, grain reception sites, bakeries, pasta and animal fodder production. These products were meant for the domestic market; the corporation fulfilled state orders, my father was a member of the government and behind the creation of Seed Stock of Uzbekistan.
It must be said that during the Soviet Union times, Uzbekistan used to receive grains from Russia, the Ukraine and Canada. When we started growing domestic wheat, it did not always meet the same quality indicators. My father was forced to take harvested wheat to storages directly from the fields because the grain was crude and without grain cleaning; or he was forced to use the feed wheat for food purposes. My father received reports of cases where employees of the Prosecutor's Office were in grain reception areas and threatened the employees to force them issues false numbers in reports, to reflect the moist grains' weight in statistics, and so on. My father struggled to resist all this by legal means. To prevent distortion of reports, he wrote to the Prosecutor General and the National Security Service (SNB). We preserved part of the correspondence: I had one copy, my father had another and a third copy was kept in a safe place ... We did everything to avoid being drawn into these crimes.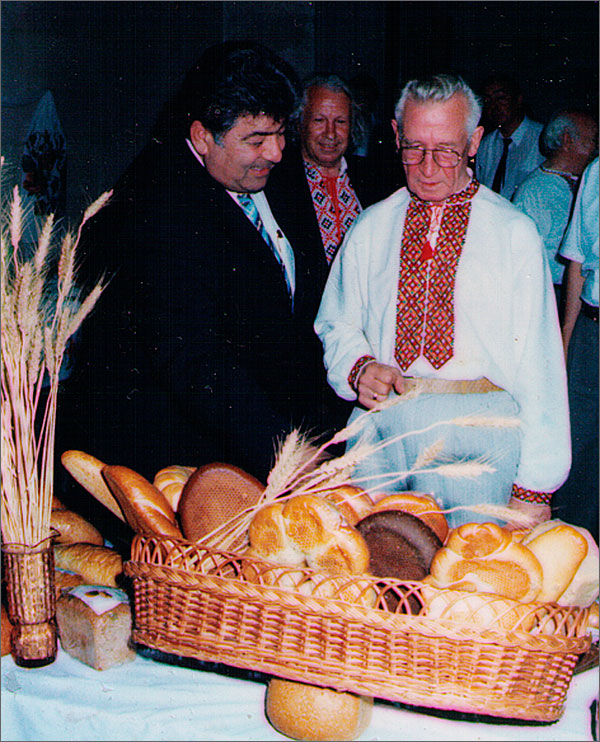 Photo: Alim Atayev, left. Photo dated 1999

A serious conflict arouse with the prime minister and deputy prime ministers. I worked in a private firm and was engaged in business in the field of investment at the time. During the next 18 months, which were an active struggle, we received serious threats and I was offered some enticing deals ... We had to maintain a very careful lifestyle, I hardly went anywhere. But my father truly believed that if President Karimov had been made aware of these reporting irregularities, there will be a reform on reporting of the grain yields, everything would work out, and the order would be restored. My father convinced me that we only have to survive all these "assaults" and threats.
The Uzkhleboprodukt Corporation had a secret National Security Division, whose employees were very attentive to all reports my father or his deputy filed. The impression was that everyone was interested in restoring order, and my father was anxious that the reports reached the president. He did not have direct access to Karimov and could reach him only via the prime minister or the National Security Services. However, the closer we moved to ensuring that President Karimov received real-time information, the greater pressure was exerted upon us.
In 2000, when Karimov announced that Uzbekistan had achieved grain self-sufficiency, my father was forced to send a memorandum to the National Security Service (SNB). In it, he wrote that grain resources were running low and that if we did not immediately begin importing grain, famine would cause the country to revolt in two or three months' time. He demanded this information was immediately reported to the president. A few hours after the memorandum was submitted, President Karimov called my father. During the call, my father told the president why and how the figures were falsified and what needed to be done to have real figures on productivity, accounting and storage of grain. It was in early March.
Just a week later, we learn that Karimov signed a decree to conduct a comprehensive review of the industry, and a commission for the task was composed of the same people who fought with my father and covered up the distortion of statistics.
A visiting session of the Cabinet of Ministers in Jizzakh Region was scheduled for 30 March 2000, and my father was ready to talk openly about the fraud at the session. He arrived in Jizzakh very early, registered his arrival and reviewed readiness of companies to receive new crop of grain. And then he received a call from a trusted person who asked him to take a taxi and meet with him. At this meeting, the trusted person showed my father a decree to arrest him and said: "Alim Atayevich, you will be arrested at so-and-so checkpoint on your way back to Tashkent. Your deputy is already arrested and they are collecting evidence against you from him (Deputy Chairman of the corporation for economic issues was arrested on 23 March). Your brother (Saparbay Atayev, Deputy Director of the bakery "Uch Kahramon Non") is in the same situation and he is subjected to torture. You cannot help them right now. The only thing that can save you and the people under investigation are your documents and your emigration."
For a long time, my father did not agree to take this course of action because he believed he was innocent, but in the end that person persuaded him and, on the same day, my father left Uzbekistan instead of returning to Tashkent. He went to Kazakhstan.
They called me to say my father was arrested. I was told to put together urgently the necessary documents and leave Uzbekistan, because papers for my arrest were being prepared. I knew it was serious: my father's brother had already been arrested, although his case was based on absurd charges, the authorities pressed on with it and the lawyers could not do anything.
My mother did not come with me; she said that she would stand by my father and face these challenges. We were pretty sure that my father had been arrested. I left my mother in a very grave condition, taking my six-year-old daughter and my foster sister who was not even 15 years old; we went to Shymkent and then to Almaty, Kazakhstan.
From Kazakhstan, I called head of the company I worked for and she told me, "Do not ever come back. Our accountant has been detained, and we are being forced to give evidence that we laundered money for your family." Our company rented two offices in the building that housed the corporation, which was headed by my father. Local authorities owned the building and we paid rent and all other bills officially via a bank. However, our company was accused of failing to pay, of abusing the official position of my father; I was told that the security-service agents who came with a search warrant tore all contracts, payment orders in front of the employees. And then I said, "Girls, if you are threatened, just sign anything they ask. These times will pass. I will write letters of complaint about the matter."
A few days later, I reached Moscow, went to the U.S. embassy and applied for political asylum. But the process dragged on and the children and I had to move to Tolyatti. Only two years later some trustworthy people transported us by car to France. In 2002, my brother, my father and I applied for political asylum in France; in 2005 my application was granted, France accepted the responsibility to ensure our safety. In violation of Articles 2 and 3 of the Interpol, Uzbekistan put the three of us on the Interpol wanted list, and about once every six months France receives extradition requests.
All these years, protecting the interests and the good name of our family, I continuously wrote complaints, contacting all authorities of Uzbekistan and beyond, up to the United Nations and international human rights organisations. That is how I became familiar with mechanisms of protection of human rights and then started my role as a human rights activist.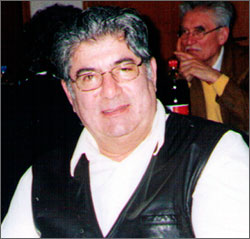 Photo: Alim Atayev at the meeting of human rights activists of France. Courtesy N. Atayeva's archive
- What happened to you your father?
- Between 2000 and 2002, I did not know anything about him. Only after having arrived in France, on the same day as our arrival, I had a meeting with him. It turned out that the same people who saved me helped him to come to Europe. My mother now lives in France too.
After our meeting, I began to understand more of this story. Now that I have been doing human rights work and know how accusations can be fabricated, I realise that our matter is one of thousands of similar cases.
- What are you accused of?
- I learned that the trial against the Atayevs was classified as "Matter of Special State Importance," and the case materials are contained in 79 volumes with 150 pages each. I and my brother Kahramon were sentenced in absentia to seven years of imprisonment and confiscation of property, our father was given a nine years sentence. We were found guilty under Article 167 (Larceny by embezzlement of large amount of entrusted property) and Article 205 (Abuse of Power).
But all the charges are absurd. For example, one of the charges against my father is an illegal sale of ten mini-bakeries. At the time, these ten small businesses were on the balance of the State Property Committee. The state issued a tender to sell them and they were looking for foreign investors. Yes, the corporation, which my father managed under a trust, managed the bakeries but appointed directors had no official authority to sell property. The chairman of the Uzkhleboprodukt Corporation definitely did not have such authority.
Or, for example, my father's brother was accused of illegally privatising an enterprise. But this company was privatised long time before my uncle bought it from a joint stock company, and there is a contract of sale, and other necessary documents that follow the procedure.
The same is true about other aspects of the case.
All the charges brought against us are made out of thin air. The investigation was conducted improperly, everything done leads into a great confusion, probably by design ... I wrote about this in my complaints sent to the Prosecutor General of Uzbekistan and Ombudswoman Sayora Rashidova, but my letters were all ignored.
We are accused of having caused damage of five million U.S. dollars to the state. How? I worked for a private commercial company. I was an ordinary manager of foreign trade operations and had no access to bank accounts or the right to sell of the company assets. My brother worked as a paralegal, the position is practically equal to a secretary. He, too, had nothing to do with any property. However, my brother and I are accused of conspiring with our father and embezzling the property of the Uzkhleboprodukt Corporation.
- Why do you think the sentence was handed down only recently on the case, which was launched 13 years ago?
- The limitation period on the proceedings against us was to expire in 2014. And Uzbek authorities are very annoyed by the work I do. After each statement issued by the Association we await a "response" of Tashkent. Following the familiar pattern, a few days after the release of our report about the attempt on Obidkhon Nazarov's life, the Uzbek television aired a propaganda film titled "Grain of Truth", where my father and I were announced as criminals who caused a damage of 13 million US dollars to Uzbekistan.
Soon after the publication of our petition about the Andijan events, our property was seized. Problems arose when we started the campaign with a call to boycott Uzbek cotton because of the use of forced child labour. After participating in the court against Lola Karimova, threats appeared on my social networks pages, and soon, a new extradition request came through.
And recently, it became known that my one-room apartment in Tashkent, the only property I have left and where my daughter is registered, was sealed off using a welder's device, and the Prosecutor's Office explained that this was done to ensure that terrorists did not show up at the apartment. Well, what can I say?
They also have tried to take away the apartment where my brother and parents are registered. A Commission comprised of the representatives of the Prosecutor's Office and the neighborhood committee, the district police and someone else came to the property and wanted to seal the flat ... So far, they have not been successful.
Recently, we have started to publish letters of prisoners in Uzbekistan. We put together a report on torture in prisons. And I think that the recent hearing of the case is the reaction of the authorities.
Maybe I am exaggerating. Perhaps this is due to the falsification of statistics and grain yield, which is now at its height. Back in 2011, Islam Karimov announced that over 7 million tons of grain was harvested. As my father says, if yield of grain is that high, meat in Uzbekistan should be free. Given the limited amount of acreage, this yield is higher than in Russia or Ukraine, but this cannot be factually accurate. My father thinks that the real figures are 2200-2400 tons including Seed Fund of Uzbekistan, not seven at all...
I can pay not much attention to the constant threats directed at me, loss of my property, the extradition request ... But it is very difficult to live with the fact that relatives who still live in Uzbekistan have been living under a constant pressure all these years; I have stopped all communication with them for the sake of their safety.
I never wrote or spoke about it, but none of our relatives can get a job for thirteen years, including my father's brother, who was sentenced to nine years in prison and released under an amnesty two years later. And now he is constantly threatened that he could be put behind bars. Many of our relatives were summoned by the National Security Services and urged to renounce their relationship with us.
But I cannot stop doing my work. I think, now, the only way we can influence the regime in Uzbekistan is to take an active civil position. And I am grateful to my family, especially to my parents, who have created all the conditions for me to continue doing my work.
Interviewed by Mariya Yanovskaya
Fergana international information agency.