Birdamlik Opposition Movement allocates $16K to initiate "velvet revolution" in Uzbekistan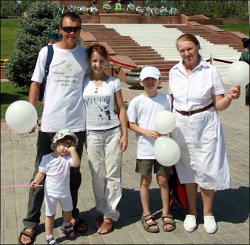 The Birdamlik Popular Democratic Movement urges you, esteemed Uzbek citizens living in Uzbekistan and abroad, to [join] a struggle for social justices and supremacy of law for the sake of humans' financial wellbeing, of real life and the bright days to come.
Bakhodir Choriyev, an Uzbek oppositionist living in the USA, chose these words to begin his appeal, which he and his activists circulated late last week. This is, therefore, the declaration of the first phase of a so-called "color revolution," which the movement, known for the protests it hosted in Uzbekistan and the USA, dubbed "OSh" or Ommaviy Shodlik (Mass Jubilee.)
Making "dreams come true"
"We, the Birdamlik Movement activists, want to celebrate the 22nd Independence Day of Uzbekistan with firm steps toward the supremacy of democratic principles. (…) If you want these dreams to come true and not remain as such, then follow us, the Popular Democratic Movement (PDM), to a peaceful struggle and a color revolution," the circulated appeal reads in part. "The PDM presents you the first phase of the revolution—mass disobedience, a peaceful struggle with no victims and losses aimed at toppling the dictatorial [President Islam] Karimov's regime!
"Try to shun that psychological dependence and fear, and take firm steps alongside us and join in implementing the revolution's phases," the oppositionists urge masses.
After a brief discussion of history of Uzbekistan, the Birdamlik activists advance their major demands and claims. Among them are: the Russian language
"remains dominant in all state bodies"; throughout the last two decades "only Karimov, his family, a bunch of officials and chiefs of power-wielding bodies" were able to enjoy "right for entrepreneurship"; and "the population remains poverty-stricken as it was before"…
Mr. Choriyev and his supporters are willing to eliminate such injustice in Uzbekistan. But, how? It turns out by peaceful means only.
"It is no secret that our country's citizens understand the word 'revolution' as a violent toppling of authorities. In reality, the real revolution starts when one is able to purge fear and indifference from their soul, and the conceiving of disgust of lies," the appealing authors clarify. "Therefore, a real revolution must first be able to win over one's psychology. A revolution in society will then occur, when people realize their civic duty and psychological changes obtain shape in real life. Believe that nobody should fear or be scared of fulfilling their duty before the society! We are ready to hold the OSh events, a non-violent struggle with no victims against the dictatorship reigning in Uzbekistan for almost a quarter of a century, which is based on corruption and violence. So, are you, the esteemed citizen, psychologically ready?"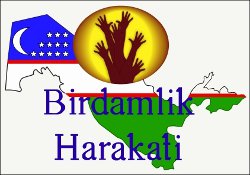 Birdamlik Movement logo
Having posed a rhetorical question, Birdamlik itself responds to it affirmatively and hopes Uzbek citizens will lend a helping hand. Indeed, there could be no revolution without the citizens' participation, right? They should, therefore "Join us, actively participate, and do not miss an opportunity to materialize dreams of good life and to taste victory over evil and [achieve] happiness."
Between 1 and 10 Sep 2013, Birdamlik is planning events in Uzbekistan and "anyone between the ages of 7 and 70 living in all regions of Uzbekistan and Karakalpakstan, cities, districts and villages" are eligible to partake in them.
The opposition movement has also mentioned the requirements to be met for the OSh revolutionary activities. Among them, the white color is specifically emphasized. "As we have already stated before, only light—the white color—is the force capable of withstanding the black fate. With that in mind, we must wear white garments, which will express discontentedness with the inhumane regime of Kariomov, which is based on violence and corruption. Whoever wishes to participate in this event between 1 and 10 September, they must wear white clothes of any sort—white headwear, dresses, shirts (trousers, skirts and shoes do not have to be white in color), a white hairband, a white scarf…"
Paying for the revolution
In an attempt to lure masses into the "revolutionary" events, Birdamlik is offering financial rewards for participating Uzbek citizens. The oppositionists announced a competition of photographs, which could lead to monetary prizes. Those willing to participate must take their photos (solo or in group) wearing white clothes "in their households, front yards, in streets, near state administrations, in parks, at the Alay Market" [the most known market in Tashkent], and then send those pictures to the selection committee. According to the contest organizers, "Photos taken near state administrations, on the square near the Alay Market, in groups if possible, have better chances of winning."
The leader of the movement, Bakhodir Choriyev, asks other well-to-do individuals interested in changing the status quo in Uzbekistan to get involved in his "revolutionary" plans and "if possible, provide financial and moral support to the Movement and the Uzbek people in toppling the inhumane regime of Karimov." Doing so would help Birdamlik to expand its OSh activities.
The grand prize of 3,000 USD will be given to the winner on behalf of Hasan Choriyev, the Birdamlik founder's father, who was recently sentenced to over five years in prison for an alleged attempt of rape. Six people will share the first place and be awarded 1,000 USD each. Another six winners of the second place will receive 500 USD each. Lastly, 18 winners of the third place will receive 170 USD each.
"The deadline for submitting photographs is 11 September. The contest winners will be announced on 20 September. The prizes will be sent to the winners beginning on 25 September," the document Birdamlik circulated reads. Thus, the organizers of the first phase of a "color revolution" in Uzbekistan are allocating 16,000 USD for a photo contest. But will there be any contestants?
First contestants
The contest was announced late last week. And there were people willing to participate right on Sunday, 1 September 2013, on the day of celebrating the independence of Uzbekistan, wearing white garments. A well-known human rights activist in Tashkent, Yelena Urlayeva, and her relatives were the first ones to respond to Birdamlik's call for photo submissions.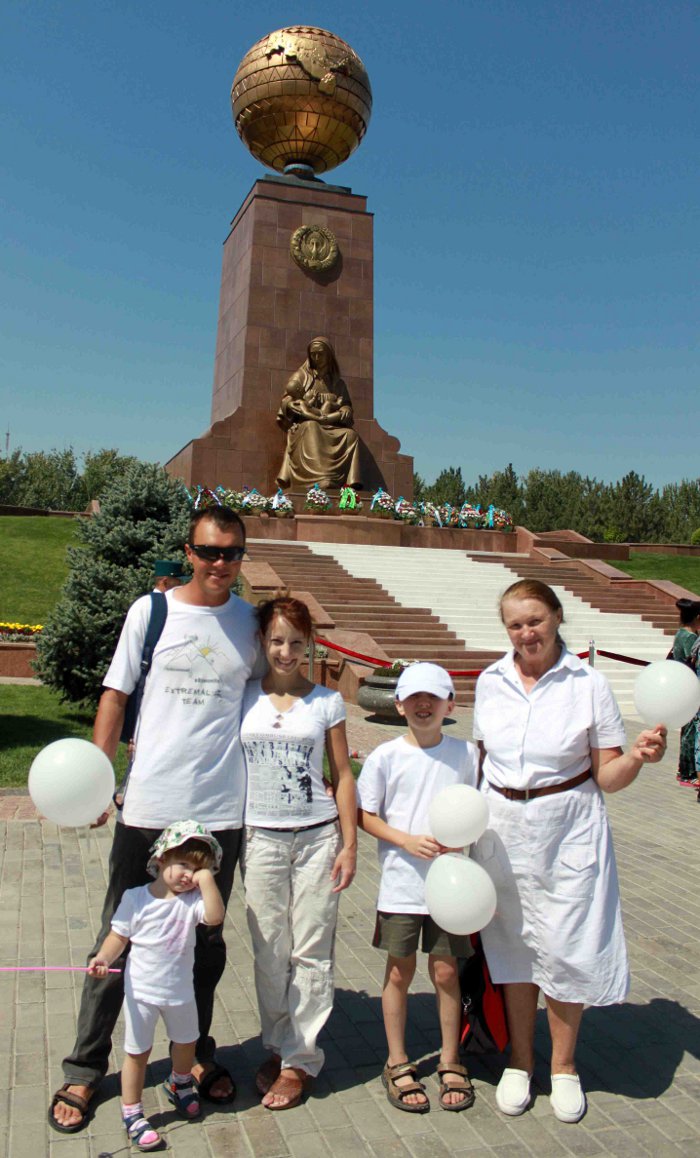 Ms. Urlayeva and her relatives pose at a famous independence monument in Tashkent on 1 Sep 2013. Photo courtesy of Yelena Urlayeva
"Human rights activists and citizens of Uzbekistan are increasing their participation in this activity and are putting on white clothes or accessories to express their solidarity," Ms. Urlayeva writes in a listserv. "The human rights activists engaged with the Alliance for Human Rights of Uzbekistan (AHRU) believe that such actions held in the authoritarian regime in Uzbekistan show people that it is possible to unite, share solidarity and not be afraid of the white color."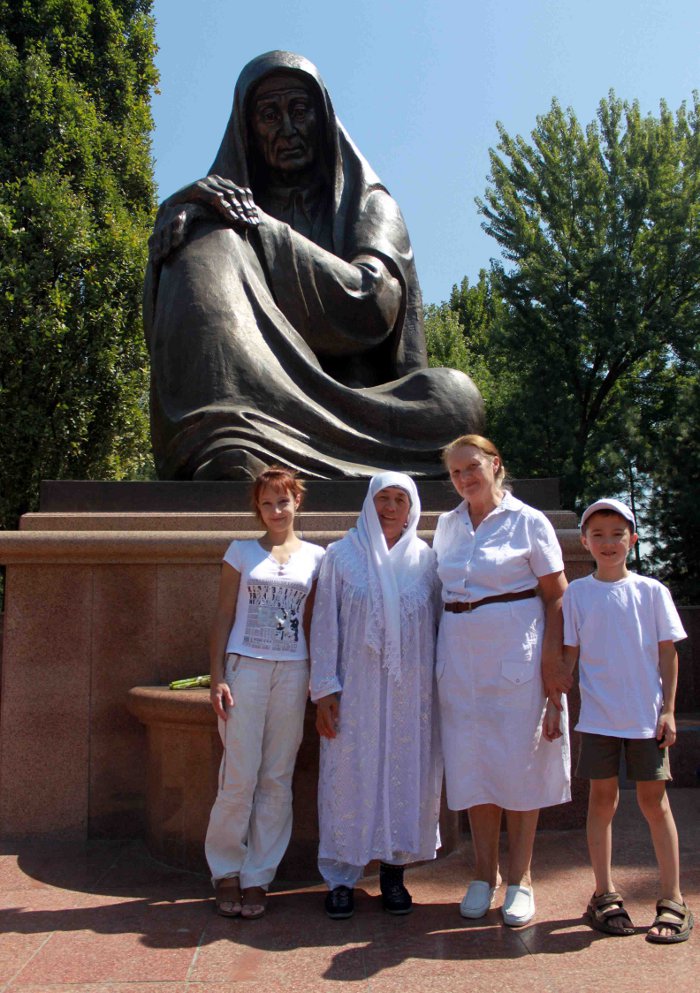 Ms. Urlayeva and other participants in Tashkent on 1 September 2013
Is this a joke or for real?
The former farmer from Uzbekistan and currently the owner of a private enterprise in the USA, Mr. Choriyev is a truck driver, an oppositionist and a promoter of a color revolution. Mr. Choriyev's name has been heard in connection with Uzbek opposition for a long time now. His name was first mentioned when his relatives staged "a termless rally" in front of the US Embassy in Tashkent in May 2005. (The rally lasted for less than 24 hours: police removed rally tents and 70 sit-in participants at night.)
Then the Birdamlik leader announced he was behind several extravagant protest events. For instance, in October 2011, he urged Uzbek citizens to lodge a mass complaint against officials at all levels. Some time later, Birdamlik activists attempted to administer a lottery to celebrate the constitution day, which was never meant to happen. With such a backdrop of insignificant events, one event Mr. Choriyev staged stood out. He has driven a semi-truck, followed by his partners on semi-trucks as well, in front of the Uzbek Embassy in Washington DC. He was arrested for doing so for a short period of time and later released; the US Department of State then received him for a conversation.
[Passage omitted: Choriyev uses ideas and principles of Gene Sharp and Robert Helvi. He has translated a book and a video on "velvet revolutions" into Uzbek. Security experts and regional analysts doubt his attempt will reach fruition.]
Time will show whether the attempts undertaken by Mr. Choriyev, who has surpassed all of the other exiled Uzbek opposition figures, over the last several months will be effective or otherwise. But one could safely say that the Uzbek authorities start panicking when he announces events of this sort, which always enjoy active feedback, at least from those abroad. This is the only way to plausibly explain the harsh conviction of his father, which is obviously forged, demonstrative and ungrounded, and is aimed at showing force to the incessant dissident.
Daniil Kislov
Fergana international information agency.