More children die on cotton fields in Uzbekistan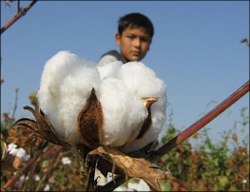 On 15 Sep 2013, a 6-year-old child suffocated to death under a heap of raw cotton in Bukhara Region in western Uzbekistan. The boy did not go to school on that day, but went to a cotton field to help his mother. He climbed into a trailer and fell asleep. Those collecting cotton did not notice him and dumped raw cotton collected during the day. The child's dead body was only discovered at a raw cotton storing facility.
Only the Prague-based Uzbek language service of the RFE/RL was the only mass media to report on the incident. No print or electronic mass media outlet in Uzbekistan reported on the boy's tragic death.
Perhaps one could it say it was just a tragic accident. Maybe it was. However, no such thing would have occurred if the human life were valued in Uzbekistan: farmers would work on cotton fields, not students and state employees, who are summoned to cotton fields in hundreds of thousands every year, not schoolchildren, not breastfeeding mothers who have to take their infants to cotton fields. Uzbekistan has been successfully implementing this practice since the Soviet Union times. And it was perfected into virtual slavery of millions of citizens following after the independence in 1991.
Reportedly, the local prosecutor's office has launched in an investigation into the child's death. He has been buried. His father was unable to say goodbye to him because he is breaking his back in Russia. This father is a "gastarbeiter," as Muscovites indignantly put.
According to Ozodlik, this is the third child victim of this year's cotton campaign. On 16 Sep 2013, a fourth-year student died in a fistfight in central Uzbekistan. In another accident on 9 Sep 2013, a 16-year student was killed by an exposed live electricity cord, which she accidentally grabbed fearing she would fall into a water ditch.
And yet, the Uzbek authorities incessantly continue summoning people to cotton fields; sick and ill ones are not safe either. For instance, a third-year student in Karshi, Barkhayot Turayev, was expelled from his lyceum for failing to contribute to picking cotton despite the valid reason of being sickness. This boy suffers from the eczema of hands, but he still was not allowed to stay away from the cotton field. He was told "You undoubtedly cannot collect cotton. But you will still join others and do other kinds of work."
Every single year, tens of people die on the cotton fields. But no Uzbek mass media reports such incidents. Nor do foreign ones…
Daniil Kislov
Fergana international information agency.