Uzbek journalist Sergey Naumov detained by police, whereabouts unknown
Sergey Naumov, 50, is a citizen of Uzbekistan. He contributes to Fergana, the Institute for War and Peace Reporting, and other print media. He won several international competitions among journalists.
Journalist Sergey Naumov has been missing and nothing has been known about his status or whereabouts since last Saturday when police detained him in the town of Urgench in western Uzbekistan. He is presumed detained in his house. Mr. Naumov's friends visited all the police stations in town and called the National Security Service and yet failed to locate his traces. Some suggest his detention is aimed at "isolating" the journalist while the forced cotton-picking campaign is underway by imposing trumped up charges. The well-known journalist's colleagues are certain that Mr. Naumov is innocent before the law and they urge international oragnizatios to immediately get involved in his case.
The Khiva-based Najot [Salvation] human rights organization is holding its own investigation into the journalist's disappearance. Director Khayitboy Yakubov told the IWPR Mr. Naumov's neighbors told his organization they "knew and heard nothing about the journalist's detention."
Communications with Mr. Naumov interrupted on Saturday night at around 1900 hours local time. He was then able to call his colleagues and tell them he was in a local police station. He said no word of the reasons for his detention. All of his phones are blocked at the moment.
According to the IWPR, the local police was interested in Mr. Naumov's activities since late August. The independent journalist and expert, who used to write reports and articles on pressing issues, was questioned about his activities. He was later released.
"As soon as the cotton-picking campaign was launched in Khorazm Region on 16 Sep 2013, Mr. Naumov started collecting material [to write] about the issue. Several days prior to that, a 'commission' arrived from Tashkent to inspect the situation on cotton fields. It is, therefore, possible that the authorities are neutralizing all those having some kind of verified information on the matter. Mr. Naumov could have fallen as a victim to this neutralization effort," the IWPR writes.
Fergana's own sources reported that a local police officer flanked by several other colleagues came to Mr. Naumov's house at around 1700 hours on 21 Sep 2013. "When they were taking the journalist away, the neighbors attempted to protect him, arguing he was the most peaceful resident in their apartment [complex]. The local police officer said a woman wrote a complaint against Mr. Naumov alleging he attempted to rip her golden necklace off. I can neither confirm nor refute this allegation at this time. But the its absurdity is obvious."
It is noteworthy that the Uzbek authorities often utilize false allegations advance by "victims" and later "verified by eyewitnesses" to pressurize journalists, human rights advocates and political dissidents. For instance, Solijon Abdurakhmonov, a journalist and a human rights activist, was arrested on an obviously trumped up charges of possessing narcotics in the fall of 2008. In the summer of 2009, Dilmurod Saidov was detained for extortion and document forging. In August 2013, a 71-year-old father of the oppositionist Bakhodir Choriyev was charged with a rape attempt.
Mr. Naumov's situation is very worrisome and is causing concerns among his colleagues abroad and international human rights organizations. The Human Rights in Central Asia Association was the first to circulate a press release concerning the journalist's arrest. The AHRCA is urging all interested parties, organizations and mass media outlets to engage in Mr. Naumov's case and apply every effort to ensure his soonest release.
Fergana continues watching journalist Sergey Naumov's fate. If you have any information on his whereabouts or need information in this regard, please contact the editor-in-chief Daniil Kislov at dan [at] kislov.ru
Meanwhile
On 26 Dec 2009, Sergey Naumov won a competition among journalists who covered the Russian-Uzbek relations. The competition was held to celebrate the fourth anniversary of the Agreement on Amicable Relations between the Russian Federation and the Republic of Uzbekistan.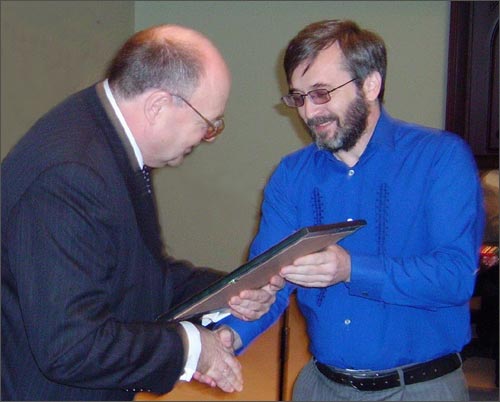 Russian Ambassador to Uzbekistan Vladimir Turdenev awarding Sergey Naumov

Fergana international information agency.