Breasts, fish, cotton - why did Uzbeks jail reporter Sergei Naumov?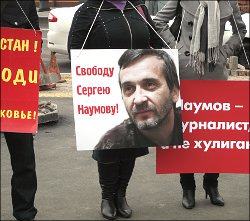 "I don't give a f…k!" said a drunken Russian youngster after hearing why a small rally was being held not far from Uzbekistan's Embassy in Moscow on Tuesday. Having said that, he took off with a similarly drunken companion, leaving behind a handful of Russian and Central Asians protesters who stood with posters on a small patch of asphalt between a bookstore and a toilet under the supervision of two police officers.
Why does he need to know words like "Urgench," "cotton," "Karimov?"
Other passers-by were more sober and attentive, they asked questions, listened, nodded their heads – and left. Enough problems of their own, here, not in the middle of nowhere that once was Soviet and now is Uzbek and independent. Even a poster reading, "Give freedom to Sergei right away, he never got hold of anybody's breasts!" did not grab their attention.
A solemn, dark-haired young woman named Lyudmila was holding the poster. She is the daughter of Sergei Naumov, one of a dozen independent journalists in Uzbekistan, a handful that is slightly bigger than the number of protesters at the Moscow rally.
A dozen for the entire Central Asian nation of 30 million, and in his native city of Urgench, the capital of the Khorezm region – one of the oldest agrarian communities in the former Soviet Union that is separated from the rest of Uzbekistan and the world by steppes and deserts – reporter Naumov is all by himself.
He is the only person down there to cover, muck-rack and expose everything that happens in Khoresm because of the nature and the power of the authoritarian Uzbek state.
He covers the persecution of dissidents and human rights advocates, the suppression of defenseless people by police and officials – the demolition of houses without a dime of compensation, the overpriced and crumbling municipal utilities, the extortion of bribes from market vendors that have already become constant victims of the extremely high and illogical taxation.
He writes about fish poaching in Khorezm and the neighboring Karakalpakstan – try to pronounce it – region located right in the middle of one the world's worst environmental disasters, the desiccation of the Aral Sea, where our planet's youngest desert is growing instead of the dried sea that was killed by the utopian Communist plans to divert regional rivers for cotton farming.
And, of course, he ceaselessly wrote about the forced and child labor in cotton picking, an annual Uzbek disease that affects millions of people every fall – the people that are forcibly herded to pick what was once called "the white gold" that only enriches the powerful clans close to Uzbek President Islam Karimov.
Naumov works for Ferghananews.com, the Institute for War and Peace Reporting and several other news websites that – mostly on Western grants – cover developments in the nation where state-run mass media evolved into a weird hybrid of Soviet propaganda and corny Oriental verbosity.
Naumov has also extensively written about the construction of a Russian Orthodox church in Urgench for the ageing and thinning ethnic Russian population – less than 3,000 in the region of 1.5 million. For one of those stories he received an award from the Russian embassy in Uzbekistan in 2009.
But none of the Russian diplomats moved a finger when Naumov disappeared on September 21 after police rounded him up near his apartment building. In a brief telephone conversation he told a colleague about his detention – and then his phone went silent. The colleague assumed the possible reason of his detention was Naumov's coverage of the cotton-picking campaign that had just started in Khorezm.
Three days later they learned that he was thrown in a pre-trial detention center in Urgench and charged with "petty hooliganism" because he allegedly verbally abused a woman named Dilorom Matyakubova – and fondled her breasts.
The journalist later told Ferghananews.com that the woman – who sports a mouthful of golden tooth caps and is known among local human rights defenders as the owner of a bordello and a sometime-provocateur who helps police frame dissenters – pushed him in the back and called him a "Russian drunk." Several police officers just happened to be nearby to take Naumov away.
At a hastily arranged trial that took place just hours after his detention, he was sentenced to 12 days of arrest – and his lawyer later said that the trial was full of procedural violations. An anonymous source in Urgench police told Ferghananews.com that the reporter may later be charged with no less than human trafficking.
The accusation seems far-fetched only to those who don't know much about political trials in Uzbekistan – because Uzbek authorities have been convicting and jailing dissidents, opposition figures and reporters on much more exotic charges.
In August, 71-year-old Khasan Choriev was accused of trying to rape a 19-year-old woman – after his son, US-based truck driver and opposition activist Bakhodir Choriev, held several anti-Karimov rallies.
In 2008, human rights defender Solozhon Abdurakhmanov was jailed for allegedly selling drugs. Less than a year later, reporter Dilmurod Saidov got a 12-year sentence for alleged extortion and use of forged documents.
After a government-orchestrated bloodbath in the eastern Uzbek city of Andijan in 2005, when government troops opened fire on thousands of mostly peaceful protesters, more than a dozen human rights activists and several hundred protesters who survived the massacre were sentenced to jail, and the charges varied from an attempted coup to extortion to pollution of land.
On Thursday, Naumov was released, but police still have his passport. He said he spent the 12 days in a cold cell that smelled like "public latrine at a bazaar" – and shared the cell with a man who said he had served time for three murders.
The Moscow rally was but an echo of an international outcry by human rights groups, and we sincerely hope that the outcry will help save the 50-year-old reporter from other accusations – although the response of Uzbek authorities is not very different from what the Moscow drunk said.
Fergana international information agency.