Russians Worried about Spread of Cancer-Causing "Sucking Tobacco" from Central Asia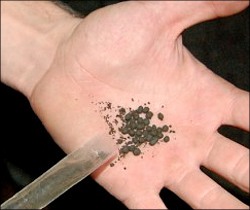 Contact between a human body and quick lime is more likely to be associated with the gruesome dissolution of mafia victims' corpses than with getting high.
But this contact can produce the quick and intense euphoria one gets from nasvai, or "sucking tobacco" that comes from Central Asia, mostly in the travel bags of labor migrants that have flooded Russia in the past decade.
It can make an inexperienced user sick – or cause cancer in an experienced one. Although nasvai was banned in Russia in June as part of a new anti-tobacco law, it is still sold at street markets, near bus or train stations at dirt-cheap prices.
Nasvai is green, oil-covered, smelly little pellets – or, sometimes, powder – that has for centuries been popular in Central Asia where Muslim clerics disapproved of smoking as a "satanic" Western habit.
Peppercorn-sized or smaller, the pellets or powder are made of tobacco, oil, willow bark ash and quick lime and cost about 10 rubles ($0.3) for a credit card-sized bag-full – about three times less than the cheapest pack of cigarettes.
It is an exclusively homemade product – usually made by families that keep its recipe secret for generations and sell their product at bazaars – that has never been certified or mass produced in Central Asia or Russia.
Nasvai users place several pellets under the tongue or between the lower lip and front teeth. The lime corrodes their mucous membrane and helps nicotine reach the blood stream in less than a minute – resulting in an intoxication that lasts for up to 10 minutes.
"It gets me high alright," Alexei Barinov, a red-faced and wiry 32-year-old Muscovite in an unbuttoned shirt mumbled several minutes after buying a bag of nasvai and putting several pellets under his tongue. "It goes well with beer."
Seconds later, he sputtered a greenish spit – because nasvai stimulates salivation, but swallowing the spittle may cause severe vomiting and diarrhea. In about five minutes, he spat out the nasvai pellets on the asphalt and walked to a kiosk to buy some beer – because nasvai also causes one's mouth to dehydrate.
Like many other nasvai users, Barinov believes that it is far less detrimental than tobacco – because his lungs remain intact. But the combination of lime and tobacco could be carcinogenic, according to Central Asian and Russian health experts.
"Undoubtedly, the occurrence of tongue and larynx cancers is much higher in nasvai users," says Prof. Farkhod Odinayev of the Tajik Medical University. "They also face gum lesions, gastritis and esophagus cancer."
A medical expert from Kyrgyzstan said that his nation's health ministry never conducted specific research on the health effects of nasvai use.
But "there is a common opinion that nasvai increases the frequency of oral cancer," insists Nurlan Brimkulov, Kyrgyzstan's chief pulmonologist, who also studies tobacco-caused cancers.
Russian doctors agree.
"Lime irritates your mucous membrane, causing the tissue to grow, sometimes into a tumor," dermatologist Timofei Ryumin said. "Being a strong carcinogen, nicotine makes it even worse."
Another expert warned that nasvai is more addictive than tobacco.
"Nasvai is the most barbaric, the most traumatic way of using tobacco," Alexei Nadezhdin, head of the National Scientific Center for Drugs Research under the Health Ministry told Russian media in January. "One gets addicted to it much faster than to cigarette smoking."
The oral use of lime proved carcinogenic even without tobacco, the World Health Organization said. Chewing of areka nut mixed with lime and wrapped in bethel leaves, a traditional pastime in Southeast Asia, is a "cancer-causing" habit even if the mix does not contain tobacco, the WHO said in 2003.
Back in 1968, Lucia J. Dunham of the U.S. National Cancer Institute found that the world's three areas with "unusually frequent cancers of the oral cavity in males" are the regions where men orally use lime with plant alkaloids such as tobacco, coca or bethel – respectively, Central Asia and Iran, parts of Latin America and Southeast Asia.
Russian media claim that 80 per cent of patients with lip cancer in Uzbekistan, Central Asia's most populous nation of 30 million, have used nasvai, quote statistics of the State Center for Cancer Research in the Uzbek capital, Tashkent.
A 2013 research into the use of nass, nasvai's Iranian equivalent, concluded that "smokeless tobacco is very strongly correlated with cancers of the cheek and gums," according to a publication on the website of the Dental Research Journal in the Iranian city of Isfahan.
But Nasvai peddlers, understandably, defend their product.
"It's totally harmless," said Mukhlisa, a 34-year-old labor migrant from Tajikistan who spends her days outdoors, between the bustling Kievskaya railway station and a stinking public toilet.
"You just need to brush your teeth more often," she added, breaking into an impeccable Hollywood smile. She refused to provide her last name because she works without a permit.
In her native Tajikistan, an impoverished Central Asian republic of 8 million, people start using it "at 13 until they grow old," the dark-haired and sun-tanned woman said standing next to a knee-high square bag with several kilograms of nasvai of three kinds.
Mukhlisa admitted, though, that she does not get high on her own product – and never sells it to children.
Other nasvai dealers are obviously less picky – health experts, officials and politicians voiced their concern about nasvai consumption by schoolchildren – with teachers barely noticing that their students get high during classes.
"All our schools are now covered with this green disgusting spit, because 95 percent of nasvai users are teenagers," Dmitri Nosov, a lawmaker with the Russian Social Democratic Party, told Russian media in January.
"The use of nasvai by schoolchildren is one of the largest problems of our region," Tatyana Kudryavtseva, a school principal and regional lawmaker in the south-eastern city of Gorno-Altaisk told RIA Novosti in 2011. "The problem is that it is sold to schoolchildren almost on every corner for 10 rubles per bag."
A former school student recalled seeing her friends use or try nasvai.
"A friend of mine is using it [regularly], many in my school tried it, but now they disapprove," university student Sofya Engel said about her high school friends in Moscow's public school 19.
Alexander Sidyakin, a lawmaker with Kremlin's United Russia party, told the Izvestia daily in late June that Russian law enforcement agencies are "powerless" when it comes to restricting the sale of nasvai in schools.
He told Izvestia that nasvai should be listed as a hard drug and its sale should be punishable by a fine of up to $15,000 or a prison sentence of up to 15 years – just like the pushing of illicit drugs such as heroin.
His opinion, however, differs from what the Russian anti-drugs czar's. Viktor Ivanov, the head of the Federal Drug Control Service (FSKN), has repeatedly said that his agency considers nasvai a light drug – just like other tobacco products.
His agency, however, thinks that nasvai contains toxic elements such as heavy metals that are potentially hazardous.
In April, FSKN charged three nasvai peddlers in the West Siberian Novosibirsk region with selling a product hazardous to life and health of consumers. The peddlers that hail from Tajikistan face up to six years in jail, the agency said in a statement.
Despite the proliferation of nasvai in Russia, millions of Central Asian labor migrants appear to constitute the overwhelming majority of nasvai users – as well as buyers and importers – in Russia.
An Uzbek labor migrant that arrived at Moscow's Kazansky railway station in early July said that nasvai is an obligatory part of his luggage.
"It's for me and my friends," Kendzhabai Odylov, a suntanned and stocky labor migrant from the Uzbek city of Andijan said as he showed two plastic bags with nasvai that weighed about three kilograms (6.5 pounds).
By Mansur Mirovalev/Fergana.Ru
Fergana international information agency.