Uzbekistan: Esprit De Corps More Important Than Death in Custody During Questioning?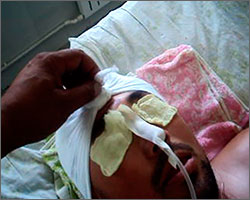 The most striking part of the tragic event that took place in the city of Namangan in Uzbekistan this June is the law enforcement and supervision authorities' absolute unwillingness to interfere, although it is murder we are talking about. According to the killed young man's mother, her son was beaten to death by policemen, and then law enforcement agencies put esprit de corps higher than evidence, the mother's heart-break, as well as the fact that two children were orphaned and left without a single breadwinner.
The desperate mother's efforts to right the wrongs and have the guilty punished proved futile: none of the responsible individuals was willing to confess their guilt and confirm their taking part in cruel violence against the defenseless young man. Moreover, even the ombudsman in Tashkent to whom the mother appealed rejected her pleas to hear her out and thought it unnecessary to even take a look at the evidence in the case.
Tashkent journalists did not find the story worthy of their time either.
"My son tragically perished at the age of 28," says through tears Rakhima-khoji Karabayeva of the village of Oltynkul in Mingbulak District in Namangan Province, the mother of Muzaffar Karimov, the young man who was tormented to death in a local police station. "The circumstances of his death remain unclear. He comes to me in my dreams every night. It has been months since his death. In my old age I had to master the writing craft to write to all instances and official channels, just to receive meaningless responses."
Ms. Karabayeva spoke to Fergananews.com, saying that she is at the end of her rope trying to establish what happened based on documents and witness testimony. How could it be that the polite and friendly young man, the pride of his village, known for his hard work and ability to get along with people, became the victim of lynching, but not by a street gang, but rather by people in uniform whose job is to preserve peace and quiet.
How could it be that the young man, full of energy and an athlete since young age, who willingly chose to serve as a border guard after graduating from a law college, and who, after being honorably discharged, applied for a job at a law enforcement agency (and even passed the interview, medical examination and other stages) was at once victimized by the same very system?!
While waiting to start his work at the law enforcement agency, Muzaffar mastered several construction-related professions, and he was often invited to work at various construction sites.
The Set-Up that Cost Him His Life
One such on-the-side project at a construction site on June 12 became his last. Muzaffar was doing some work for a former policeman Rakhim Kuldashev, who accused him of stealing his mobile phone and turned him in to the Mingbulak police station. According to witnesses, Kuldashev's son, Babur, newphew, Ilkhom Khaidarov, and acquaintance, police investigator Yekubjon Pulatov, participated in Muzaffar's apprehension.
What took place at the police station is unclear. But an hour and a half later, unconscious Muzaffar Karimov was rushed to a local hospital in an ambulance with "craniocerebral trauma." He was operated on with little success and then rushed to the Namangan branch of the National Scientific Center for Emergency Care where he died several days later, having never woken up from his coma…
"At the time of his rumble with Kuldashev, my son was completely health, and he walked into the local police station healthy, but approximately an hour and a half later he was taken out of there on hand frames," continues through tears Rakhima-khoji Karabayeva. "All doctors in one voice contend that he was wearing dirty and wet clothes – there was even sand in his hair – but there were no apparent injuries. Not everyone noticed strange details even during the subsequent expert examination."
All of Muzaffar's fellow villagers know that Kuldashev owed his workers about half a million soums for several days of work, and when Muzaffar expressed his dissatisfaction, Kuldashev gave him his old mobile phone that was not even working, and then accused him in cold blood of stealing it. It was a set-up arranged in order to avoid paying the workers. It was confirmed by Muzaffar's co-worker, Muhammad Erkebayev, who was also a victim of the former policeman's fraudulent actions.
"We were doing some work at Rakhim Kuldashev's new cottage," says Erkebayev. "He owed us 520,000 soums (about $200) for the work, but kept delaying, and then just used his old connections in law enforcement to accuse a hard-working young man of theft in order to avoid paying the debt. None of Muzaffar's friends believe he was capable of stealing."
Even some policemen cautiously point to Kuldashev's reputation.
Kuldashev, a former police investigator, was known in his circles for his greed and cruelty. He was not respected by his neighbors in the village. His police service ended when he found himself in court, charged with squandering state property under Article 176 of Uzbekistan's Criminal Code. He had a narrow escape though.
There Was No Crime, of Course
Unfortunately, in Uzbekistan, when a case involves dirty law enforcement agents, experts of the so-called "commissions" are ordered to do whatever is necessary to clear the torturers and murderers in uniform of any charges. Otherwise, it may cost many officials their posts, while also hurting police statistics, where every paragraph starts with "we are against torture." In other words, washing their dirty laundry in public is not in our law enforcement agencies' habit.
The finding of the Mingbulak District Prosecutor's Office completely complied with the rule and "found no crime in this instance." The Internal Affairs Department of Namangan Province concurred, claiming that the Mingbulak district policemen "committed no unlawful acts against the victim" "whose death was caused by an acute disorder of blood circulation in his brain, cerebral-stroke haematoma in the left hemisphere, which led to brain swelling, and cardiovascular and lung failure."
This is a story worthy of an inexperienced fiction writer: leading physicians and members of the commission of experts conducted an examination and wrote a 27-page report on the death, including a detailed account of Muzaffar Karimov's arrest and transportation to the police station because of the ill-fated mobile phone! (The documents are available.)
According to them, he felt sick (why would he? – Editor's note) in the police station, and then he lost consciousness, after which he was taken to hospital. It is noted on the second page of the report that the physicians "will need to establish" the cause of death, presence of craniocerebral trauma, signs of cerebral haemorrhage, and disorder of cerebral blood circulation (How do they know so much ahead? – Editor's note).
A non-expert would find it hard to navigate the thick of medical terminology. However, the injuries listed by the experts on the last page (a bruise and abrasion on the lower lip caused by a heavy blunt object, scars on the back of the hand and on the leg, bedsores and signs of injections) neither individually, no taken together could cause his death as those are minor injuries.
The report concludes that "no closed craniocerebral trauma, serious brain injuries or internal bleeding was found," although those were frequently mentioned in the body of the report.
There is another strange thing. Page 14 includes the following description in Russian (the report was written in Uzbek) of the part of the brain that contains cerebrospinal fluid (style and orthography preserved):
"The left and right lateral ventricles of cerebrum were deformed. The density of the substance inside is +80 N (Newton units). In the third and fourth ventricles there is pathological substance with density at +75 N on average. The middle structures are dislocated rightwards by 0.3 centimeter. At the left perietal portion there is a pathological zone of high density of up to +80 N. The density of cerebral matter is diffusely low…
Computer tomography revealed a cerebral-stroke haematoma in the upper part of the brain; brain structures were dislocated. The diagnosis is acute haemorrhagic-type disorder of cerebral blood circulation."
There was no mention of the causes of the deadly injuries.
Independent experts, pointing to the "brain structures were dislocated" part, conclude that the young man received a heavy blow to his head. The switch to Russian in this portion of the report was deliberate, in the hopes that the poor mother and her relatives do not speak the language.
He Slipped and Fell
According to the mother, an attempt to draw a cause-effect link between her son's horrible death and the huge crescent-shaped bruise on his forehead is only made in one short sentence, which the experts had to include.
"The physicians' above-mentioned conclusion that details the minor injuries and scratches makes no mention of this bruise," says perplexed Rakhima-khoji Karabayeva.
What is mentioned in great detail though, according to the mother, is her daughter-in-law Nasiba's testimony, in which the latter states that she saw the mobile phone in Muzaffar's hands and heard that he was about to go demand the money he had earned, as well as the testimony of a rank-and-file policemen on duty at the station on that day, N. Akhmadjanov, who called the ambulance.
"The way he describes it is as if the unknown person – my son – fell to the police station from the Moon and lost consciousness," says the grieving woman. "And, according to him, the first ones to rush to his help, the saving angels, were the same very police investigator, Pulatov, the head of the investigation department, Abdurakhmanov, and police operative Shafkat Isarov.
There is no doubt that the head of the police station, Sanjar Abdullayev, was aware of the incident, but he protected his subordinates, as well as esprit de corps. But can these butchers continue to wear the uniform of the internal affairs agency of the Republic of Uzbekistan?!
It hurts me as a mother to watch and re-watch the video of the examination of my son's body, but I have to. It is clear that such brain damage could be caused by a heavy blow to the head with a heavy blunt object, other violence and a fall. It appears that the bone-breakers were overzealous, and the medical experts had to dissolve the truth in the 27 pages of their report in order to replace the dangerous "craniocerebral trauma" diagnosis with the relatively harmless "slipped and fell." But murder will out," says Rakhima-khoji Karabayeva.
A Blow to the Head with an Iron-Shod Heel
It is impossible to describe the pain that the mother feels when watching the horrible video that includes images of a huge bump and a crescent-shaped bruise on her son's forehead, with the crescent's horns directed downwards, in addition to several bruises on his body not listed in the report.
In her desire to establish the cause of the bruises, the elderly woman had to learn to use the Internet, studied photos of injuries caused by RP-76 rubber batons, and consulted with athletes and retired policemen.
According to them, the "law enforcers," while torturing and beating people, try to avoid certain parts of the body, such as the face and head, to avoid leaving marks, and often use "innovative methods," such as blows with a wet towel or rubber, as well as throwing the one they are questioning against the wall, a heater, etc.
Experts confirmed that it seems that the blow in this case was dealt with a boot, specifically, an iron-shod heel. If the one of the receiving end of the blow were in a standing position, such a deadly outcome would not be possible. "It was much worse: my son was thrown to the ground and kicked. Who specifically dealt the deadly blow with a heel to a lying person whose head was pressed against the floor is unknown. But I know one thing: my sons put up no resistance, although he practiced karate professionally and even became the Ferghana Valley champion once. He was a law-abiding citizen and feared that his attempt to defend himself would be taken as resistance to authorities," says our inconsolable interlocutress.
The only thing that Rakhima-khoji Karabayeva asks of the heads of the Ministry of Internal Affairs is that those guilty of her son's cruel murder, who continue working in their positions and enjoying peaceful life, are brought to justice and harshly punished.
The grief-stricken woman still believes that no other scenario should be possible in a country that abolished death penalty and declares efforts to impose rule of law and reform its judicial system.
"Our law states that only those who have committed aggravated murder and acts of terrorism can be sentenced to life in prison," says the mother. "Even if my son did steal the broken mobile phone, he apparently did not deserve death."