Uzbekistan: Veteran US NGO Worker Paralyzed by Stroke Risks Ending Up on Streets of Tashkent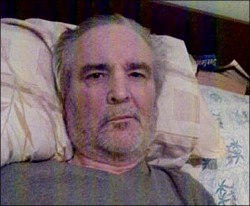 Richard Glaub, a US citizen who worked as director of the National Democratic Institute in Uzbekistan for six years, now lives in Tashkent and is in a desperate, bedridden state.
And there is a risk that by mid-December, he and his wife could end up on the street, without any money or medical assistance.
"On November 12, 2012, Richard was brought down by a stroke, which left him paralyzed," says his wife, Lidiya Glaub. "Ever since then, Richard has been trapped in bed and the burden of taking care of him has fallen upon me, even though [I have health problems too]."
Lidiya Glaub says she and her husband lived a happy married life for 11 years. Now she is caring for her helpless 61-year spouse, living in a rented apartment, the lease of which ends on December 15.
"All our savings have gone on treatment and keeping Richard in hospitals and at home over the past year," said Lidiya Glaub, who says she has grown weary of pestering the U.S. Embassy for assistance. "Shortly before this calamity, we had packed our bags to go to America. By twist of fate, his health insurance, which would have guaranteed him free treatment and rehabilitation in any country, had run out ten days before the stroke. Who was to know?"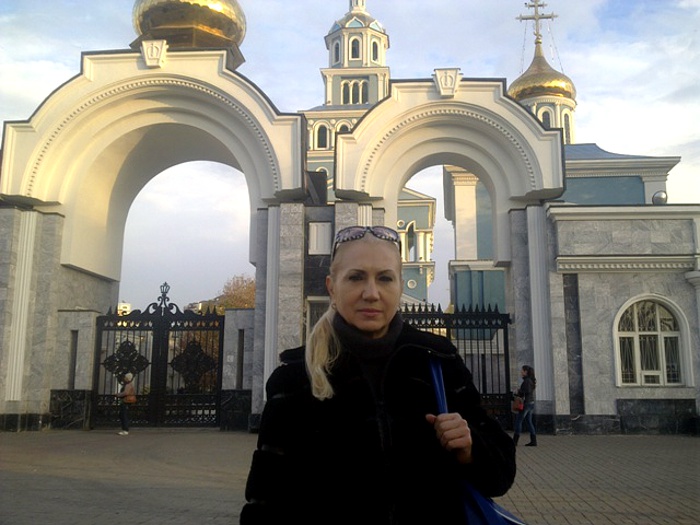 Richard's wife: Lidiya Glaub
"If I cannot pay for the $250 monthly rent, then I will soon find myself with a very ill man, on the street. Also, I need to pay for the cost of another business visa for my husband and that's another $160. Today, I don't have enough money even for disposable diapers– one package barely lasts one week – not to mention expensive drugs. For that reason, we were forced a few months ago to give up medical treatment. I don't have a job and since I am bound to the patient, we practically live hand to mouth, mired in debt," she said.
Lidiya Glaub is going through the motions of securing her pension, but that will be of small help in any case.
Richard Glaub is a client with US lender Capital Bank and has an account containing a decent sum of money. The card for the account is valid until January 1, but the problem is that under the bank's strict rules, no foreigners, even close relatives, are eligible to withdraw money from the account.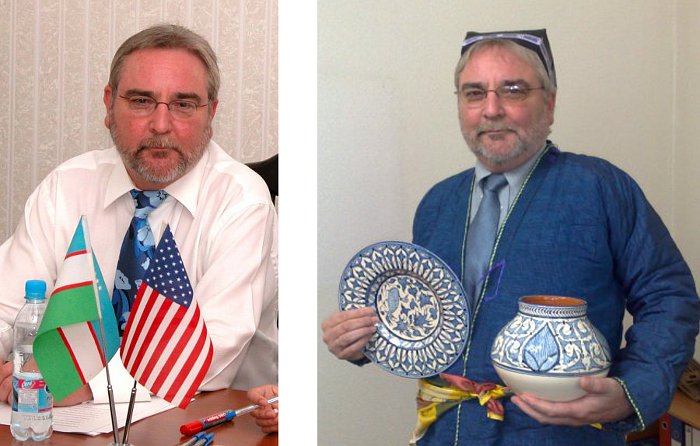 Richard Glaub while he was working with NDI in Tashkent. Photos taken from Facebook
Even if he could remember the pin code, he is unable to so much as hold a pen in his hand to write it out.
For the sake of fairness, it should be pointed out that embassy staff tried to reach the bank's head office and explain that due to exceptional circumstances, Glaubner's relatives should be allowed to gain access to the funds. But to no avail.
Richard Glaub's daughter in the United States has twice sent money, but her opportunities are limited, given that she is herself tending to her father's elderly mother.
After the stroke, Lidiya Glaub contacted the US Embassy, where she was listened to politely and had a visit arranged to an intensive care unit at a local hospital. Her husband even received the odd visit from embassy officials.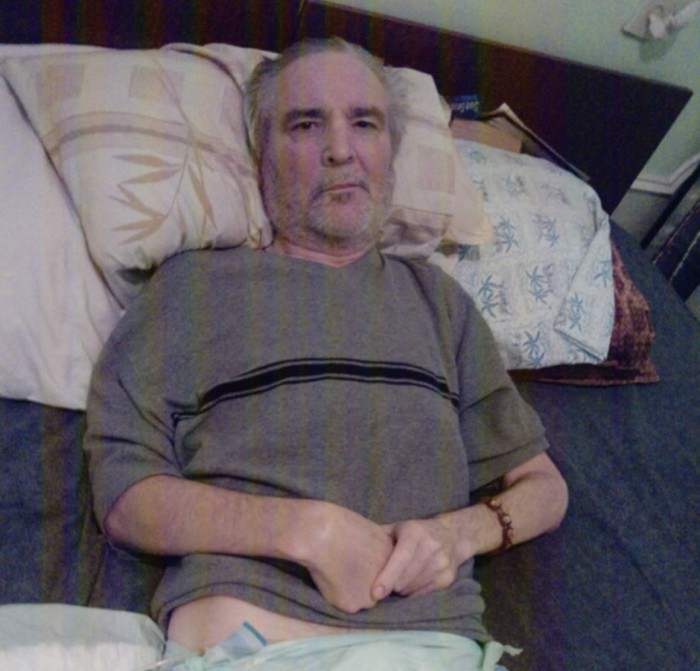 Richard Glaub has been in this condition for more than a year
Staff told her that they were unable to give financial assistance and could only post a public notice appealing for assistance for their fellow countryman.
According to Lidiya Glaub, only one $400 donation has ever been received in the current account advertised online by the embassy.
Sympathetic neighbors familiar with the Glaub's plight are amazed at the situation.
"Can they not issue this paralyzed American with disability benefit? What stops the embassy from sending this man home with his wife? If this had happened to an Israeli citizen, there would be no questions asked," said one neighbor.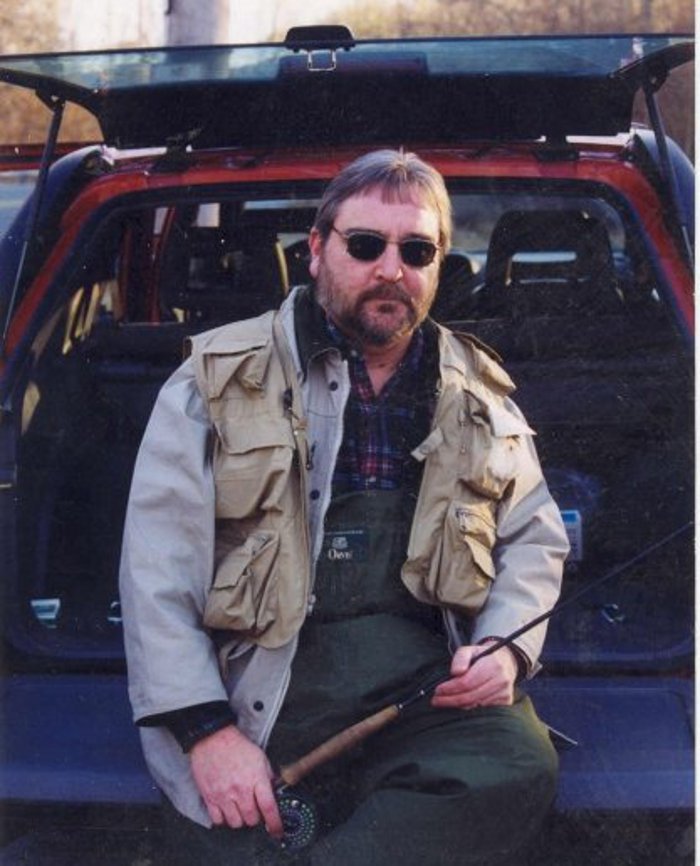 Richard used to lead an active outdoors life and was a keen angler. Phot taken from Facebook
Embassy staffers have told Lidiya Glaub that the issue of her husband's disability benefit was under review for a year in the United States and had been favourably settled, but that the case has stalled once again.
As they have explained to Lidiya Glaub, the person affected by disability must sign for benefits oneself in person.  And in Uzbekistan, there are other unresolvable legal complications – the disabled in Uzbekistan are required to undergo examinations to confirm their condition on an annual basis.
"Embassy representatives are currently seeking opportunities to send Richard to a nursing home in Idaho, where he was born, but without me for some reason," Lidiya Glaub said. "They answer all my questions about what is to be done with me, his lawful wife, with a shrug, as if to say that they'll settle things with him and then see."
Embassy staffers have cautiously advised her to write in person to President Obama, and have said they will assist in delivering the letter.
Who knows, maybe the president will find time to listen to her story and help.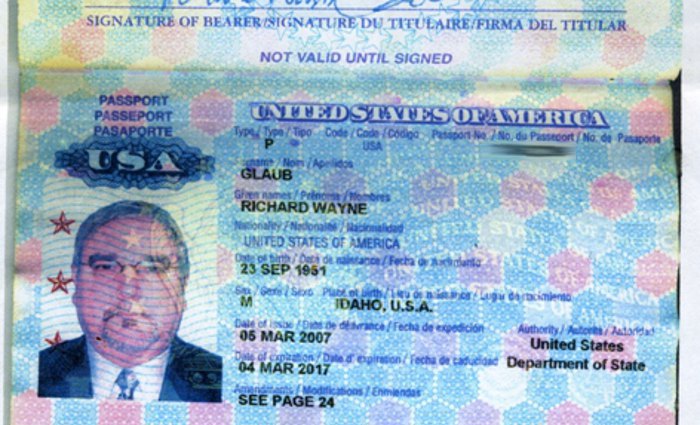 Photo page of Richard Glaub's passport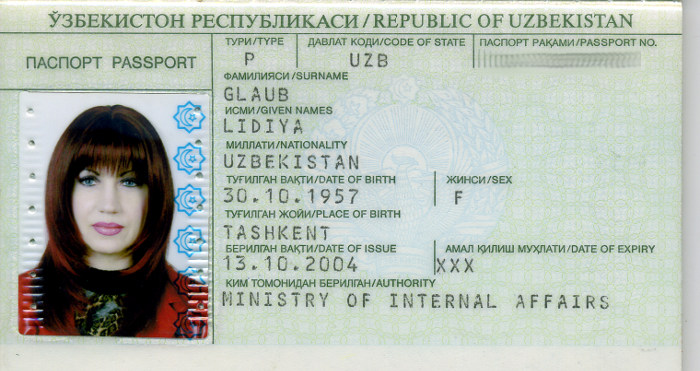 Photo page of Lidiya Glaub's passport
Fergana international information agency.