Uzbekistan: Erk Party… Is there such a party?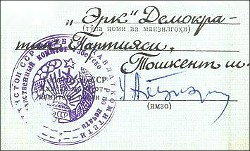 The six assembly of the Erk party was scheduled in Tashkent for 3 Dec 2013. But it was not meant to happen: a local café, the venue point for participants, was suddenly closed on that day due to gas cutoff while many regional delegates were prevented from reaching Tashkent. Why are the authorities so afraid of the Erk Party, whose nominee, Muhammad Salih, ran for president in 1991? What kind of party is it anyway, and what issues was the assembly to discuss? Our observer in Tashkent sheds light on such matters in the article below.
* * *
I did not know that one of my acquaintances was a member of the Erk Party. I learned about it by accident. Said acquaintance was walking home with empty look in his eyes all the while crumpling someone's business card. I have asked the polite question of "What's the matter?" and he responded with no feelings "Everything is alright." I do not like meddling in others' business, so I silently walked next to him. I noticed several times that he was attentively looking at me and was struggling with thoughts whether to tell me what was on his mind or not. A thought crossed my mind: "Something is about to happen." I was right; about ten steps later, he broke the silence.
"Our assembly was disrupted today," he quietly said. "I was lucky—I could go home, but police took several of our comrades into custody."
Then the word floodgate was crushed and he told me everything.
The Erk Party scheduled its sixth assembly in Tashkent on 3 Dec 2013. A total of 100 delegates from various parts of Uzbekistan were expected. Given the upcoming elections in Uzbekistan and tense political life these days, the assembly agenda tried to reflect them: 1) adopting a new program of the party; 2) introducing addenda to the party charter; 3) electing new members of the Central Committee; and 4) adopting a new resolution of the party.
Obviously, the agenda has no calls to take arms, or violently overthrowing the current government or inciting interethnic animosity. I mean all those crimes any opposition party and movement is traditionally charged with in Uzbekistan.
According to my acquaintance, the assembly organizers decided to emphasize that it is just the time to remind residents and citizens of Uzbekistan about the necessity in political reforms and changes. The necessity has never so acute never before. The Erk party activists, realizing that an important choice and challenge in Uzbekistan's life is approaching, decided to assemble members and discuss political plans. The main point is dismantling the dictatorial regime in Uzbekistan and establishing a kind of governance based on rights and justice.
The party does not possess any real estate in Uzbekistan. The choice of a café for the aforementioned session was necessitated by that fact. All the financial and disciplinary conditions the café administration posed were fully met by Erk activists. But about 20 hours prior to the session, the café administration had a seemingly plausible excuse to cancel the meeting (gas supply was cut off in this particular district, on that particular day and in that particular time).
Furthermore, many delegates from regions were unable to reach Tashkent. Ravshan Sadykov of Samarkand was simply not allowed to leave his house. The other 10 Samarkand delegates were also kept under such "house arrest" on 3 Dec 2013.
Delegates from Surkhandarya Region were in a worse situation. Sixteen delegates left their houses and soon thereafter lost contacts with each other. "We contacted local police regarding this incident, but have not heard anything from them yet," Erk activists from Surkhandarya say. Only a dozen of delegates arrived at the agreed location in Tashkent. This was no quorum, of course.
My acquaintance was telling me about the party and predicaments they faced on that day; all the while I was thinking they are an actual force if secret services had to apply so much effort to cancel a meeting of only 100 or so party members. In other words, the party has something to offer, which jitters the authorities and forces them to wage a war of destruction. So, what strength does Erk have that makes the authorities so wary?
The Erk Democratic Party is the first political party to be officially registered in the history of modern Uzbekistan. The party charter was registered with the Ministry of Justice on 3 Sep 1991. There appears to be no court order to cancel its registration and ban its activities. The party is, therefore, is authorized to official operate in Uzbekistan.
The Erk party nominated Muhammad Salih for president in the presidential elections in 1991. Information on the number of votes cast in his favor differs significantly depending on who tallied the ballots. State-owned publications wrote he received 12.7%; the central radio of Uzbekistan has actually reported on 33% support for him. But many independent observers and the nominee's proxies claimed that Muhammad Salih has actually secured the support of the majority of voters.
The Erk Party authored the Declaration of Independence of Uzbekistan bill; they party initiated its consideration and approval at a session of the Supreme Council of Uzbekistan and won the majority of MPs' support for it.
Over the period of its existence, the Erk party only had five sessions. The number of issued membership certificates suggests that, prior to the first session, the party had around 54,000 members. The party leader, Muhammad Salih, who is forced exile abroad, is very active in the party activities and he is the main opponent of the regime in office in Uzbekistan.
The weakening stance and influence of Gulnara Karimova, who was justifiedly thought of by many as "presidential heiress," has served as yet another reason to activate opposition forces in the fight for solidifying and expanding their role among the electorate. Some of them are urging people "to walk in the city wearing white and photograph yourself with a constitution in hands," while others are leaking compromising materials via social networks. The Erk party decided to hold a session in Tashkent to first draft a conception of winning minds of electorate and then only implement it.
Did not happen. The authorities are still strong and keep a close eye on any form of activity on the part of opposition in the country. The disruption of the assembly is a case in point. I do not believe that alterations in authorities' ranks in the year of presidential elections would be painless. The authorities will certainly resist and can employ all and any, even prohibited, means and tools in its fight for survival. But bloodshed among the population must be prevented at all costs.
Tokhir Yuldashev (Tashkent)
Fergana international information agency.