Uzbekistan: Non Format club photos censored (photo, video)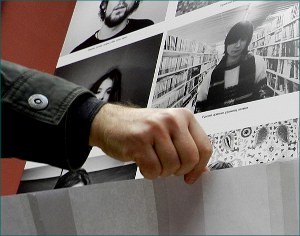 The Non Format photographers club launched the Odno Prostranstvo (One Space) exhibition at the House of Photography in Tashkent on 25 Jan 2014. Initially, 12 photo-artists were to participate, but the works of two were prohibited from being displayed at the very last moment; a number of other artists' works were partially covered with blank sheets of paper.
Posters of the event feature 12 names: Kirill Molodsov, Nigina Mavlanberdiyeva, Oleg Zolotykh, Olga Fedina, Pavel Kurbanov, Svetlana Ten, Stanislav Magay, Timur Karpov, Umida Abdurazakova, Farkhad Karimov, Hamdam Otajonov, and Hamdam Sharakhmedov. Curators: Umida Akhmedova and Olga Korsunova. However, Timur Karpov's and Svetlana Ten's works were withdrawn from exposition only a couple of hours ahead of the exhibition opening. Chairman of the Academy of Arts of Uzbekistan Akmal Nur and Deputy Chairman Ravshan Mirtajiyev have personally censored said works.
Mr. Karpov's photographs were part of the Abandoned Towns series, while Ms. Ten's work covered the issue of labor migrants. So, the reason behind the censorship is clear: Uzbekistan reportedly has no problems of abandoned town like Chirchik or Yangiabad, let alone labor migrants issue. To be fair, the latter really are absent in Uzbekistan: they are all in Russia. However, their families are in Uzbekistan and part of Ms. Ten's work covers them.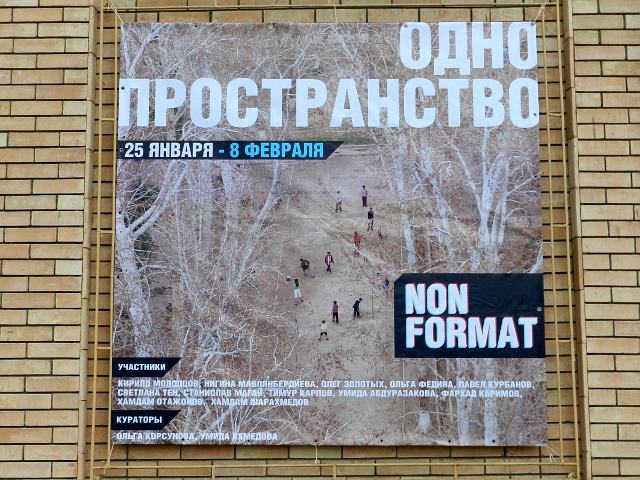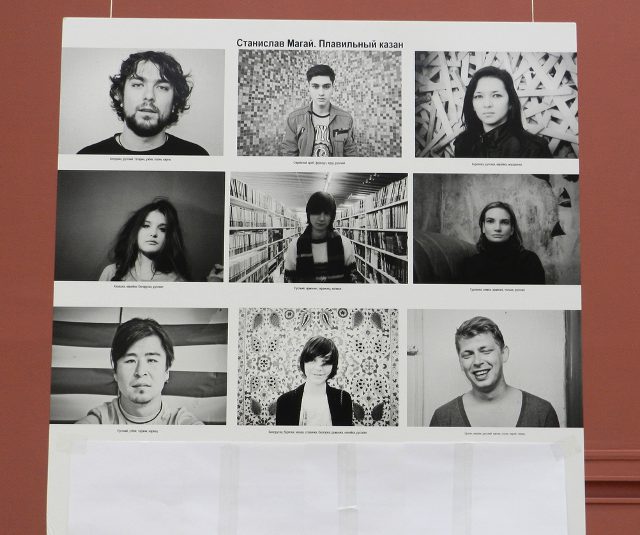 A blank sheet covers the description of Mr. Magay's work
Some of the works by Mr. Zolotykh and Mr. Magay were covered with white paper. Oleg Karpov, a film director from Tashkent and Timur Karpov's father, attempted to look under one such paper, but unidentified people in plainclothes have strictly prohibited him from doing so.
"Mark Vayl, the founder of the Ilkhom Theater in Tashkent, was born on 25 January. He fought against censorship his entire life until he was killed in 2007," Timur Karpov says. "We were censored on that exact day. Just a coincidence; although I think these are not accidental coincidences."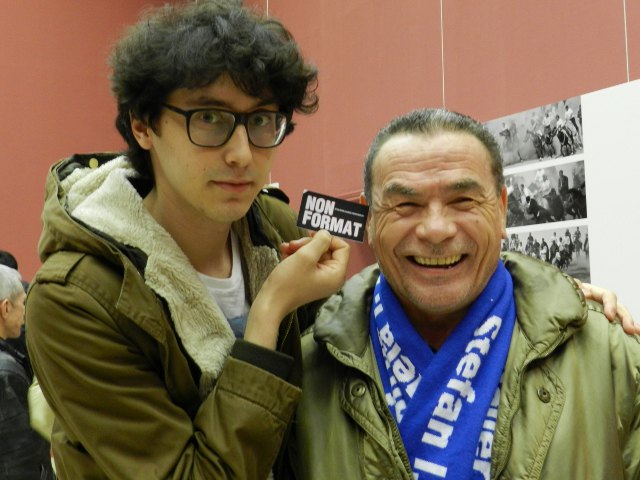 Photographer Timur Karpov and writer Rifat Gumerov
It seems like the reason behind such attitude toward Timur Karpov rests not only on the fact that he is a talented photo-artist and the photo editor of the Russian Lenta.Ru website, he is also the son of another photo-artist, Umida Akhmedova, who was convicted in 2010 for allegedly "insulting the Uzbek nation."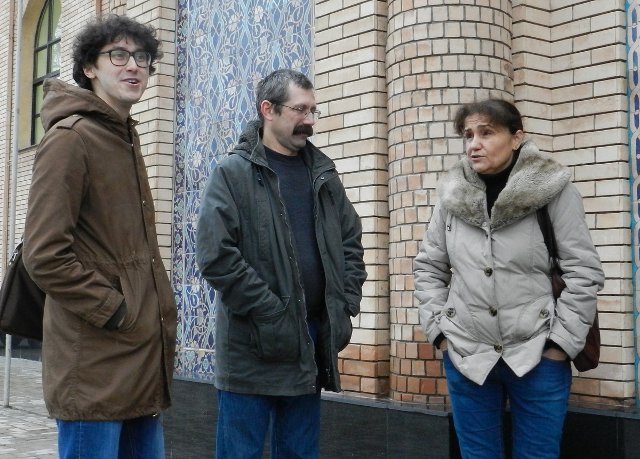 Timur Karpov, Oleg Karpov and Umida Akhmedova
Sid Yanyshev